West Haven Falcons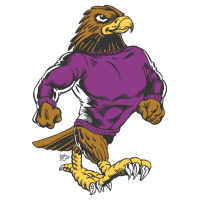 Team: West Haven Falcons
[ID #636]
Location: West Haven, CT (New England)
Owner: Markkennedy8

[since November 19th 2017 | last seen December 09th 2017]
Rank: #566 - Rating: 55.78
Fan Mood: 104.73
Prestige: 12
Color: Purple
Team Notes:
• Aug 21 2034:
Ty McKenna
was signed as a free agent.
• Jul 11 2034:
Wally Bechtel
was signed as a free agent.
• Jul 07 2034: Team acquired by
Markkennedy8
.
• Jun 25 2034:
Sergio Salas
was released.
• Jun 15 2034: Team relinquished by
EvanGV
.
• Jan 15 2034:
Phanumas Sripituksakul
was selected to the national team of
Thailand
.
• Jan 15 2034:
Hugo Jansson
was selected to the national team of
Sweden
.
• Nov 04 2033:
Koji Wada
was awarded the Cy Young award.
• Sep 14 2033: Team acquired by
EvanGV
.
• Aug 19 2033:
Robert Fitzpatrick
was signed as a free agent.
League Record:
Wins: 77 Losses: 64 Pct: .546 Last10: 5-5 Streak: W2
Ave: 5.5 - 5.1 RS: 773 RA: 724 DIFF: +49
Cup:
Group 58
[0 | Eliminated]
Press Releases:
May 17 2031:
Improvement and Ownership Change
-
by jreynoldson913 on March 20th, 2017
BREAKING NEWS: West Haven GM Jreyn7 has just sold the team to Jreynoldson913. This comes after reports of has found out that he was connected with the Mafia. He was sentenced to serve the rest of his life behind bars.
It is a good thing to know that West Have is improving. Last year they went a more than terrible 15-140 in LL VI. This year though they have improved with a 10-23 record to start the season. As they are still bad it looks like a bright future with new GM Jreynoldson913.
Sep 29 2030:
A New Era
-
by Jren7 on February 7th, 2017
It is a new era as new GM Jreyn7 takes over the West Haven Jets the worst team in broken bat. First thing he did was fire Nelson Corbett as manager and replaced him with Douglas Hickman. Hickman has gon 3 in 6 and has already accounted for a fourthe of the teams wins even though we are 138 games into the season, and yes that is how bad the team is. We look to rebuild through the minors for a bright future.