Dayton Hawks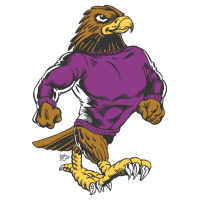 Team: Dayton Hawks
[ID #630]
Location: Dayton, OH (Central)
Owner: GullyFoyle

[since February 16th 2016 | last seen April 20th 2018]
Rank: #370 - Rating: 88.09
Fan Mood: 96.00
Prestige: 20
Color: Blue
Team Notes:
• Aug 18 2035:
Dan Krueger
was released.
• Aug 04 2035:
Terrell Stevens
was claimed off of waivers.
• Jul 23 2035:
Kazuo Harada
was released.
• Apr 07 2035:
Ian Wallace
was claimed off of waivers.
• Mar 25 2035:
Roberto Abreu
was claimed off of waivers.
• Mar 20 2035:
Mike Davidson
was claimed off of waivers.
• Mar 20 2035:
Kazuhiro Kuroda
was signed as a free agent.
• Mar 18 2035:
Gilbert Muller
was released.
• Mar 18 2035:
Dan Krueger
was signed as a free agent.
• Mar 18 2035:
Ricky Freeman
was released.
League Record:
Wins: 65 Losses: 63 Pct: .508 Last10: 4-6 Streak: L1
Ave: 5.1 - 4.8 RS: 650 RA: 612 DIFF: +38
Cup:
Group 124
[0 | Eliminated]
Press Releases:
Jan 15 2033:
Leonardo Gamez retires. Three others waived.
-
by GullyFoyle on July 22nd, 2017
At the age of 36 Leonardo Gamez, Dayton Hawks starting pitcher for 11 seasons, has retired following a meeting with new Hawks manager Ismael Uribe. Gamez, who won 46 games during the Hawks miracle three promotions in a row had a 6-9 record last season, with a 4.500 ERA, the worst of his career. However Leonardo will be remembered as one of the best pitchers ever to play for Dayton, and was immediately inducted into the team's Hall of Fame.
Also waived following Uribe's appointment were starting pitcher Zach Price, 10-8 last season, 95-70 for his career, relief pitcher Joo Won Nam, and catcher Art Allen.
Uribe also hinted that further cuts may come, and though he didn't say where they may be, most observers point to the Hawks outfield as being the most likely place to see players leave.
Oct 24 2032:
Ascensio out; Uribe in
-
by GullyFoyle on July 18th, 2017
After a disappointingly inconsistent 2032 season, the Dayton Hawks today announced the firing of Manager Victor Ascensio. While acknowledging his relative success in avoiding relegation two seasons in a row, Hawks owners representative Gully Foyle cited Ascensio's failure to improve Hawks pitching as the main reason for change.
The Hawks also announced the hiring of Ismael Uribe as their new Manager. Uribe, from Mexico City, guided the New York Yankees to promotion in 2031 and is immediately expected to look at ways to improve the pitching in Dayton. Whether this includes changes in personnel is not yet known.
Jun 15 2031:
Luis Díaz Missing
-
by GullyFoyle on March 29th, 2017
Hawks pitcher Luis Díaz did not return yesterday from the road trip to Racine. Díaz, who was not seen leaving the team's hotel in downtown Racine, was involved in a heated confrontation with Hawks' coaching staff after allowing a walk, when scores were at the time even, in the 9th inning of the 2nd of the Hawks 5 games in Racine. Díaz did play again in game 3 but has not been seen since. For now the Hawks are being silent on the matter. Coach Victor Ascencio directed queries to the public relations office, as did owners' representative Gully Foyle. However, no one in the public relations office had any answers.
Díaz has been on the Hawks roster for 11 years, and if this is the end of his time in Dayton, then it is a bizarre ending.
May 03 2030:
Victor Ascencio
-
by GullyFoyle on December 30th, 2016
With the team languishing bottom of League IV.5 ownership of the Dayton Hawks today announced the firing of Manager Oliver Herrmann, with Victor Ascencio immediately announced as his replacement.
Herrmann, the man behind the Hawks' three consecutive promotions, was fired after winning only 68 of his last 185 games. He leaves with a creditable 347-291 record in league games and a 10-7 playoff record, which also came with two Championships.
Ascencio, who hales from Xico, Mexico, has previously coached in Ypsilanti and Redwood City, where last season he won 115 games.
Oct 12 2029:
Relegation confirmed
-
by GullyFoyle on November 26th, 2016
Last night's loss to the Folsom Razorbacks confirmed what we've been expecting for most of the season, that we would be one of the relegated teams this season.
While there won't be any panic moves, the previous three seasons were a success and we don't want to make wholesale changes, there will need to be cuts made. Salaries will have to come down, and so there will be moves made to bring through some of the younger players we have waiting in the wings.
We will regroup and we will return.