Dayton Hawks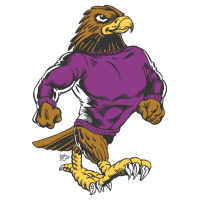 Team: Dayton Hawks
[ID #630]
Location: Dayton, OH (Central)
Owner: GullyFoyle

[since February 16th 2016 | last seen July 21st 2019]
Rank: #52 - Rating: 186.79
Fan Mood: 90.22
Prestige: 29
Color: Blue
Team Notes:
• Aug 02 2041:
Pat Whipple
was claimed off of waivers.
• Aug 01 2041:
Connor Hughes
was released.
• May 28 2041:
Xavier Cruz
was released.
• Apr 10 2041:
Gonzalo Nava
was claimed off of waivers.
• Mar 25 2041:
Kiké Del Toro
was claimed off of waivers.
• Mar 06 2041:
Brendan Yang
was claimed off of waivers.
• Jan 22 2041:
Rong Yeung
was claimed off of waivers.
• Jan 15 2041:
Mario Giuliani
was selected to the national team of
Italy
.
• Jan 15 2041:
Edmond Newton
was selected to the national team of
Great Britain
.
• Jan 15 2041:
Ed Williams
was selected to the national team of
Canada
.
League Record:
Wins: 58 Losses: 58 Pct: .500 Last10: 4-6 Streak: L1
Ave: 4.5 - 4.8 RS: 525 RA: 554 DIFF: -29
Cup:
Group 42
[0 | Eliminated]
Press Releases:
Apr 18 2039:
Visit of Atlantic City
-
by GullyFoyle on January 14th, 2019
Dayton Hawks management, following liaison with Dayton PD have laid on extra security for the upcoming visit of Atlantic City Boardwalkers and their "colorful" owner, the well known purveyor of adult entertainment Milo Metalbat.
Dayton Head of Security, Ivan Drago, said, "While its true there are no buffaloes in Dayton for him to headbutt, Metalbat's behavior is well known, and we're taking no chances."
Some have said the entire situation is simply a fit of pique after Hawks GM Gully Foyle was not offered a free massage when visiting Atlantic City but that is so far simply a rumor.
Nov 04 2038:
Hawks Dominate Gold Glove awards
-
by GullyFoyle on December 21st, 2018
The Hawks belief that their fielding is the best in the league has been backed up by the decision of the voters today to award four Hawks with Gold Gloves.
As expected second baseman Christian Casanova and short stop Leonard "The Cat" Cahill were among the winners and they were joined by outfielders Clay Saunders, a waiver pickup in 2037 and Carter Jung, the Hawks' second round pick in the 2031 draft.
All-league honors went to first baseman Terry Gorman and our third award winning outfielder "Fast" Eddie Williams. Williams also finished fourth in the MVP voting.
Nov 04 2035:
Fast Eddie wins Hawks' second ROTY award in a row.
-
by GullyFoyle on May 4th, 2018
Following Christian Casanova's success in 2034, Fast Eddie Williams was named 2035 Rookie of the Year. Williams was the only Hawks player to play in all 160 games. Among his highlights were 39 steals, and a decent batting average of 0.266.
No announcement came about likely cuts from the team, but it is almost certain there will be some as the Hawks would enter next season with a major league roster with an average age of almost 29 if no changes were made.
Jan 15 2033:
Leonardo Gamez retires. Three others waived.
-
by GullyFoyle on July 22nd, 2017
At the age of 36 Leonardo Gamez, Dayton Hawks starting pitcher for 11 seasons, has retired following a meeting with new Hawks manager Ismael Uribe. Gamez, who won 46 games during the Hawks miracle three promotions in a row had a 6-9 record last season, with a 4.500 ERA, the worst of his career. However Leonardo will be remembered as one of the best pitchers ever to play for Dayton, and was immediately inducted into the team's Hall of Fame.
Also waived following Uribe's appointment were starting pitcher Zach Price, 10-8 last season, 95-70 for his career, relief pitcher Joo Won Nam, and catcher Art Allen.
Uribe also hinted that further cuts may come, and though he didn't say where they may be, most observers point to the Hawks outfield as being the most likely place to see players leave.
Oct 24 2032:
Ascensio out; Uribe in
-
by GullyFoyle on July 18th, 2017
After a disappointingly inconsistent 2032 season, the Dayton Hawks today announced the firing of Manager Victor Ascensio. While acknowledging his relative success in avoiding relegation two seasons in a row, Hawks owners representative Gully Foyle cited Ascensio's failure to improve Hawks pitching as the main reason for change.
The Hawks also announced the hiring of Ismael Uribe as their new Manager. Uribe, from Mexico City, guided the New York Yankees to promotion in 2031 and is immediately expected to look at ways to improve the pitching in Dayton. Whether this includes changes in personnel is not yet known.