Rocky Mount Rebels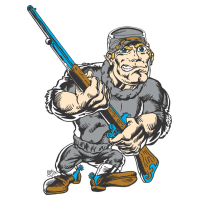 Team: Rocky Mount Rebels
[ID #501]
Location: Rocky Mount, NC (Southeast)
Owner: Bench Rider

[since September 11th 2020 | last seen November 28th 2020]
Rank: #608 - Rating: 58.77
Fan Mood: 45.02
Prestige: 58
Color: Red & Gray
Team Notes:
• Mar 06 2048:
Brock Christie
was claimed off of waivers.
• Mar 04 2048:
Raúl Rosado
was signed as a free agent.
• Mar 04 2048:
Ethan O`Sullivan
was signed as a free agent.
• Jan 15 2048:
Evan York
was released.
• Jan 15 2048:
Ramiro Rodríguez
was claimed off of waivers.
• Jan 15 2048:
Jayden Stacey
was selected to the national team of
Virgin Islands
.
• Jan 15 2048:
Meng Pan
was selected to the national team of
China
.
• Sep 30 2047:
Juan Manuel Padilla
was released.
• Aug 19 2047:
Alfonso Avalos
was claimed off of waivers.
• Aug 09 2047:
Juan Manuel Ybarra
was released.
League Record:
Wins: 0 Losses: 0 Pct: .000 Last10: 0-0 Streak: -
Ave: 0.0 - 0.0 RS: 0 RA: 0 DIFF: 0
Cup:
Group 94
[0 | Still Alive]
Press Releases:
Nov 04 2047:
2047 review
-
by Bench Rider on November 13th, 2020
Quite possibly a record breaking season is finally over. With a record of 39-121, this could be the worst season ever.
Mercifully it's over and we can look toward next season
Jul 07 2047:
Enough is enough
-
by Bench Rider on October 11th, 2020
This year has gotten down right stupid. I've only won 1 series all season and that back in April 11,12 & 13.
Come on!!! Even a blind nut finds a squirrel once in a while.
Jun 20 2047:
The Rebels plan is about to change.
-
by Bench Rider on October 8th, 2020
In a recent press conference Rocky Mount owner Bence Rider and manager Larry Morrison announced a new direction for the Rebels. Despite an out cry from the fans for a new manager, Rider stated that he has total faith in Morrison's abilities. "With out record of 15-45 & a negative run difference of -154 (as of June the 20th), something has to give," said Morrison. "Over the next few weeks fans can expect to see some of our veterans to be optioned to the minors because of severe under production. This will make room on the roster for a few of our top prospects to get playing time in hopes of getting them ready for next season. This will hopefully force those veterans to up their game," stated Rider.
Only time will tell.
May 31 2047:
Playing better ball?
-
by Bench Rider on October 2nd, 2020
"We're playing better ball" according to Rebels 2b/of Juan Ybarra in an interview after being swept by Birmingham. "I know our record doesn't reflect it, but the offense is starting to get our act together. Right now out pitching is struggling. However, I think they're improving too. It seems like lately we get 7-8 well pitched innings. For some reason it's just 1 or 2 innings where the wheels fall off. If we can avoid the big innings we will win a lot more often."
On paper the Rebels should be doing much better. Only time while tell if they can translate that to on field performance.
May 03 2047:
Struggling to rebuild
-
by Bench Rider on September 25th, 2020
The formerly named Margate Magicians has a new owner. With that came a move to Rocky Mount, a change in team and manager. The new skipper of the now Rocky Mount Rebels is 16 year veteran from Boone NC, Larry Morrison. Earlier today Morrison spoke out about the state of the Rebels. "It is going to be a real challenge rebuilding. The team has been poorly managed for several seasons now. I mean, how many 1st basemen does 1 team need? We started the season with 7 and well over half the offensive players are lefties. However, we do have some great players and I know we will get there and be a team to reckon with. The only question is how long it will take."