Raleigh Braves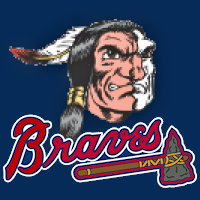 Team: Raleigh Braves
[ID #45]
Location: Raleigh, NC (Southeast)
Owner: newtman

[since November 02nd 2013 | last seen December 10th 2017]
Rank: #7 - Rating: 334.39
Fan Mood: 115.75
Prestige: 37
Color: Navy & Red
Team Notes:
• Apr 29 2034:
Ken Terry
was signed as a free agent.
• Apr 07 2034:
Mike Cunningham
was released.
• Apr 07 2034:
Marco Pardo
was claimed off of waivers.
• Jan 15 2034:
Oscar Schubert
was selected to the national team of
Switzerland
.
• Jan 15 2034:
Luis Rosa
was selected to the national team of
Puerto Rico
.
• Aug 07 2033:
Luis Vásquez
was signed as a free agent.
• Jul 12 2033:
Benito Destrade
was released.
• May 03 2033:
Ángel Quintanilla
was released.
• Apr 07 2033:
Duck Hwan Lee
was released.
• Apr 03 2033:
Benito Destrade
was signed as a free agent.
League Record:
Wins: 75 Losses: 59 Pct: .560 Last10: 7-3 Streak: W4
Ave: 4.3 - 3.8 RS: 577 RA: 510 DIFF: +67
Cup:
Group 41
[3 | Eliminated]
Press Releases:
Jan 15 2030:
The End of an Era
-
by newtman on December 3rd, 2016
Today
Aaron Doyle
was released from the Raleigh Braves roster to make room for rising stars, after his skills saw continued decline over the off-season. Doyle was the last Brave to be drafted prior to newtman taking over the team ownership before the 2017 season. Doyle was crucial to lifting the team all the way from LL VI to the cusp of Legends, but unfortunately never will get to see that highest stage as he announced his retirement just after he was released.
"I was drafted as a Brave, and I'm retiring as a Brave," Doyle commented.
Doyle made the Raleigh record books in several categories, but will probably best be remembered for competing for league home run titles with teammate Randolph during the golden years of Raleigh baseball.
Feb 19 2029:
Raleigh Inducts Reggie Randolph into HoF
-
by newtman on September 23rd, 2016
Reggie Randolph
earned his way into the Raleigh HoF with his power stroke and his leadership of the Braves out of the wilderness of LL VI and through LL V. He was an all-around hitting threat batting clean-up for some of best offensive teams ever seen in Raleigh. His .295 BA in Raleigh along with his .935 OPS are unlikely to be approached any time soon since Raleigh has made it into the upper leagues where pitching is much better.
Jul 23 2028:
Raleigh re-signs Flamin' Allen Abbott in order to make nickname stick
-
by newtman on August 19th, 2016
Raleigh- In a move that has baffled many veteran reporters, newtman has re-signed Raleigh Hall of Famer Flamin' Allen Abbott.
"I'm happy to be back in Raleigh after spending time in a series of places that didn't use my nickname," said Abbott. "Newtman said that he was signing me to chew bubble gum and sit on the bench, so I don't expect to see much action, but I'm cool with that."
Abbott was inducted into the Raleigh HoF after the mandatory 5 season wait after being released by the team instituted by newtman.
May 29 2028:
"Flamin'" Allen Abbott is Inducted into the Raleigh HoF
-
by newtman on August 4th, 2016
There was a celebration prior to the game today as
"Flamin'" Allen Abbott
was inducted into the Raleigh Braves Hall of Fame today taking time out of his busy schedule with Aberdeen to attend the ceremony. Although Abbott no longer bears that nickname, due to a later owner rudely nixing it, it was earned as Abbott racked up 1106 strikeouts in 7 seasons as a Raleigh starter. He also pitched 35 complete games and 7 shutouts to contribute to a 3.59 ERA and 1.149 WHIP. He was part of two teams which won promotions, and won 90 games for Raleigh.
"It's exciting to be back here in Raleigh where I had my best seasons, and participated in winning two division titles," said Abbott during the ceremony.
Oct 20 2026:
Congrats West New York
-
by newtman on April 4th, 2016
The Raleigh Braves just wanted to congratulate West New York on clinching the divisional title, this season was the craziest race I've been a part in and the entire division put up a great fight. It also put an end to my 3 straight division titles (and promotions). I look forward to competing with many of the rest of you next season and wish luck to those demoting and promoting.