Fairfield Falcons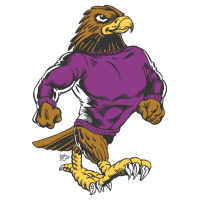 Team: Fairfield Falcons
[ID #40]
Location: Fairfield, CA (West)
Owner: None
Rank: #523 - Rating: 68.28
Fan Mood: 93.38
Prestige: 6
Color: Blue & Black
Team Notes:
• Mar 14 2048:
Wayne Terry
was signed as a free agent.
• Nov 04 2047:
Jaime Castillo
was hired as the new manager.
• Nov 04 2047:
Chuck Hollingsworth
was fired as manager.
• Jul 21 2047:
Don Thornton
was signed as a free agent.
• May 29 2047:
Ian Whitehouse
was signed as a free agent.
• May 03 2047:
Keenan Shakur
was signed as a free agent.
• Apr 07 2047:
Logan Roark
was released.
• Apr 07 2047:
Alfonso Valdez
was signed as a free agent.
• Mar 16 2047: Team relinquished by
dabest
.
• Jun 25 2046: Team acquired by
dabest
.
League Record:
Wins: 0 Losses: 0 Pct: .000 Last10: 0-0 Streak: -
Ave: 0.0 - 0.0 RS: 0 RA: 0 DIFF: 0
Cup:
Group 29
[0 | Still Alive]
Press Releases:
Jan 15 2045:
A New Chapter Begins
-
by ShapeShuffler on March 27th, 2020
Our last report was an interview with ShapeShuffler back in October 2044 directly after he purchased the ball club, where he pledged to bring a new era of baseball to the organization that back then called Tulare it's home. Just two and a half months later, and there have been many changes brought on by the ambitious new owner, and we are fortunate enough to be speaking with him again today.
Interviewer
: "Good morning ShapeShuffler, I feel privileged to be having the opportunity to have this exclusive interview with you to start 2045."
ShapeShuffler
: "The honor is all mine, I feel that keeping the fans up to date on the current status of their ballclub is an essential part of my job here."
Interviewer
: "First of all, can you give us a quick recap of what has transpired over the last two and a half months for your organization?"
ShapeShuffler
: "Absolutely, last time we spoke we had just brought in a fresh face into the on-field manager position in Chuck Hollingsworth, and the first thing we did together was recognize that the on-field product of last season was not good enough, as we spoke about last time, and vowed to improve on that pitiful display by any means necessary. We evaluated the current and future talent that belonged to the club, and cut ties with players who no longer brought value to our organization.
In our previous interview, I also announced that we had spoken to the league about a potential relocation, and promised the fans a revamped, improved experience whether or not the request was granted. I am proud to say, as many of our fans have already been made aware of, that we have moved our major league operations to the city of Fairfield in the great state of California. Alongside that relocation, we have rebranded our logo/mascot to be based off a blue and black color scheme, within the concept of a falcon. For a limited time forward the team will be referred to as the Fairfield Falcons, with a long term goal of renaming to something more unique.
This relocation and complete revamp of the team's look to the baseball world comes with an overhaul of the entire minor's system in regards to proximity to the major league team as well as each other to create a fluid pipeline. Our AAA team now resides in Nevada as the Dry Valley Scorpions. Meanwhile, our AA team now plays in Utah as the Cannonville Colonels. Then, our A team will be playing the 2045 season in Arizona as the Winkelman Trojans. Last but not least, our rookie team will continue their operations in New Mexico as the Roy Rams. With this move, we attempted to span our business across 5 states while also keeping close enough for fluid movement between teams for current and future prospects.
Going hand in hand with this relocation comes a new playing surface and surrounding grandstands. Our new home is Fairfield Stadium, with a capacity of 25,000 fans, with dimensions for the foul territories and home run walls to come, and a retractable dome and astroturf to ensure the best on-field production from our players as possible.
Otherwise, we have continued to make tough decisions with letting go off middling prospects, and players past their prime, and we are excited to be entering the free agency/initial waiver period with 15 slots for position players, pitchers, and prospects that will have the opportunity to play the great sport of baseball here in California. Along with this, the club has announced our budget for the upcoming season, based on previous season's finances which were graciously presented to us by the former owners. We have determined that if we limit our entire operational cost to under $40 million dollars, we will be able to sustainably work our way through the professional ranks where we hope to one day be apart of the Legends league.
I think I've covered all the bases there, no pun intended, but feel free to correct me if you can think of anything else that needs addressing."
Interviewer
: "Once again your depth and transparency is unparalleled in the world of baseball and I'm sure the fans from your former home Tulare as well as the current residence of Fairfield will truly appreciate it. Thank you for the time, and making my job so easy today."
ShapeShuffler
: "It was my pleasure, and I'm sure we'll be speaking again soon as we begin to bring in players during the upcoming free agency period. Take care."
Oct 28 2044:
New Ownership: What's next for the Tulare Aces?
-
by ShapeShuffler on March 25th, 2020
After 6 full seasons without an owner, the Tulare Aces announced today that the ball club has been acquired by global tycoon ShapeShuffler. SS spoke to us today about his plans for the upcoming offseason and 2045 season, as well as long term aspirations for the organization.
Interviewer
: "Welcome to Tulare, home of the Aces, the team just came off it's fifth losing season in six seasons under fan ownership. With that being said, what steps are you going to take in your first offseason to hit the ground running next spring?"
ShapeShuffler
: "Thank you, and the fans, for the very warm welcome, I'm excited to come in and hopefully bring this team to new heights. I understand that the club's loyal fans have reason to be frustrated with the on-field performances of the last six years, but I'm optimistic that with the young talent that we have coming through the minor league system, there will be good years ahead for this club.
As for this first offseason, I have some announcements to make. First of all, today we spoke with manager Eric Singleton and let him know that we. would no longer require his services. He has been with the organization for the past six seasons and I think it's time for a fresh start, but we thank Eric for his contributions. Replacing Eric will be Chuck Hollingsworth, who most recently managed a division five team in Cleveland. We feel that Chuck is able to strike a good balance between getting results for the major league team and developing the club's prospects. We are excited to see what Chuck can do with our organization.
Secondly, we have spoken with the league about a possible relocation from Tulare, and have been told that we will receive a decision tomorrow on that front. Along with a potential relocation, fans should expect a complete revamp of the club's appearance. Everything from the ballpark to the logo, and we assure fans that this overhaul will provide a greater experience for them.
The upcoming offseason will be an important one for the short and long term outlook of this organization. Along with our new manager, as well as the scouting department, I have evaluated each and every player that is currently on the roster or in the minors, and determined whether they have a future at this club. We have released six prospects from the current pool to make room for incoming talent. I would classify the club's current financial standing as rich, which will provide us the opportunity to bring in impact players for the upcoming season in the positions that need to be filled."
Interviewer
: "Thank you for your depth and transparency in your response, next I think the fans want to know more about your expectations for next season, being your first in professional baseball."
ShapeShuffler
: "No problem at all, as I feel that keeping the fans involved as much as possible will provide greater success on and off the field. As I stated before, my expectations for next season rely greatly on the upcoming offseason, primarily the free agency period. Our scouting department is working diligently to identify free agents who can help our team improve on its seventy wins from this past season, and that is our expectation as an organization."
Interviewer
: "Last question here before I can let you go, the fans will want to know what your long term goals for the club are, as we have had owners in the past who came in wanting to make a quick buck before leaving after a season or two. Where do you see yourself and the club in five to ten year's time?"
ShapeShuffler
: "Great question and I want to assure the fans that I am here for the long haul. The changes that I plan on making during this inaugural offseason and season will set this club up for a successful end to the 2040s, as well as a bright beginning to the 2050s. Financially, we plan on spending fiscally in the lower leagues, so that as we work our way up the rankings in the upcoming seasons we will have the money to succeed at the highest level of professional baseball.
As I spoke about earlier, there are promising players in the pipeline that I believe will be able to step into the major leagues in the near future and become elite talents. We plan on utilizing the draft to keep the cupboards stocked full of promising talents, and then have our coaching team develop them into the baseball players of the next generation."
Interviewer
: "Thank you so much for your time, I think the fans will be even more excited after hearing what you have to say today. Best of luck ShapeShuffler."
ShapeShuffler
: "Not a problem, we'll see you out on the field in March."