West Fargo Turtles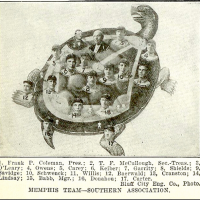 Team: West Fargo Turtles
[ID #363]
Location: West Fargo, ND (Plains)
Owner: timothy

[since March 18th 2020 | last seen November 23rd 2020]
Rank: #306 - Rating: 102.12
Fan Mood: 90.16
Prestige: 12
Color: Green Pinstripes
Team Notes:
• Mar 04 2048:
Jun Seo Lee
was signed as a free agent.
• Mar 02 2048:
William Stanton
was released.
• Mar 02 2048:
Min Soo An
was released.
• Mar 02 2048:
Martín Marés
was released.
• Mar 02 2048:
Billy Ray Jin
was inducted into the team Hall of Fame.
• Mar 01 2048:
Yuto Fukuda
was signed as a free agent.
• Feb 19 2048:
Billy Ray Jin
was released.
• Feb 19 2048:
Greg Grubbs
was signed as a free agent.
• Feb 05 2048:
Derrick Lewis
was claimed off of waivers.
• Feb 05 2048:
Scottie Crowe
was claimed off of waivers.
League Record:
Wins: 0 Losses: 0 Pct: .000 Last10: 0-0 Streak: -
Ave: 0.0 - 0.0 RS: 0 RA: 0 DIFF: 0
Cup:
Group 17
[0 | Still Alive]
Press Releases:
Mar 14 2047:
Happy Together! The Turtles Crawl into 2047
-
by timothy on September 10th, 2020
Meet the Turtles! With the March 24th home opener fast approaching, here is a look at the new players in green pinstripes.
Julián Ocampo (starting pitcher) - An eight-year veteran from the Deerfield Beach Rats, Ocampo has a low lifetime WHIP of 1.35 and held opposing batters to a .232 batting average in 2046. Julián is also a six-time representative of his native Nicaragua in the World Cup.
Kai Kekoa (relief pitcher) - Joining the Turtles' pen, the Hawaiian native is also an eight-year veteran, with a lifetime ERA of 3.23. Hitters across those eight seasons have only managed a .208 batting average against Kai.
Tracy Jojima (relief pitcher) - A veteran who played in Legends 2042-2043, Jojima adds another lefty arm in relief. In 2045, Tracy held left-handed batters to an incredible .149 batting average in 116 1/3 innings of work.
Phillip Farris (shortstop) - In a platoon role, Farris hopes to "keep the line moving" against left-handed starters. After a year of inactivity, Farris brings both bat and considerable defensive ability to the Turtles' infield.
IN TURTLE NEWS: The March 24th opener will feature special guests "Flo and Eddie" (Howard Kaylan and Mark Volman) of '60s rock and roll legends the Turtles. The acclaimed singers will lead the West Fargo Grounds crowd in a rendition of "Happy Together" in the middle of the eight inning.
Jan 22 2046:
West Fargo Phenom Stars for Curaçao
-
by timothy on June 16th, 2020
So...our West Fargo Turtles DID have a 31-year-old rookie that made the All Star team, right? But what about that crazy second baseman...?
That's right, a free agent signing mid-season, Geert Dekker platooned at second base for the Turtles this past season from July onward. AND HE'S LEFT-HANDED!
Dekker, who has just turned 29, has been in pro ball for 12 years, but it was our Terrapins who gave him his first major league shot and the native of Emmastad, Curaçao did not disappoint, slashing an incredible .359/.443/.520 and playing a major role in the team's run at the Western Division title.
Making his fifth appearance for his native country in this week's World Classic, it was not surprising to see Geert (starting as the team's designated hitter) knocking the ball around the park and making his way around the bases. Though Curaçao was eliminated by Guam three games to one in the first round, Dekker was on base five times in thirteen plate appearances, hitting a double and scoring twice.
"I have always enjoyed playing with my fellow countrymen in this tournament," says Geert, "but it is extra special now getting to represent West Fargo as well." Asked about the Snappers' prospects for the upcoming year, Dekker was reflective. "I believe my team-mates are re-charging right now and getting ready for something special. It may be a chilly winter in West Fargo right now, but once that sun comes out..PLAY BALL!"
May 25 2045:
Do Turtles Make Waves?
-
by timothy on April 29th, 2020
This is the question on the mind of baseball fans in West Fargo this year as their beloved League VI.30 Western Division Turtles try out a new name, new look, and welcome some new players already making themselves into serious fan favorites!
Manager T.J. Kramer (he's new, too) is eager to move the team beyond last year's last place finish. "Yes," says T.J., "the LAST place finish was LAST year! Management has revamped the roster and we're ready to give the great people of West Fargo something great to root for."
The new arrivals to West Fargo include a phenom rookie...who is 31 years old! Min Soo An, the Turtles' DH, has a slash line of .338/.412/.524 through the first forty games of the season. In Cup play, he hit over .400 with seven home runs.
Two other new arrivals currently hitting over .300 are veteran outfielders Kenji Sato and Darren Doty. The modus operandi with the team's approach to offense, according to T.J., is this - "We hit up and down the lineup. If a guy is hitting seventh in the order, well, that's nothing to be ashamed of. Our guys in the bottom of the order should be driving in runners hitting ahead of them and setting the table for the order switching back around to the top."
Pitching has been a tougher nut for management to crack in the Turtles' 19-21 start to the season, but an influx of veterans is giving teams new looks out of the rotation and the bullpen. "All thirteen spots on the roster occupied and everyone's got a role where they're going to be able to contribute," says T.J.
Let's hope they contribute to a division winner in the near future!