Denton Maestros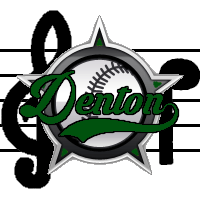 Team: Denton Maestros
[ID #341]
Location: Denton, TX (Southwest)
Owner: ltm0011

[since February 18th 2013 | last seen February 17th 2019]
Rank: #513 - Rating: 67.80
Fan Mood: 88.63
Prestige: 19
Color: Green Pinstripes
Team Notes:
• Jan 15 2039:
Rodney Binder
was selected to the national team of
United States
.
• May 29 2038:
Luis Fuentes
was claimed off of waivers.
• Jan 15 2038:
Lloyd Cutler
was signed as a free agent.
• Jan 15 2038:
Thad Schroder
was hired as the new manager.
• Jan 15 2038:
Art Richardson
was fired as manager.
• Jan 15 2038:
Ernesto Negrete
was released.
• Jan 15 2038:
Alex Stewart
was released.
• Jan 15 2038:
Alfredo Valdivia
was released.
• Jan 15 2038:
Derrick Hoffman
was released.
• Jan 15 2038:
Jack Copeland
was released.
League Record:
Wins: 60 Losses: 66 Pct: .476 Last10: 1-9 Streak: W1
Ave: 4.5 - 4.6 RS: 561 RA: 577 DIFF: -16
Cup:
Group 14
[0 | Eliminated]
Press Releases:
Jan 15 2030:
Good Luck Russell Gleason
-
by ltm0011 on December 4th, 2016
Russell Gleason will be a starting pitcher for team USA in the World Classic this off season. The City of Denton and the Maestros ball club wish him all the best!
Oct 10 2028:
CLINCHED! Lumberjacks win the West!
-
by ltm0011 on September 9th, 2016
The Lumberjacks clinch the top spot in the West after beating San Marcos 6-5 on Friday. After the Tyler starting pitcher, Herb Bryant, gave up 3 consecutive walks and a Grand Slam in the 1st inning, the Lumberjacks held the Marlins to on one more run in the 9th inning. Tyler earned all of their 6 runs in the last two innings of the game for a comeback win and west title!
The Tigers and Cubs are battling for the Eastern championship. The Cubs are 3 games back.
Sep 26 2028:
Lumberjacks on insane 23-2 run toward playoffs.
-
by ltm0011 on September 6th, 2016
With two series and seven games left against the Scorpions and a nine game divisional lead, Tyler has a lot of room for error before the playoffs start a month from now. This crazy streak of wins has taken the steam out of typical end-of-season drama in the west. The Lumberjacks have just set a franchise record of 97 wins and are on pace to break 100 wins. Albeit in league VI, this will be a record year for Tyler Baseball and will hopefully yield a their first Championship.