Rockford Rhinos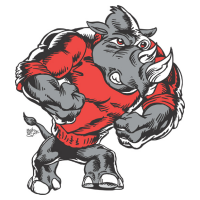 Team: Rockford Rhinos
[ID #328]
Location: Rockford, IL (Central)
Owner: jezzat

[since January 27th 2019 | last seen November 15th 2019]
Rank: #210 - Rating: 120.60
Fan Mood: 101.31
Prestige: 25
Color: Black & Yellow
Team Notes:
• Apr 07 2043:
Ramon Borrego
was released.
• Mar 14 2043:
Xavier Puente
was signed as a free agent.
• Jan 15 2043:
James Cates
was claimed off of waivers.
• Jan 15 2043:
Johnny Tucker
was inducted into the team Hall of Fame.
• Jan 15 2043:
Andrew Dennis
was inducted into the team Hall of Fame.
• Jan 15 2043:
Oscar Andreasen
was selected to the national team of
Denmark
.
• Jan 15 2043:
Fernando Ochoa
was released.
• Jan 15 2042:
Lucas Møller
was claimed off of waivers.
• Jan 15 2042:
Floyd Lowry
was claimed off of waivers.
• Jan 15 2042:
Joel Kemp
was inducted into the team Hall of Fame.
League Record:
Wins: 4 Losses: 5 Pct: .444 Last10: 4-5 Streak: L1
Ave: 4.0 - 5.1 RS: 36 RA: 46 DIFF: -10
Cup:
Group 88
[0 | Still Alive]
Press Releases:
Jan 15 2043:
Hall of Fame
-
by jezzat on October 27th, 2019
The yearly meeting to consider new entrants to the Rhinos' Hall of Fame was held at Rockford Park last night. This year's nominees deserve their places for sheer length of loyal service. Andrew Dennis
http://brokenbat.org/player/13336
and Johnny Tucker
http://brokenbat.org/player/13360
have played the most games for the Rhinos for a hitter and a pitcher respectively. Both were fans' favourites and fully merit their places alongside the other club legends nominated previously.
Jan 15 2043:
Review of 2042 season
-
by jezzat on October 26th, 2019
2042 was a very pleasing and successful season for the Rhinos as manager Carson Cheng led them to promotion in just his 2nd year in charge, ending a 3 year sojourn in league V after demotion in 2039.
Statistically there were a number of highlights. Richard Ohgi and Alfonso Salinas both managed more than 40 home runs. Ohgi ended just 1 steal short of a 30/30 season, as well as drawing 99 walks and pulling off 107 double plays on his was to a Golden Glove at first base. His 136 runs was a single season team record.
In all, 8 players managed double digit home runs and 3 were awarded Golden Gloves, catcher Ricky Jennings and pitcher Lorenzo Cepeda being the other recipients as well as Ohgi.
Salinas also set a number of single season records including an SLG of .626 and an OPS of .986.
Amongst the pitching staff, Anthony Terry led the way with 17 wins, with 4 others contributing at least 10, including Pat Nugent in his first full season in the majors.
Looking forward to 2043, there is no doubt the squad is very old. Will it have one last hurrah in the tank or does it need a complete overhaul? There are certainly a lot of decisions to be taken to give the team the best chance of surviving in League IV.
Jan 15 2042:
Hall of Fame
-
by jezzat on August 10th, 2019
It's that time of the year again when Rhinos' management takes a look back at the club's history and chooses 2 veterans to be added to the Hall of Fame. This year's choices are Ron Davis and Joel Kemp, both of whom played for the team from the 00s, throughout the 2010s and into the 2020s.
Rhinos' press office put out the following statements to welcome the newcomers to the Hall of Fame:
"Canadian Ron Davis becomes the first international player to join the Rhinos' Hall of Fame. Signed in 2005, he made has Major League debut in 2008 and stayed with the team throughout his career retiring in 2021. He was an all-star 7 times - from 2012 to 2015 inclusive and, after a 2 year fallow period, again from 2018 to 2020.
He features heavily in the Rhinos' record books, being 6th in games played, 5th in hits and is 1 of only 2 players to have hit 300 home runs for the team. He is fondly remembered at Rockford Park and is a worthy new entrant to the Hall of Fame."
"Joel Kemp undoubtedly deserves his elevation to the Rhinos' Hall of Fame. A Texan native he moved to Illinois as an 18 year old in 2006 and, by the time he moved on in 2021, had achieved a batting average of .277 with 1851 hits over 1718 games.
Exceptionally versatile in the field, he played in virtually every position at some point in his career and often joked that if they wanted him to try pitching, he'd give it his best shot.
A good friend and contemporary of this year's fellow inductee, Ron Davis, Joel said he will be delighted to have name forever inscribed on the Roll of Honour just next to Ron's."
Jan 15 2041:
New Entrants to Hall of Fame
-
by jezzat on May 25th, 2019
The Rhinos have continued the tradition started a season ago of taking the chance in the off-season to look back over the team's history and add 2 players of yesteryear to the Hall of Fame. This season's inductees are Dante Lawson -
http://brokenbat.org/player/13362
- and Pedro Hurtado -
http://brokenbat.org/player/13370
The club made the following announcements in tribute to these 2 all-time greats.
Dante Lawson played for the Rhinos from 2003 until his retirement at the age of 40 in 2018. He was an All-Star in 10 consecutive seasons from 2004 to 2013. Very few players feature as many times in the Rhinos' record books as he does, being the all-time leader in hits (2166), home runs (352) and RBIs (1261).
He had a .300+ batting average 5 times, with a best of .335 in 2009 and only a couple of weaker seasons towards the end of his career saw it drop to a final figure of .293. He fully deserves his elevation to the Hall of Fame.
Short stop Pedro Hurtado played 2254 games for the Rhinos between 2003 and 2018, the 2nd highest number in franchise history. He stole more bases (373) than any other player and is the only Rhino to ever achieve the double of 30 home runs and 30 stolen bases in the same season. a feat he achieved in both 2006 and 2007.
Defensively, he was responsible for 1043 double plays in his career, more than 300 more than the second player on that list. Although only an All-Star twice, he richly deserves his place in the Rhinos' Hall of Fame.
Oct 12 2040:
Single season Home Run record
-
by jezzat on May 18th, 2019
Rockford's single season Home Run record fell to Alfonso Salinas in the 4th inning of Game 1 of the recent series at Bountiful, helping the Rhinos to a 7-5 win. Salinas added another in Game 3 taking his tally for the season to 44 with 10 games to go and eclipsing the mark of 42 set by Roy Walker as long ago as 2005.
Salinas also seems certain to smash the single season SLG record as he currently stands on .613, compared with Dante Lawson's .561 from 2006.
Manager Stewart South paid tribute to "Salty"'s consistency and wished him many more happy years of slugging to come.