Rockford Rhinos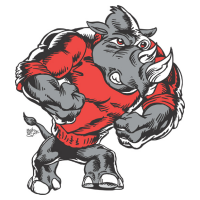 Team: Rockford Rhinos
[ID #328]
Location: Rockford, IL (Central)
Owner: jezzat

[since January 27th 2019 | last seen June 26th 2019]
Rank: #208 - Rating: 123.98
Fan Mood: 116.64
Prestige: 23
Color: Black & Yellow
Team Notes:
• Mar 04 2041:
Carson Cheng
was hired as the new manager.
• Mar 04 2041:
Stewart South
was fired as manager.
• Feb 12 2041:
Wei Chan
was signed as a free agent.
• Feb 05 2041:
Kip Montgomery
was claimed off of waivers.
• Jan 22 2041:
Grayson Orr
was claimed off of waivers.
• Jan 15 2041:
Fred Kaplan
was claimed off of waivers.
• Jan 15 2041:
Pedro Hurtado
was inducted into the team Hall of Fame.
• Jan 15 2041:
Dante Lawson
was inducted into the team Hall of Fame.
• Jan 15 2041:
Johnny Sommers
was released.
• Jan 15 2041:
Jorge Baez
was released.
League Record:
Wins: 22 Losses: 18 Pct: .550 Last10: 7-3 Streak: W3
Ave: 4.6 - 4.2 RS: 185 RA: 169 DIFF: +16
Cup:
Group 102
[0 | Eliminated]
Press Releases:
Jan 15 2041:
New Entrants to Hall of Fame
-
by jezzat on May 25th, 2019
The Rhinos have continued the tradition started a season ago of taking the chance in the off-season to look back over the team's history and add 2 players of yesteryear to the Hall of Fame. This season's inductees are Dante Lawson -
http://brokenbat.org/player/13362
- and Pedro Hurtado -
http://brokenbat.org/player/13370
The club made the following announcements in tribute to these 2 all-time greats.
Dante Lawson played for the Rhinos from 2003 until his retirement at the age of 40 in 2018. He was an All-Star in 10 consecutive seasons from 2004 to 2013. Very few players feature as many times in the Rhinos' record books as he does, being the all-time leader in hits (2166), home runs (352) and RBIs (1261).
He had a .300+ batting average 5 times, with a best of .335 in 2009 and only a couple of weaker seasons towards the end of his career saw it drop to a final figure of .293. He fully deserves his elevation to the Hall of Fame.
Short stop Pedro Hurtado played 2254 games for the Rhinos between 2003 and 2018, the 2nd highest number in franchise history. He stole more bases (373) than any other player and is the only Rhino to ever achieve the double of 30 home runs and 30 stolen bases in the same season. a feat he achieved in both 2006 and 2007.
Defensively, he was responsible for 1043 double plays in his career, more than 300 more than the second player on that list. Although only an All-Star twice, he richly deserves his place in the Rhinos' Hall of Fame.
Oct 12 2040:
Single season Home Run record
-
by jezzat on May 18th, 2019
Rockford's single season Home Run record fell to Alfonso Salinas in the 4th inning of Game 1 of the recent series at Bountiful, helping the Rhinos to a 7-5 win. Salinas added another in Game 3 taking his tally for the season to 44 with 10 games to go and eclipsing the mark of 42 set by Roy Walker as long ago as 2005.
Salinas also seems certain to smash the single season SLG record as he currently stands on .613, compared with Dante Lawson's .561 from 2006.
Manager Stewart South paid tribute to "Salty"'s consistency and wished him many more happy years of slugging to come.
Jan 15 2040:
Hall of Fame inductees
-
by jezzat on March 12th, 2019
It would be fair to say that the Rhinos Hall of Fame was not a feature used widely by previous owners of the club. Indeed it was getting a lonely place for the 1 Rhino previously inducted. To remedy this, in each off season I will look back over the team's history, largely way before my time as owner, and identify 2 legends who should have been invited to join it long ago.
Step forward the first 2 of these new inductees, pitcher Kendrick Conley and catcher Ozzie Sanders. Both now in their mid 50s, they will attend the first home game of the new season where the official presentation of the awards will be made.