Barrow Owls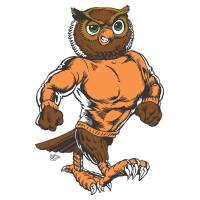 Team: Barrow Owls
[ID #246]
Location: Barrow, AK (Arctic)
Owner: None
Rank: #328 - Rating: 96.41
Fan Mood: 113.51
Prestige: 12
Color: Black & Yellow
Team Notes:
• Aug 19 2035:
Scott Sherwood
was signed as a free agent.
• Mar 14 2035:
Nick Hurley
was released.
• Jan 22 2035: Team relinquished by
theonlyroberts
.
• Jan 18 2035: Team acquired by
theonlyroberts
.
• Jul 21 2034:
Jim Lockwood
was released.
• Jun 25 2034:
Benito Rosario
was released.
• May 31 2034: Team relinquished by
Webbster
.
• Jan 15 2034:
Marco Soto
was selected to the national team of
Mexico
.
• Apr 21 2033:
Geraldo Clemente
was signed as a free agent.
• Apr 18 2033:
Donnie Richards
was signed as a free agent.
League Record:
Wins: 66 Losses: 60 Pct: .524 Last10: 6-4 Streak: W2
Ave: 5.4 - 4.6 RS: 679 RA: 576 DIFF: +103
Cup:
Group 123
[2 | Eliminated]
Press Releases:
Oct 12 2032:
Duston: "Unrecoverable team. League System unacceptable. I'm leaving"
-
by Den Duston on July 15th, 2017
After a "disgusting very long losing streak" and several other reasons,Duston decided to leave the ownership of the team.
"It's an unrecoverable team" he said "It's impossible to rebuild the team and I don't feel comfortable working on a league like this. I'm leaving BB."
Barrow will have another mascot and maybe another owner.
Jan 22 2032:
Two new pitchers for the Vampires but Duston still dissatisfied
-
by Den Duston on May 10th, 2017
Vampires owner and former pro wrestler,Den Duston,is trying to improve the team for the upcoming season as usual.
So far,two successful waiver claims were made with two new pitchers (Rafael Gallardo and Kenji Iriki) but Duston seems not satisfied yet.
"I wanna be frank: our team is not ready for higher Leagues. Last time we were in V.6 was horrible." he said "Sure,in VI.12 League we did a good job and maybe the fans gained some hope for the future but the playoffs against the Ypsilanti Phoenix said it all: we didn't won a single match in the series. This is because we still have to improve,especially the pitching, so we are in a perpetual 'under construction' state. I just hope that Gallardo and Iriki will give some boost in our pitching rotation and that they will not be disappointing like some players we claimed in the past. It's almost impossible to rebuild this team since it's really hard to make good players come here in Utqiaġvik. Maybe because it's too cold"
More positive is manager Austin Potter: "The fans have to trust our boys. I cheer them up every day. I know they will try to do their best this season. Our main goal is to stay in V.6 League. It won't be easy but with patience we can do it."