Deerfield Beach Rats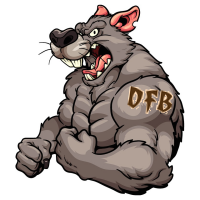 Team: Deerfield Beach Rats
[ID #211]
Location: Deerfield Beach, FL (Southeast)
Owner: AssumedPseudonym

[since October 26th 2016 | last seen August 21st 2019]
Rank: #200 - Rating: 124.92
Fan Mood: 116.32
Prestige: 7
Color: Gold
Team Notes:
• Feb 05 2042:
Martin Felix
was claimed off of waivers.
• Feb 05 2042:
Christian Knight
was claimed off of waivers.
• Feb 05 2042:
Ricardo Torres
was claimed off of waivers.
• Feb 05 2042:
Theo Nordquist
was claimed off of waivers.
• Feb 05 2042:
Yoshio Sakai
was inducted into the team Hall of Fame.
• Feb 05 2042:
Yoshio Sakai
was released.
• Jan 22 2042:
Lloyd England
was claimed off of waivers.
• Jan 22 2042:
Gerardo Rodriguez
was claimed off of waivers.
• Jan 22 2042:
Carmelo Andrade
was claimed off of waivers.
• Jan 22 2042:
Haneul Lee
was claimed off of waivers.
League Record:
Wins: 0 Losses: 0 Pct: .000 Last10: 0-0 Streak: -
Ave: 0.0 - 0.0 RS: 0 RA: 0 DIFF: 0
Cup:
Group 58
[0 | Still Alive]
Press Releases:
Aug 28 2036:
Isaacs Says No!
-
by AssumedPseudonym on July 1st, 2018
 Early in the 2036 season, a technical snafu caused pitcher
Mario Isaacs
to be left in a game from start to finish. He wound up throwing a shutout against the Altoona Blue Jays, and manager
Pete McAndrews
claimed no harm, no foul.
 "The phone in the 'pen wasn't ringing for some reason," he said at the time, "but with the way Mario was pitching, I didn't see any reason to bother the umps about it. It's probably the only shutout he'll have in his career," he added with a laugh, alluding to the fact that the young starter isn't known for his staying power on the mound.
 Isaacs proved him wrong on August 28, barely three months later, against those same Altoona Blue Jays.
 Nine innings. Zero hits.
 "May not be a perfecto, but I'll take it," Isaacs said in the post-game interview, shortly before being doused in Gatorade by his exuberant teammates. When the reporter caught back up with him and asked him how he felt, he laughed and said, "Right now? Very cold!"
 "We knew he could stretch his pitch count a bit after the game back in May," McAndrews said, "so there wasn't really thought of pulling him." When asked whether he would consider a five man rotation long enough to give Isaacs an extra day's rest, McAndrews said, "I doubt it; I mean, there's the Cup Final between today and his next scheduled start. I think he should be good to go."
 The win dropped the Rats' Magic Number to 18 to clinch the VI.8 East division title.
Nov 04 2034:
DFB Wins VI.7 Championship!
-
by AssumedPseudonym on December 21st, 2017
 After putting together the best season in team history in 2033 and still winding up finishing in second place in VI.7 East, the Rats got into a staring contest with the Powers That Be
dared
them to deny DFB again.
 The Powers That Be blinked first. The Rats put together an even better season in 2034, including — for all of Broken Bat — being the last team with single-digit losses, the best overall fan morale for most of the first half, and wrapping up the 2034 season with the fifth best overall record.
 "No, not happening, nuh-uh," said veteran pitcher and perennial All Star Caesar Rodriguez when asked his thoughts earlier in the season about the prospect of another second place finish, wearing his trademark scowl usually reserved for the twenty-seventh out in a complete game. "Not this time."
 Not that finishing second was ever a probability in the 2034 campaign, mind you. The Deerfield Beach Rats led the East from wire to wire and finished out the season winning three-out-of-four against the Nashville Pirates, the only team who ever had a chance of catching them after the starting gun fired.
 "The boys played mad all season," manager Pete McAndrews said of the team's effort. "There's not one guy who didn't go out there with the intention of winning every game this season. Hell, some of 'em are still mad that we
didn't
. …I'm lookin' at
you
, Tallstop," he added with a grin.
 The 6'5" shortstop, Russell "Tallstop" Jonsson, laughed but declined to comment on the remark.
 After losing the first game of the playoffs against Butte, they only seemed to get madder. While the West's Pirates arguably only had one bad game in the series, the Rats refused to let the series go back to Montana and won the Championship four games to one.
 "It's almost hard not to feel bad for them," said late-season call-up Adam Crocker. "They played their hearts out all season, and that funky bullpen of theirs gave everyone fits. They're a great bunch over there, and I'll take my hat off to them, dripping champagne and all," he said, doing just that.
 Word has it that several players on the Rats are planning a "twenty-one bat salute" promotional spot to the Pirates.
 One of the traditions of the team's owner is to grade his players efforts at the end of the season, but he's declining to do so this season. "What's the point to it after a season like this?" he asked, spreading his hands. "We all know how we did this season.
Everyone
knows how we did this season. There's no need for me to spout off a string of A's and A+'s and either rub it in or lord it over everyone else. We won. We're the Champs. Now we need to worry about sticking around in V.4 in 2035."
Aug 06 2033:
To All Good Things An End…
-
by AssumedPseudonym on September 12th, 2017
 After having swept the top three teams in VI.7 West, the Rats saw their 19-game winning streak snapped at home by the visiting Morgantown Mountaineers. It stands as the longest winning streak in franchise history, eclipsing the franchise record 16-game winning streak of 2021 (which itself surpassed a record of 13 straight wins, set two seasons prior and matched once earlier in 2021).
 "It's been a helluva run," manager Pete McAndrews said in an interview after the 10-9 loss. "I've got to hand it to the [Fayetteville] Cubs, they've been stubborn at there at the top of the division. Nineteen games in a row, and we picked up, what, two games on them? We're in for a great pennant chase this season."
 In addition to the winning streak, the Deerfield Beach Rats took over the top spot in all of Broken Bat in regards to fan mood. "The support we've gotten in this run is just phenomenal," the team's owner said in a press release shortly after the winning streak came to an end. "They've been turning out in droves, both here at The Rat Hole and at other league ballparks across the country. Fan Appreciation Day for Game #1 of our last home series is going to be something special this season!"
Jul 16 2033:
Rats Mid-Season Player Report Cards
-
by AssumedPseudonym on September 7th, 2017
Pitchers
Rodriguez: A+
— Leading the league in several pitching categories and near the top of most of the rest, "C-guez" is the leading candidate for the Cy Young Award.
Rojas: A+
— The league leader in saves. He'd be heading the list for for Reliever of the Year if there was one…
Ordonez: A+
— …And Ordonez would be right behind him. His record out of the bullpen speaks for itself.
Robinson: A
— "The Chosen One" is arguably having an off year after last season's performance, but has been getting better results.
Caputo: A
— He's putting up better numbers than even Robinson nearly across the board, save for walks, WHIP, and innings pitched.
Kong: A
— Picked up in the off-season for the long relief job, he's excelled to the point of taking the rotation spot of Roberts.
Tyson: A
— His presence is a strong contributing factor to the Rats' nigh impenetrable bullpen.
Harrell: A-
— The spot starter on the rotation has seen more work in long relief appearances, and would likely replace Roberts as a starter if not for Kong's performance.
Roberts: B
— He's been a solid starter, make no mistake, but he's lost his starting job to the rejuvenated Kong.
Woods and Sexton: Incomplete
— With fewer innings between them than any single pitcher on the team, their sample sizes are too small for a valid grade.
Hitters
Lee: A+
— After his MVP year in '31, this season only
seems
mildly disappointing for "The Beast." He's recovered from a slow start nicely.
Jang: A+
— Acquired to replace the disappointing Chambers, Jang is having a career season hitting at The Rat Hole's expansive field.
Ramon: A+
— He leads the team in OPS and had a 26-game hitting streak in the first half, and has been exceptional at the hot corner.
Sakai: A
— The league's leader in batting average and on-base percentage would be an easy A+ if his fielding were just a bit sharper.
Rosario: A
— Even though he's lost a step, the crafty infielder still knows how to swipe bags and lace doubles all over the outfield.
Lemus: A-
— The scintillating defense he provides helps overcome the uninspiring RISP of an otherwise very solid bat in the lineup.
Farrell: B-
— Brought in as the latest short-term center fielder, he held the fort nicely until Ingle was ready for the Bigs.
Černý: C+
— He's been serviceable though hardly spectacular, whether at the plate or behind it.
Jonsson: C-
— His lackluster bat is a letdown after last season, but his impressive work in the field makes it less unpalatable.
Chambers: F
— A dismal start to the season proved to be the last straw, and he was cut as soon as Ingle promoted from AAA.
Ingle: Incomplete
— With only fifteen games under his belt, it's too early to give a grade on "Pretty Boy". He's shown great promise, however.
De Santis, Boswell, and Ikeyama: Incomplete
— The bench has been solid, but not really utilized extensively enough to grade properly.
Oct 28 2032:
Rats' Season End Report Card.
-
by AssumedPseudonym on July 18th, 2017
 Despite high hopes coming into the 2032 season, the Rats stumbled out of the gate and never really recovered. By the time they any semblance of momentum built up, it was well into the second half and interdivisional play was already over and done with. Still, that being said, the 29-21 finish to first season the organization has had away from VI.7 since 2008 does show promise for the future.
 "It was a near thing," manager Pete McAndrews said, referring to the team's upcoming demotion from V.4. "Just another win here, another win there, and we could be having a whole different conversation right now. Too many things needed to go right coming into the last cycle of the season, and they just didn't."
 Here's the team's year-end report card:
Home Games: F
— The team's 36-44 record is reminiscent of the 2029 campaign, and in all the wrong ways. "Fans aren't going to look back on the stadium's early years fondly," is all veteran outfielder Gilbert De Santis had to say about it.
Away Games: B
— Also reminiscent of the 2029 season was the markedly better play by the team on the road, who have a history of performing well away from home. Going .500 on the road is a fairly typical goal at the start of a season, and might be the only one Deerfield Beach pulled off.
Divisional Play: D+
— Given the team's 20-30 record against divisional foes in the first half of the season, this is a surprisingly good grade, with their strong finish giving them a 49-51 divisional record. "Not good enough," superstar outfielder Jung Hwan Lee said, refusing to speak through his interpreter. "We finished good, but we started too bad. We must start
and
finish good."
Interdivisional Play: D-
— The West was not kind to Deerfield Beach in the 2030 season, finishing in a tie with the Barnstable Ducks for the division's worst interdivisional record. "At least we had Lubbock's number," veteran DH Rick Webb said sourly, regarding the 7-3 record against the West's #2 team.
One-Run Games: F
— The Rats won few squeakers this season, with only Kona having a worse record than Deerfield Beach's 19-27.
Offense: B
— While not nearly as electric as the 2031 season, the Rats turned in a solid offensive performance this season. The team as a whole consistently posted from third to fifth in many offensive categories, with Jung Hwan Lee, Yoshio Sakai, and Eduardo Rosario featuring prominently among the league leaders.
Defense: D+
— The Rats had their share of defensive woes, finishing with the third worst overall defense in V.4 this season. Third base, center field, and right field were particularly troublesome, though the latter is acknowledged to be partly blamed on the dome's ceiling. "We should repaint it to match the uniform trim," quipped Bill Tsao, whose acquisition helped solidify the shaky outfield defense.
Starting Rotation: B+
— The starting rotation was impressive, and the move to a four man rotation after interdivisional play is undoubtedly a large part of the team's drastic improvement in the last fifty games of the season. Justin Robinson and Caesar Rodriguez, the latter of whom was V.4's winningest pitcher, finished the season with more innings pitched than any other pitcher in the league, with both posting ERAs of under 3.50. Billy Morrison's 3.94 ERA after last season's spectacular effort as the setup man is also worth mentioning.
Bullpen: D
— Given the state of the bullpen, it's little wonder Robinson and Rodriguez tried to keep the ball as long as possible. Numerous configurations and attempted short term fixes proved ineffective, leading to desperate signings and frustrated cuts. "We couldn't get it done, that's the long and short of it," southpaw Bobby Bond said. Aging veteran pickup Wally Edwards turned in a serviceable performance, one of the better of a disappointing season. The Rats badly need youngsters Eric Peterson, Alfredo Ordonez, and Luis Rojas grow into their roles, and the sooner the better.
Overall: D
— The finishing record of 76-84 and demotion to either VI.7 or VI.8 puts a lot more tarnish on the season than even the bright spots can hope to overcome.