Flint Falcons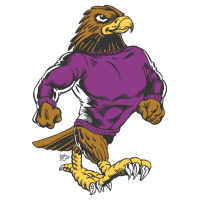 Team: Flint Falcons
[ID #177]
Location: Flint, MI (Midwest)
Owner: None
Rank: #567 - Rating: 62.96
Fan Mood: 85.69
Prestige: 14
Color: Blue & Gold
Team Notes:
• Mar 14 2043:
Logan Erwin
was released.
• Mar 14 2043:
Stephen Jarrell
was signed as a free agent.
• Aug 19 2042:
Alejandro Cortes
was released.
• Jul 21 2042:
Álvaro Escobar
was released.
• Jul 14 2042: Team relinquished by
Freyja
.
• Nov 04 2041:
Ismael Meda
was named the league MVP.
• Oct 12 2041: Team acquired by
Freyja
.
• Sep 12 2041:
Takeo Ishida
was released.
• May 29 2040:
Martín Quiles
was released.
• May 29 2040:
Jeremy Haynes
was signed as a free agent.
League Record:
Wins: 33 Losses: 42 Pct: .440 Last10: 7-3 Streak: W1
Ave: 4.9 - 5.7 RS: 368 RA: 429 DIFF: -61
Cup:
Group 47
[0 | Eliminated]
Press Releases:
Mar 25 2031:
It Begins...
-
by Patantask on March 6th, 2017
With the first full season of new GM Patantask about to be underway, he finally reveals his plans for this and next season. "We need to build a wa-, I mean, we need to build a good farm. We have some rapidly declining veterans, and there is a lot we need to do to get us out of league level 6."
The Falcons, or known as the Tigers or Warriors, have not risen above LL 6 since 2020. As well, they are going to need help getting out of the financial rut they are in. Chief of Finances Adar Shekelton had this to say, "If this season is not successful, then we are in quite the non-kosher pickle."
Sep 12 2030:
Rebranding
-
by Patantask on February 3rd, 2017
The Tigers have decided to rename and redo the team. They will be taking on a new name, colors, uniforms, and logo, however, the Tigers will remain in Flint for the time being.
This comes as no surprise, as with the hiring of a new GM, the farm teams have seen new names as well. Many of the players voice their support, such as ace, Lorenzo Ortiz. He says, "It is a good step for this team, and we feel it is time for a change. Just not in scenery. Yet."
These changes will take place following the season, which is kicking into high gear for the Tigers, who now hold just a 2 game lead over the Pontiac Cubs.
Jul 28 2030:
Under New Management
-
by Patantask on January 22nd, 2017
The Flint Tigers have found themselves a new GM. This guy, a former top prospect flop with a good Baseball IQ will be looking to guide the Tigers along to a league title, and will look to bring on a better try for the cup, after going an abysmal 2-18 before being eliminated from contention.
"This is a team with a lot of potential. Personally, I will be looking to be well rounded in all areas of play."
The only problem the Tigers seem to have with him is the fact that he seems to know a little TOO much about the water, and seems a little TOO fond of the lead-filled stuff.
"It's almost like he is the one who contaminated it, but it wouldn't make sense. Would it?" Says Catcher Cal Izzo.
His first act as GM was the drafting of prospect Federico Lopez, a 17-year-old southpaw who is a bullpen hopeful with solid potential and a hammer curve. "He seems like the right guy, let's just see what he can do in the minors first, then I can judge where he belongs."