Cedar Rapids Royals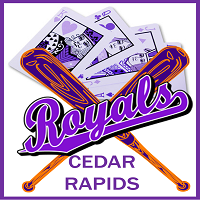 Team: Cedar Rapids Royals
[ID #113]
Location: Cedar Rapids, IA (Midwest)
Owner: bilbo

[since May 18th 2013 | last seen December 16th 2018]
Rank: #78 - Rating: 176.12
Fan Mood: 124.49
Prestige: 49
Color: Purple & Gold
Team Notes:
• May 31 2038:
Louis Gosselin
was released.
• Jan 15 2038:
Gonçalo Costa
was selected to the national team of
Portugal
.
• Jan 15 2038:
Tom Hamilton
was selected to the national team of
Canada
.
• Jun 04 2037:
Mateo Santiago
was claimed off of waivers.
• May 29 2037:
Rogelio Casillas
was signed as a free agent.
• May 29 2037:
Luis Díaz
was signed as a free agent.
• May 29 2037:
Al Gross
was released.
• Apr 14 2037:
Marcos De La Garza
was hired as the new manager.
• Apr 14 2037:
Jack Grun
was fired as manager.
• Mar 25 2037:
Christian Guardado
was released.
League Record:
Wins: 87 Losses: 67 Pct: .565 Last10: 6-4 Streak: W4
Ave: 4.5 - 4.2 RS: 698 RA: 651 DIFF: +47
Cup:
Group 38
[0 | Eliminated]
Press Releases:
Jul 20 2036: -
by bilbo on June 21st, 2018
First outing after his tenth all-star game
Alberto Barron
records his 200th win. After many years as a starter, Barron continues to shine in relief (despite the Royals looking like relegation fodder) and recorded his ninth career save next time out.
May 10 2029:
27 batters up, 27 batters down
-
by bilbo on October 15th, 2016
Louis Tucker pitches
a perfect game
against Sioux City to cap an exciting series.
Jan 15 2028:
MacArthur Park
-
by bilbo on July 2nd, 2016
It's scary. Last year's win was a magnificent achievement but possibly unique.
We know that we have some excellent young players: pitching ace Alberto Barron, first-base Jose Casanova plus outfielder and league MVP Ricky Chandler.
We also had a good but aging infield Maldonado, Felix and Corona. Then there were the contributions from veteran signings Fields, McMahon, Roy and Barber and then there's the aging bullpen too.
In order to repeat it is imperative that the front office bring in veterans that are immediately effective and coaching staff to bring on new talent quickly.
Otherwise it will be as if someone left the cake out in the rain and we're worried because it took so long to bake it and we may never have that recipe again.
However, no one can take the 2027 championship season from us - time for our happy dance!