Matthias "The Berlin Bullet" Weiman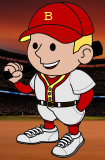 #94

- Matthias Weiman [ID #159719] Attleboro Americans 2B
Home Town: Berlin, Germany School: none Drafted: 2033, Round #1 by Racine Bombers
Veteran (2 years with club)
Bats (R) Throws (R) Positions: 2B
Attributes
Offense [Form: Cold]
Defense
Age: 31
Hitting:
12
Fielding:
14
Height: 5' 11"
Bat Control:
6
Range:
16
Weight: 197
Plate Discipline:
15
Arm:
13
Experience: 9 years
Power:
10
Skill Index:
102
Salary: $1.15M
Speed:
16
Potential:
13
Scouting Report: He can be a good hitter. He has decent speed. He can be outstanding in the field. He is probably too old to improve much more.
| Year | Team | LL | | G | AB | R | H | 2B | 3B | HR | RBI | BB | HBP | K | SB | CS | SH | FS | SF | AVE | OBP | SLG | OPS | VLHP | VRHP | Home | Away | RISP | GB/FB | GIDP | POTG | Age | SI | Salary |
| --- | --- | --- | --- | --- | --- | --- | --- | --- | --- | --- | --- | --- | --- | --- | --- | --- | --- | --- | --- | --- | --- | --- | --- | --- | --- | --- | --- | --- | --- | --- | --- | --- | --- | --- |
| 2036 | RAC | 6 | | 0 | 0 | 0 | 0 | 0 | 0 | 0 | 0 | 0 | 0 | 0 | 0 | 0 | 0 | 0 | 0 | .000 | .000 | .000 | .000 | .000 | .000 | .000 | .000 | .000 | - | 0 | 0 | 21 | 79 | $0.20M |
| 2037 | RAC | 5 | | 19 | 42 | 3 | 6 | 1 | 1 | 0 | 3 | 5 | 1 | 7 | 3 | 1 | 0 | 0 | 0 | .143 | .250 | .214 | .464 | .111 | .167 | .167 | .111 | .125 | 1.17 | 0 | 0 | 22 | 83 | $0.20M |
| 2038 | RAC | 5 | | 38 | 71 | 8 | 10 | 2 | 1 | 1 | 8 | 6 | 0 | 17 | 6 | 0 | 0 | 0 | 1 | .141 | .205 | .239 | .445 | .103 | .167 | .161 | .125 | .111 | 0.79 | 3 | 0 | 23 | 87 | $0.50M |
| 2039 | RAC | 5 | | 153 | 537 | 75 | 122 | 27 | 2 | 10 | 64 | 50 | 7 | 126 | 25 | 11 | 0 | 1 | 4 | .227 | .299 | .341 | .640 | .205 | .234 | .232 | .223 | .204 | 0.79 | 5 | 2 | 24 | 91 | $0.50M |
| 2040 | RAC | 5 | | 159 | 588 | 77 | 163 | 43 | 2 | 9 | 76 | 70 | 8 | 119 | 33 | 24 | 0 | 0 | 12 | .277 | .355 | .403 | .759 | .320 | .260 | .351 | .205 | .274 | 0.71 | 2 | 7 | 25 | 98 | $0.55M |
| 2041 | RAC | 6 | | 142 | 398 | 65 | 91 | 24 | 2 | 12 | 49 | 54 | 1 | 91 | 18 | 10 | 0 | 0 | 3 | .229 | .320 | .389 | .710 | .246 | .221 | .221 | .237 | .217 | 0.63 | 2 | 0 | 26 | 102 | $1.20M |
| 2042 | RAC | 6 | | 76 | 141 | 28 | 41 | 10 | 4 | 5 | 26 | 18 | 2 | 25 | 9 | 3 | 0 | 0 | 6 | .291 | .365 | .525 | .890 | .317 | .225 | .258 | .320 | .314 | 0.88 | 1 | 1 | 27 | 102 | $1.60M |
| 2043 | RAC | 5 | | 68 | 119 | 18 | 27 | 4 | 3 | 3 | 20 | 17 | 1 | 27 | 6 | 6 | 0 | 0 | 4 | .227 | .319 | .387 | .706 | .234 | .214 | .211 | .242 | .278 | 0.50 | 2 | 0 | 28 | 102 | $1.40M |
| 2044 | RAC | 6 | | 10 | 9 | 2 | 0 | 0 | 0 | 0 | 0 | 2 | 0 | 5 | 2 | 0 | 0 | 0 | 0 | .000 | .182 | .000 | .182 | .000 | .000 | .000 | .000 | .000 | 0.33 | 0 | 0 | 29 | 102 | $0.80M |
| 2044 | ATT | 6 | | 75 | 182 | 30 | 37 | 10 | 2 | 5 | 21 | 32 | 1 | 41 | 11 | 7 | 0 | 0 | 4 | .203 | .320 | .363 | .682 | .151 | .239 | .265 | .167 | .184 | 0.69 | 0 | 0 | 29 | 102 | $1.10M |
| 2045 | ATT | 6 | | 152 | 528 | 66 | 112 | 22 | 2 | 18 | 59 | 57 | 4 | 116 | 39 | 10 | 0 | 0 | 5 | .212 | .291 | .364 | .655 | .218 | .208 | .188 | .236 | .203 | 0.86 | 5 | 5 | 30 | 102 | $0.75M |
| 2046 | ATT | 6 | | 109 | 382 | 43 | 88 | 16 | 1 | 9 | 38 | 39 | 1 | 99 | 21 | 12 | 1 | 1 | 3 | .230 | .301 | .348 | .649 | .260 | .215 | .199 | .257 | .241 | 0.81 | 4 | 1 | 31 | 102 | $1.15M |
| Total | | | | 1001 | 2997 | 415 | 697 | 159 | 20 | 72 | 364 | 350 | 26 | 673 | 173 | 84 | 1 | 2 | 42 | .233 | .314 | .371 | .685 | .240 | .228 | .241 | .225 | .224 | 0.76 | 24 | 16 | - | - | - |
| Year | Team | | P | % | C | % | 1B | % | 2B | % | 3B | % | SS | % | OF | % | LF | % | CF | % | RF | % | DH | CS% | PB | DP | OA | E | FP |
| --- | --- | --- | --- | --- | --- | --- | --- | --- | --- | --- | --- | --- | --- | --- | --- | --- | --- | --- | --- | --- | --- | --- | --- | --- | --- | --- | --- | --- | --- |
| 2036 | RAC | | 0 | .000 | 0 | .000 | 0 | .000 | 0 | .000 | 0 | .000 | 0 | .000 | 0 | .000 | 0 | .000 | 0 | .000 | 0 | .000 | 0 | 0% | 0 | 0 | 0 | 0 | .000 |
| 2037 | RAC | | 0 | .000 | 0 | .000 | 7 | 1.000 | 3 | 1.000 | 0 | .000 | 0 | .000 | 9 | 1.000 | 0 | .000 | 0 | .000 | 9 | 1.000 | 0 | 0% | 0 | 2 | 1 | 0 | 1.000 |
| 2038 | RAC | | 0 | .000 | 2 | 1.000 | 5 | 1.000 | 13 | .947 | 2 | .000 | 0 | .000 | 13 | 1.000 | 0 | .000 | 0 | .000 | 13 | 1.000 | 3 | 0% | 0 | 3 | 1 | 1 | .985 |
| 2039 | RAC | | 0 | .000 | 0 | .000 | 0 | .000 | 153 | .978 | 0 | .000 | 0 | .000 | 0 | .000 | 0 | .000 | 0 | .000 | 0 | .000 | 0 | 0% | 0 | 50 | 0 | 14 | .978 |
| 2040 | RAC | | 0 | .000 | 0 | .000 | 0 | .000 | 159 | .970 | 0 | .000 | 0 | .000 | 0 | .000 | 0 | .000 | 0 | .000 | 0 | .000 | 0 | 0% | 0 | 63 | 0 | 20 | .970 |
| 2041 | RAC | | 0 | .000 | 0 | .000 | 0 | .000 | 142 | .981 | 0 | .000 | 0 | .000 | 0 | .000 | 0 | .000 | 0 | .000 | 0 | .000 | 0 | 0% | 0 | 48 | 0 | 9 | .981 |
| 2042 | RAC | | 0 | .000 | 4 | 1.000 | 0 | .000 | 68 | .968 | 1 | .000 | 0 | .000 | 3 | 1.000 | 0 | .000 | 0 | .000 | 3 | 1.000 | 0 | 100% | 0 | 15 | 0 | 5 | .969 |
| 2043 | RAC | | 0 | .000 | 3 | 1.000 | 3 | 1.000 | 48 | .990 | 8 | 1.000 | 1 | 1.000 | 1 | .000 | 0 | .000 | 0 | .000 | 1 | .000 | 4 | 0% | 0 | 10 | 0 | 1 | .990 |
| 2044 | RAC | | 0 | .000 | 0 | .000 | 3 | .000 | 4 | 1.000 | 2 | .000 | 0 | .000 | 0 | .000 | 0 | .000 | 0 | .000 | 0 | .000 | 1 | 0% | 0 | 0 | 0 | 0 | 1.000 |
| 2044 | ATT | | 0 | .000 | 6 | .969 | 4 | 1.000 | 43 | 1.000 | 5 | 1.000 | 7 | .970 | 10 | 1.000 | 8 | 1.000 | 2 | 1.000 | 0 | .000 | 0 | 0% | 0 | 5 | 0 | 2 | .990 |
| 2045 | ATT | | 0 | .000 | 3 | .960 | 0 | .000 | 145 | .959 | 3 | 1.000 | 0 | .000 | 1 | .000 | 0 | .000 | 1 | .000 | 0 | .000 | 0 | 33.3% | 0 | 66 | 0 | 25 | .959 |
| 2046 | ATT | | 0 | .000 | 0 | .000 | 0 | .000 | 109 | .965 | 0 | .000 | 0 | .000 | 0 | .000 | 0 | .000 | 0 | .000 | 0 | .000 | 0 | 0% | 0 | 44 | 0 | 17 | .965 |
| Total | | | 0 | .000 | 18 | .969 | 22 | 1.000 | 887 | .972 | 21 | 1.000 | 8 | .971 | 37 | 1.000 | 8 | 1.000 | 3 | 1.000 | 26 | 1.000 | 8 | 18.8% | 0 | 306 | 2 | 94 | .973 |
| Date | Game Date | Team From | Team To | Age | Transaction Type |
| --- | --- | --- | --- | --- | --- |
| 07/23/17 | January 15th 2033 | Draft Prospect Pool | Racine Bombers | 18 | International Signee |
| 02/10/20 | May 17th 2044 | Racine Bombers | Free Agent Pool | 29 | Released |
| 02/26/20 | July 14th 2044 | Free Agent Pool | Attleboro Americans | 29 | Free Agent Signee |

Statistics/Graph Selection: