Jorge "The Beast" Trevino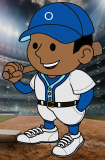 #53

- Jorge Trevino [ID #149117] Cincinnati Reds [

AAA

] P
Birthplace: Rancho Palos Verdes, California College: none Drafted: 2031, Round #1
Minor Leaguer (6 years with club)
Bats (R) Throws (R) Positions: P
Attributes
Pitching [Form: Average]
Defense
Age: 25
Velocity:
14
Fielding:
7
Height: 6' 1"
Change of Speeds:
11
Range:
15
Weight: 209
Movement:
9
Arm:
17
Experience: 0 years
Control:
9
Skill Index:
88
Salary: $0.20M
Stamina:
12
Potential:
13
Pitch Repertoire: Fastball, Circle Changeup, Curveball, Slider, Splitter
Scouting Report: He can be a strike out pitcher. His control will always be below average. He will be able to throw all day. He has good overall potential.
| Year | Team | LL | | G | W | L | S | BS | H | IP | | H | R | ER | BB | HB | K | HR | GS | CG | SHO | QS | ERA | FIP | BAA | VLHB | VRHB | WHIP | ST% | GB/FB | RS | WP | Age | SI | Salary |
| --- | --- | --- | --- | --- | --- | --- | --- | --- | --- | --- | --- | --- | --- | --- | --- | --- | --- | --- | --- | --- | --- | --- | --- | --- | --- | --- | --- | --- | --- | --- | --- | --- | --- | --- | --- |
| 2031 | CIN | Rookie | | 49 | 5 | 16 | 1 | 2 | 0 | 151 | | 273 | 188 | 148 | 60 | 3 | 87 | 25 | 25 | 0 | 0 | 3 | 8.82 | 5.33 | .377 | .446 | .330 | 2.225 | 59.5 | 1.57 | 5.68 | 10 | 18 | 41 | $0.20M |
| 2032 | CIN | A | | 48 | 5 | 13 | 4 | 4 | 2 | 106 | ⅓ | 162 | 107 | 91 | 48 | 3 | 59 | 20 | 10 | 0 | 0 | 1 | 7.70 | 5.87 | .344 | .323 | .364 | 2.003 | 58.7 | 1.17 | 6.00 | 2 | 19 | 49 | $0.20M |
| 2033 | CIN | A | | 54 | 6 | 11 | 3 | 1 | 1 | 179 | ⅔ | 257 | 184 | 146 | 88 | 7 | 110 | 31 | 33 | 0 | 0 | 3 | 7.31 | 5.67 | .321 | .341 | .306 | 1.959 | 60.3 | 1.09 | 6.24 | 8 | 20 | 55 | $0.20M |
| 2034 | CIN | AA | | 39 | 3 | 18 | 4 | 2 | 0 | 140 | | 179 | 118 | 103 | 66 | 8 | 99 | 20 | 26 | 0 | 0 | 4 | 6.62 | 5.11 | .300 | .314 | .289 | 1.807 | 59.5 | 1.16 | 4.88 | 5 | 21 | 60 | $0.20M |
| 2035 | CIN | AA | | 29 | 8 | 11 | 0 | 0 | 0 | 139 | | 153 | 86 | 80 | 60 | 5 | 117 | 22 | 25 | 0 | 0 | 7 | 5.18 | 4.86 | .274 | .289 | .262 | 1.568 | 59.3 | 1.12 | 5.12 | 2 | 22 | 73 | $0.20M |
| 2036 | CIN | AAA | | 45 | 7 | 11 | 2 | 2 | 1 | 169 | ⅔ | 205 | 138 | 118 | 80 | 4 | 138 | 31 | 26 | 0 | 0 | 3 | 6.26 | 5.33 | .290 | .298 | .282 | 1.703 | 59.9 | 1.10 | 5.88 | 11 | 23 | 78 | $0.20M |
| 2037 | CIN | AAA | | 36 | 5 | 11 | 3 | 0 | 0 | 145 | | 164 | 101 | 82 | 58 | 7 | 105 | 27 | 23 | 0 | 0 | 5 | 5.09 | 5.42 | .276 | .281 | .271 | 1.579 | 59.9 | 1.15 | 4.57 | 8 | 24 | 86 | $0.20M |
| 2038 | CIN | AAA | | 0 | 0 | 0 | 0 | 0 | 0 | 0 | | 0 | 0 | 0 | 0 | 0 | 0 | 0 | 0 | 0 | 0 | 0 | - | - | .000 | .000 | .000 | - | - | - | - | 0 | 25 | 88 | $0.20M |
| Total | | | | 300 | 39 | 91 | 17 | 11 | 4 | 1030 | ⅔ | 1393 | 922 | 768 | 460 | 37 | 715 | 176 | 168 | 0 | 0 | 26 | 6.71 | 5.36 | .313 | .329 | .300 | 1.834 | 59.7 | 1.19 | 5.48 | 46 | - | - | - |
| Year | Team | | P | % | C | % | 1B | % | 2B | % | 3B | % | SS | % | OF | % | LF | % | CF | % | RF | % | DH | CS% | PB | DP | OA | E | FP |
| --- | --- | --- | --- | --- | --- | --- | --- | --- | --- | --- | --- | --- | --- | --- | --- | --- | --- | --- | --- | --- | --- | --- | --- | --- | --- | --- | --- | --- | --- |
| 2031 | CIN | | 49 | .862 | 0 | .000 | 0 | .000 | 0 | .000 | 0 | .000 | 0 | .000 | 0 | .000 | 0 | .000 | 0 | .000 | 0 | .000 | 0 | 0% | 0 | 1 | 0 | 4 | .862 |
| 2032 | CIN | | 48 | .944 | 0 | .000 | 0 | .000 | 0 | .000 | 0 | .000 | 0 | .000 | 0 | .000 | 0 | .000 | 0 | .000 | 0 | .000 | 0 | 0% | 0 | 1 | 0 | 1 | .944 |
| 2033 | CIN | | 54 | .903 | 0 | .000 | 0 | .000 | 0 | .000 | 0 | .000 | 0 | .000 | 0 | .000 | 0 | .000 | 0 | .000 | 0 | .000 | 0 | 0% | 0 | 0 | 0 | 3 | .903 |
| 2034 | CIN | | 39 | .955 | 0 | .000 | 0 | .000 | 0 | .000 | 0 | .000 | 0 | .000 | 0 | .000 | 0 | .000 | 0 | .000 | 0 | .000 | 0 | 0% | 0 | 1 | 0 | 1 | .955 |
| 2035 | CIN | | 29 | .963 | 0 | .000 | 0 | .000 | 0 | .000 | 0 | .000 | 0 | .000 | 0 | .000 | 0 | .000 | 0 | .000 | 0 | .000 | 0 | 0% | 0 | 0 | 0 | 1 | .963 |
| 2036 | CIN | | 45 | 1.000 | 0 | .000 | 0 | .000 | 0 | .000 | 0 | .000 | 0 | .000 | 0 | .000 | 0 | .000 | 0 | .000 | 0 | .000 | 0 | 0% | 0 | 1 | 0 | 0 | 1.000 |
| 2037 | CIN | | 36 | .870 | 0 | .000 | 0 | .000 | 0 | .000 | 0 | .000 | 0 | .000 | 0 | .000 | 0 | .000 | 0 | .000 | 0 | .000 | 0 | 0% | 0 | 1 | 0 | 3 | .870 |
| 2038 | CIN | | 0 | .000 | 0 | .000 | 0 | .000 | 0 | .000 | 0 | .000 | 0 | .000 | 0 | .000 | 0 | .000 | 0 | .000 | 0 | .000 | 0 | 0% | 0 | 0 | 0 | 0 | .000 |
| Total | | | 300 | .927 | 0 | .000 | 0 | .000 | 0 | .000 | 0 | .000 | 0 | .000 | 0 | .000 | 0 | .000 | 0 | .000 | 0 | .000 | 0 | 0% | 0 | 5 | 0 | 13 | .927 |
| Date | Game Date | Team From | Team To | Age | Transaction Type |
| --- | --- | --- | --- | --- | --- |
| 02/18/17 | January 15th 2031 | - | Cincinnati Reds | 18 | High School Draftee |

Statistics/Graph Selection: