Caesar "The Franchise" Fajardo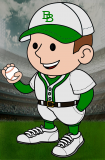 #1

- Caesar Fajardo [ID #115415] Missoula Polar Bears 1B
Birthplace: Havana, Cuba College: none Drafted: 2024, Round #4 by Mount Prospect Raiders
Veteran (10 years with club)
Bats (S) Throws (L) Positions: 1B of
Attributes
Offense [Form: Average]
Defense
Age: 29
Hitting:
19
Fielding:
6
Height: 6' 2"
Bat Control:
17
Range:
11
Weight: 215
Plate Discipline:
12
Arm:
11
Experience: 7 years
Power:
16
Skill Index:
106
Salary: $5.70M
Speed:
14
Potential:
13
Scouting Report: He can be a great hitter. He can develop into a prolific slugger. He has decent speed. He will always be a poor fielder. He has very good overall potential. He is probably too old to improve much more.
| Year | Team | LL | | G | AB | R | H | 2B | 3B | HR | RBI | BB | HBP | K | SB | CS | SH | FS | SF | AVE | OBP | SLG | OPS | VLHP | VRHP | Home | Away | RISP | GB/FB | GIDP | POTG | Age | SI | Salary |
| --- | --- | --- | --- | --- | --- | --- | --- | --- | --- | --- | --- | --- | --- | --- | --- | --- | --- | --- | --- | --- | --- | --- | --- | --- | --- | --- | --- | --- | --- | --- | --- | --- | --- | --- |
| 2029 | MIS | 5 | | 49 | 167 | 31 | 40 | 7 | 1 | 7 | 23 | 17 | 2 | 33 | 6 | 2 | 1 | 0 | 3 | .240 | .312 | .419 | .731 | .269 | .220 | .250 | .232 | .000 | 0.71 | 4 | 2 | 21 | 89 | $0.20M |
| 2030 | MIS | 4 | | 117 | 419 | 61 | 117 | 34 | 3 | 15 | 66 | 31 | 1 | 50 | 5 | 8 | 3 | 1 | 7 | .279 | .325 | .482 | .807 | .258 | .288 | .275 | .283 | .000 | 0.81 | 5 | 4 | 22 | 94 | $0.50M |
| 2031 | MIS | 4 | | 154 | 606 | 126 | 195 | 48 | 3 | 37 | 125 | 68 | 8 | 80 | 7 | 2 | 7 | 1 | 15 | .322 | .389 | .594 | .983 | .335 | .315 | .315 | .328 | .321 | 0.61 | 7 | 14 | 23 | 100 | $0.60M |
| 2032 | MIS | 3 | | 152 | 620 | 86 | 197 | 51 | 3 | 34 | 137 | 48 | 3 | 63 | 7 | 4 | 4 | 2 | 17 | .318 | .360 | .574 | .935 | .292 | .332 | .335 | .298 | .348 | 0.61 | 6 | 15 | 24 | 107 | $2.15M |
| 2033 | MIS | 2 | | 147 | 601 | 98 | 165 | 41 | 5 | 33 | 128 | 43 | 3 | 74 | 2 | 0 | 2 | 2 | 14 | .275 | .319 | .524 | .843 | .299 | .266 | .312 | .238 | .286 | 0.54 | 1 | 12 | 25 | 107 | $3.75M |
| 2034 | MIS | 1 | | 157 | 655 | 94 | 197 | 59 | 4 | 36 | 129 | 51 | 4 | 73 | 3 | 4 | 4 | 0 | 7 | .301 | .351 | .568 | .919 | .279 | .311 | .280 | .322 | .296 | 0.61 | 7 | 7 | 26 | 107 | $4.25M |
| 2035 | MIS | 2 | | 152 | 628 | 104 | 209 | 57 | 8 | 28 | 129 | 50 | 10 | 67 | 3 | 0 | 1 | 0 | 13 | .333 | .384 | .583 | .967 | .324 | .336 | .350 | .317 | .357 | 0.60 | 6 | 21 | 27 | 107 | $4.20M |
| 2036 | MIS | 1 | | 145 | 587 | 125 | 189 | 47 | 4 | 35 | 112 | 59 | 3 | 54 | 1 | 2 | 5 | 0 | 7 | .322 | .383 | .595 | .977 | .291 | .336 | .341 | .300 | .293 | 0.66 | 3 | 14 | 28 | 107 | $4.45M |
| 2037 | MIS | 1 | | 125 | 516 | 79 | 154 | 28 | 5 | 30 | 105 | 40 | 3 | 69 | 3 | 1 | 3 | 0 | 3 | .298 | .351 | .547 | .897 | .237 | .325 | .302 | .296 | .340 | 0.64 | 7 | 10 | 29 | 106 | $5.70M |
| Total | | | | 1198 | 4799 | 804 | 1463 | 372 | 36 | 255 | 954 | 407 | 37 | 563 | 37 | 23 | 30 | 6 | 86 | .305 | .358 | .557 | .915 | .291 | .311 | .314 | .296 | .319 | 0.63 | 46 | 99 | - | - | - |
| Year | Team | | P | % | C | % | 1B | % | 2B | % | 3B | % | SS | % | OF | % | LF | % | CF | % | RF | % | DH | CS% | PB | DP | OA | E | FP |
| --- | --- | --- | --- | --- | --- | --- | --- | --- | --- | --- | --- | --- | --- | --- | --- | --- | --- | --- | --- | --- | --- | --- | --- | --- | --- | --- | --- | --- | --- |
| 2029 | MIS | | 0 | .000 | 0 | .000 | 19 | .987 | 0 | .000 | 0 | .000 | 0 | .000 | 0 | .000 | 0 | .000 | 0 | .000 | 0 | .000 | 30 | 0% | 0 | 6 | 0 | 2 | .987 |
| 2030 | MIS | | 0 | .000 | 0 | .000 | 65 | .987 | 0 | .000 | 1 | .000 | 0 | .000 | 4 | 1.000 | 3 | 1.000 | 0 | .000 | 1 | .000 | 47 | 0% | 0 | 38 | 0 | 8 | .986 |
| 2031 | MIS | | 0 | .000 | 0 | .000 | 97 | .991 | 0 | .000 | 0 | .000 | 0 | .000 | 0 | .000 | 0 | .000 | 0 | .000 | 0 | .000 | 57 | 0% | 0 | 57 | 0 | 8 | .991 |
| 2032 | MIS | | 0 | .000 | 0 | .000 | 30 | .974 | 0 | .000 | 0 | .000 | 0 | .000 | 0 | .000 | 0 | .000 | 0 | .000 | 0 | .000 | 122 | 0% | 0 | 24 | 0 | 7 | .974 |
| 2033 | MIS | | 0 | .000 | 0 | .000 | 8 | .985 | 0 | .000 | 0 | .000 | 0 | .000 | 0 | .000 | 0 | .000 | 0 | .000 | 0 | .000 | 139 | 0% | 0 | 1 | 0 | 1 | .985 |
| 2034 | MIS | | 0 | .000 | 0 | .000 | 11 | 1.000 | 0 | .000 | 0 | .000 | 0 | .000 | 17 | 1.000 | 17 | 1.000 | 0 | .000 | 0 | .000 | 129 | 0% | 0 | 3 | 0 | 0 | 1.000 |
| 2035 | MIS | | 0 | .000 | 0 | .000 | 5 | 1.000 | 0 | .000 | 0 | .000 | 0 | .000 | 10 | 1.000 | 10 | 1.000 | 0 | .000 | 0 | .000 | 137 | 0% | 0 | 4 | 0 | 0 | 1.000 |
| 2036 | MIS | | 0 | .000 | 0 | .000 | 9 | .973 | 0 | .000 | 0 | .000 | 0 | .000 | 42 | .990 | 41 | .990 | 0 | .000 | 1 | 1.000 | 94 | 0% | 0 | 3 | 1 | 3 | .983 |
| 2037 | MIS | | 0 | .000 | 0 | .000 | 23 | .966 | 0 | .000 | 0 | .000 | 0 | .000 | 1 | 1.000 | 1 | 1.000 | 0 | .000 | 0 | .000 | 101 | 0% | 0 | 6 | 0 | 6 | .966 |
| Total | | | 0 | .000 | 0 | .000 | 267 | .986 | 0 | .000 | 1 | .000 | 0 | .000 | 74 | .995 | 72 | .995 | 0 | .000 | 2 | 1.000 | 856 | 0% | 0 | 142 | 1 | 35 | .986 |

Statistics/Graph Selection: