Tampa Bay Tornados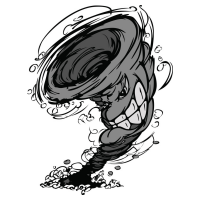 Team: Tampa Bay Tornados
[ID #31]
Location: Tampa Bay, FL (Southeast)
Owner: nevrsaydie

[since April 03rd 2017 | last seen February 18th 2019]
Rank: #558 - Rating: 61.84
Fan Mood: 91.55
Prestige: 12
Color: Blue & Gold
Team Notes:
• Aug 09 2039:
Frank Ming
was claimed off of waivers.
• Aug 09 2039:
Antonio Moreno
was claimed off of waivers.
• Aug 09 2039:
Raul Clemente
was released.
• Feb 19 2039:
Brock Connell
was claimed off of waivers.
• Jan 22 2039:
Fabián Andrade
was claimed off of waivers.
• Jan 22 2039:
Leonardo Cueto
was released.
• Jan 22 2039:
Adrián Maldonado
was released.
• Jan 22 2039:
Joe Hanssen
was signed as a free agent.
• Jan 21 2039:
Nick Burt
was released.
• Jan 15 2039:
Joshua Cruz
was selected to the national team of
Philippines
.
League Record:
Wins: 62 Losses: 62 Pct: .500 Last10: 3-7 Streak: W3
Ave: 5.0 - 5.4 RS: 615 RA: 665 DIFF: -50
Cup:
Group 47
[0 | Eliminated]
Press Releases:
Nov 03 2033:
David beats Goliath??
-
by nevrsaydie on October 5th, 2017
Not having won a division title since the 2005 season and not having an above .500 season in almost 20 years, new ownership hits the lottery after only 2 full seasons under ownership. Real successful year. But the icing on the cake was beating St Paul (the clear Goliath of the league this year) in 6 games with outstanding overall pitching and timely hitting. As a long-shot, we would have cleaned up betting on ourselves to win the league title! Tornadoes always seem to develop fast, destroy everything in their path, and are talked about for years and years. Congratulations to this organization who finally has something to brag about!!!
Feb 19 2033:
2032 Season More Than Successful!
-
by nevrsaydie on July 27th, 2017
What a difference ownership makes! At the beginning of the 2031 season club officials frowned and scowled saying as little as possible and looking like someone just ran over their collective puppy. But look at Ms. Nevrsaydie and what she had to say to the press the day before Spring Training of the 2033 season:
"In my wildest dreams I could not have hoped for such a drastic turnaround! Do you realize that this organization was ranked 747 in all of brokenbat? To begin the 2033 season we are ranked 675! We took third place in our division (best since the 2010 season, really!) and we are NO longer the doormat of the division. We are competitive! We finished eight games under 500 last year!" This reporter asked: "So what do you attribute it to?" She replied, "Good roster moves, prayer, but most of all...PATIENCE! And we believe in staying the course!!" Go Tornadoes!
Jul 09 2031:
Over 2 decades of losing seasons?
-
by nevrsaydie on April 4th, 2017
"If you think YOU have it bad, just look at this mess!" was what new owner Ms. NevrSayDie said to the reporters outside her door upon her first day on the job. When asked what intended to do about the awful situation she finds herself, this is what she had to say: "Well, first of all I intend to 'clean-up' as best we can the mess that has been 26 consecutive seasons not having finished divisions with a better than 4th place result. Next, we prepare for the future with better prospects. Then finally my overall goal is to improve each of the next 3 years to become more competitive in our league. It's been too long that other teams have looked forward to playing us and wiped their feet on us!"