Gary "The Franchise" Wall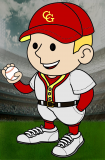 Gary Wall [ID #85012] Free Agent OF
Birthplace: Wichita Falls, Texas College: none
Veteran
Bats (R) Throws (R) Positions: OF
Attributes
Offense [Form: Average]
Defense
Age: 35
Hitting:
17
Fielding:
9
Height: 6' 2"
Bat Control:
5
Range:
14
Weight: 204
Plate Discipline:
18
Arm:
15
Experience: 13 years
Power:
13
Skill Index:
105
Salary: $2.95M
Speed:
14
Potential:
15
Scouting Report: He can be a great hitter. He can develop into a decent slugger. He is really quick. He is getting to the age where his skills may decline quickly.
| Year | Team | LL | | G | AB | R | H | 2B | 3B | HR | RBI | BB | HBP | K | SB | CS | SH | FS | SF | AVE | OBP | SLG | OPS | VLHP | VRHP | Home | Away | RISP | GB/FB | GIDP | POTG | Age | SI | Salary |
| --- | --- | --- | --- | --- | --- | --- | --- | --- | --- | --- | --- | --- | --- | --- | --- | --- | --- | --- | --- | --- | --- | --- | --- | --- | --- | --- | --- | --- | --- | --- | --- | --- | --- | --- |
| 2021 | WHE | 3 | | 59 | 114 | 17 | 32 | 10 | 0 | 4 | 9 | 9 | 0 | 22 | 9 | 4 | 0 | 0 | 0 | .281 | .333 | .474 | .807 | .257 | .318 | .000 | .281 | .000 | - | 0 | 0 | 21 | 95 | $0.20M |
| 2022 | WHE | 3 | | 143 | 351 | 56 | 101 | 23 | 4 | 14 | 71 | 28 | 1 | 78 | 21 | 5 | 0 | 0 | 6 | .288 | .337 | .496 | .833 | .320 | .258 | .000 | .288 | .000 | - | 0 | 0 | 22 | 102 | $0.50M |
| 2023 | WHE | 3 | | 152 | 383 | 77 | 110 | 28 | 6 | 14 | 60 | 63 | 7 | 94 | 28 | 4 | 0 | 0 | 2 | .287 | .396 | .501 | .897 | .281 | .291 | .000 | .287 | .000 | 1.00 | 0 | 0 | 23 | 109 | $0.65M |
| 2024 | WHE | 4 | | 151 | 441 | 106 | 144 | 29 | 7 | 37 | 101 | 70 | 2 | 86 | 26 | 6 | 3 | 0 | 4 | .327 | .418 | .676 | 1.094 | .363 | .304 | .000 | .327 | .000 | 0.84 | 0 | 12 | 24 | 118 | $1.40M |
| 2025 | WHE | 3 | | 146 | 417 | 82 | 114 | 36 | 5 | 23 | 66 | 57 | 1 | 102 | 33 | 1 | 0 | 0 | 2 | .273 | .361 | .549 | .910 | .313 | .256 | .000 | .273 | .000 | 0.71 | 0 | 9 | 25 | 124 | $3.25M |
| 2026 | WHE | 4 | | 153 | 482 | 105 | 152 | 42 | 3 | 30 | 90 | 58 | 4 | 95 | 18 | 8 | 0 | 0 | 3 | .315 | .391 | .602 | .993 | .273 | .336 | .330 | .304 | .000 | 0.89 | 0 | 7 | 26 | 124 | $3.80M |
| 2027 | WHE | 4 | | 155 | 429 | 84 | 146 | 34 | 9 | 21 | 73 | 63 | 3 | 71 | 31 | 7 | 0 | 2 | 4 | .340 | .425 | .608 | 1.033 | .360 | .331 | .333 | .346 | .000 | 0.83 | 0 | 5 | 27 | 124 | $4.85M |
| 2028 | WHE | 5 | | 155 | 632 | 150 | 200 | 63 | 12 | 37 | 145 | 108 | 1 | 120 | 50 | 16 | 0 | 1 | 7 | .316 | .413 | .630 | 1.043 | .368 | .297 | .294 | .339 | .000 | 0.74 | 2 | 20 | 28 | 124 | $4.30M |
| 2029 | WHE | 4 | | 158 | 633 | 139 | 202 | 51 | 17 | 35 | 135 | 96 | 3 | 131 | 48 | 17 | 0 | 0 | 13 | .319 | .404 | .619 | 1.023 | .324 | .317 | .314 | .324 | .000 | 0.72 | 8 | 22 | 29 | 124 | $5.45M |
| 2030 | WHE | 3 | | 158 | 608 | 117 | 187 | 62 | 12 | 36 | 116 | 92 | 4 | 128 | 35 | 15 | 0 | 0 | 12 | .308 | .395 | .627 | 1.022 | .341 | .295 | .294 | .320 | .000 | 0.69 | 6 | 18 | 30 | 124 | $5.75M |
| 2031 | WHE | 3 | | 152 | 579 | 91 | 159 | 43 | 6 | 24 | 91 | 84 | 6 | 111 | 37 | 14 | 0 | 0 | 7 | .275 | .368 | .494 | .862 | .269 | .277 | .239 | .308 | .296 | 0.67 | 6 | 10 | 31 | 123 | $6.40M |
| 2032 | WHE | 4 | | 156 | 601 | 113 | 178 | 55 | 6 | 28 | 120 | 88 | 8 | 131 | 29 | 19 | 0 | 0 | 7 | .296 | .389 | .547 | .937 | .323 | .280 | .299 | .293 | .355 | 0.70 | 6 | 16 | 32 | 122 | $4.60M |
| 2033 | WHE | 4 | | 154 | 592 | 96 | 162 | 42 | 4 | 22 | 96 | 91 | 2 | 130 | 36 | 12 | 0 | 0 | 6 | .274 | .369 | .470 | .839 | .285 | .270 | .252 | .293 | .297 | 0.89 | 2 | 12 | 33 | 117 | $3.90M |
| 2034 | WHE | 4 | | 152 | 578 | 84 | 148 | 38 | 4 | 20 | 84 | 72 | 3 | 140 | 9 | 5 | 0 | 0 | 10 | .256 | .336 | .439 | .776 | .242 | .262 | .258 | .254 | .272 | 0.77 | 6 | 6 | 34 | 111 | $2.75M |
| 2035 | WHE | 4 | | 105 | 401 | 54 | 115 | 28 | 1 | 15 | 68 | 56 | 3 | 83 | 6 | 1 | 0 | 0 | 1 | .287 | .377 | .474 | .851 | .211 | .317 | .324 | .259 | .315 | 0.98 | 1 | 4 | 35 | 105 | $2.05M |
| 2035 | BCR | 1 | | 0 | 0 | 0 | 0 | 0 | 0 | 0 | 0 | 0 | 0 | 0 | 0 | 0 | 0 | 0 | 0 | .000 | .000 | .000 | .000 | .000 | .000 | .000 | .000 | .000 | - | 0 | 0 | 35 | 105 | $2.95M |
| Total | | | | 2149 | 7241 | 1371 | 2150 | 584 | 96 | 360 | 1325 | 1035 | 48 | 1522 | 416 | 134 | 3 | 3 | 84 | .297 | .385 | .553 | .938 | .306 | .292 | .291 | .300 | .306 | 0.78 | 37 | 141 | - | - | - |
| Year | Team | | P | % | C | % | 1B | % | 2B | % | 3B | % | SS | % | OF | % | LF | % | CF | % | RF | % | DH | CS% | PB | DP | OA | E | FP |
| --- | --- | --- | --- | --- | --- | --- | --- | --- | --- | --- | --- | --- | --- | --- | --- | --- | --- | --- | --- | --- | --- | --- | --- | --- | --- | --- | --- | --- | --- |
| 2021 | WHE | | 0 | .000 | 12 | 1.000 | 4 | .944 | 1 | .000 | 0 | .000 | 1 | 1.000 | 37 | 1.000 | 13 | 1.000 | 20 | 1.000 | 4 | 1.000 | 3 | 66.7% | 0 | 1 | 2 | 1 | .990 |
| 2022 | WHE | | 0 | .000 | 5 | 1.000 | 3 | 1.000 | 0 | .000 | 6 | .500 | 4 | 1.000 | 72 | 1.000 | 1 | .000 | 7 | 1.000 | 64 | 1.000 | 53 | 40% | 1 | 1 | 2 | 1 | .993 |
| 2023 | WHE | | 0 | .000 | 14 | 1.000 | 0 | .000 | 2 | .778 | 8 | .792 | 3 | .875 | 54 | 1.000 | 3 | 1.000 | 3 | 1.000 | 48 | 1.000 | 71 | 28.6% | 0 | 1 | 0 | 9 | .959 |
| 2024 | WHE | | 0 | .000 | 14 | 1.000 | 29 | .965 | 5 | .889 | 3 | 1.000 | 0 | .000 | 59 | .988 | 44 | 1.000 | 9 | .972 | 6 | 1.000 | 41 | 15.4% | 1 | 11 | 1 | 8 | .974 |
| 2025 | WHE | | 0 | .000 | 45 | 1.000 | 24 | .991 | 3 | 1.000 | 1 | 1.000 | 3 | .917 | 36 | 1.000 | 11 | 1.000 | 4 | 1.000 | 21 | 1.000 | 34 | 38.1% | 2 | 9 | 4 | 2 | .995 |
| 2026 | WHE | | 0 | .000 | 32 | 1.000 | 32 | .991 | 12 | .960 | 6 | .667 | 6 | .818 | 26 | .986 | 16 | 1.000 | 5 | .947 | 5 | 1.000 | 39 | 45% | 2 | 8 | 0 | 11 | .971 |
| 2027 | WHE | | 0 | .000 | 52 | 1.000 | 31 | .965 | 0 | .000 | 4 | .750 | 1 | .750 | 28 | 1.000 | 15 | 1.000 | 2 | 1.000 | 11 | 1.000 | 39 | 28.6% | 1 | 9 | 0 | 7 | .980 |
| 2028 | WHE | | 0 | .000 | 0 | .000 | 0 | .000 | 0 | .000 | 57 | .937 | 0 | .000 | 98 | .973 | 0 | .000 | 97 | .973 | 1 | .000 | 0 | 0% | 0 | 4 | 7 | 18 | .962 |
| 2029 | WHE | | 0 | .000 | 0 | .000 | 0 | .000 | 0 | .000 | 0 | .000 | 0 | .000 | 158 | .995 | 0 | .000 | 147 | .994 | 11 | 1.000 | 0 | 0% | 0 | 2 | 15 | 3 | .995 |
| 2030 | WHE | | 0 | .000 | 0 | .000 | 0 | .000 | 0 | .000 | 0 | .000 | 0 | .000 | 158 | .994 | 0 | .000 | 157 | .994 | 1 | 1.000 | 0 | 0% | 0 | 4 | 16 | 3 | .994 |
| 2031 | WHE | | 0 | .000 | 71 | .993 | 0 | .000 | 0 | .000 | 0 | .000 | 0 | .000 | 81 | .985 | 0 | .000 | 81 | .985 | 0 | .000 | 0 | 27.4% | 6 | 6 | 5 | 7 | .990 |
| 2032 | WHE | | 0 | .000 | 0 | .000 | 0 | .000 | 2 | 1.000 | 0 | .000 | 0 | .000 | 154 | .993 | 0 | .000 | 154 | .993 | 0 | .000 | 0 | 0% | 0 | 1 | 11 | 4 | .993 |
| 2033 | WHE | | 0 | .000 | 0 | .000 | 0 | .000 | 0 | .000 | 0 | .000 | 0 | .000 | 154 | .986 | 0 | .000 | 75 | .987 | 79 | .986 | 0 | 0% | 0 | 2 | 9 | 7 | .986 |
| 2034 | WHE | | 0 | .000 | 0 | .000 | 0 | .000 | 0 | .000 | 0 | .000 | 0 | .000 | 152 | .985 | 0 | .000 | 52 | .994 | 100 | .980 | 0 | 0% | 0 | 1 | 11 | 7 | .985 |
| 2035 | WHE | | 0 | .000 | 0 | .000 | 0 | .000 | 0 | .000 | 0 | .000 | 0 | .000 | 105 | .988 | 0 | .000 | 31 | .975 | 74 | .995 | 0 | 0% | 0 | 0 | 10 | 4 | .988 |
| 2035 | BCR | | 0 | .000 | 0 | .000 | 0 | .000 | 0 | .000 | 0 | .000 | 0 | .000 | 0 | .000 | 0 | .000 | 0 | .000 | 0 | .000 | 0 | 0% | 0 | 0 | 0 | 0 | .000 |
| Total | | | 0 | .000 | 245 | .997 | 123 | .977 | 25 | .931 | 85 | .897 | 18 | .873 | 1372 | .989 | 103 | 1.000 | 844 | .989 | 425 | .990 | 280 | 30.9% | 13 | 60 | 93 | 92 | .985 |

Statistics/Graph Selection: