"Ol' Lefthander" Óscar Ramírez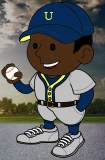 #60

- Óscar Ramírez [ID #145160] Cincinnati Stormtroopers P
Home Town: Dajabón, Dominican Republic School: none Drafted: 2030, Round #3 by Gastonia Cowboys
Veteran (1 year with club)
Bats (L) Throws (L) Positions: P
Attributes
Pitching [Form: Average]
Defense
Age: 35
Velocity:
11
Fielding:
17
Height: 6' 3"
Change of Speeds:
19
Range:
8
Weight: 213
Movement:
12
Arm:
5
Experience: 10 years
Control:
7
Skill Index:
97
Salary: $1.00M
Stamina:
17
Potential:
13
Pitch Repertoire: Fastball, Changeup, Curveball
Scouting Report: His fastball will have some pop. His control will always be lacking. He will be able to throw all day. He is getting to the age where his skills may decline quickly.
| Year | Team | LL | | G | W | L | S | BS | H | IP | | H | R | ER | BB | HB | K | HR | GS | CG | SHO | QS | ERA | FIP | BAA | VLHB | VRHB | WHIP | ST% | GB/FB | RS | WP | POTG | Age | SI | Salary |
| --- | --- | --- | --- | --- | --- | --- | --- | --- | --- | --- | --- | --- | --- | --- | --- | --- | --- | --- | --- | --- | --- | --- | --- | --- | --- | --- | --- | --- | --- | --- | --- | --- | --- | --- | --- | --- |
| 2036 | GAS | 4 | | 34 | 5 | 1 | 0 | 1 | 0 | 58 | | 48 | 25 | 23 | 35 | 1 | 23 | 5 | 0 | 0 | 0 | 0 | 3.57 | 5.08 | .223 | .167 | .235 | 1.448 | 57.2 | 1.09 | - | 4 | 0 | 25 | 82 | $0.50M |
| 2037 | GAS | 5 | | 48 | 5 | 11 | 2 | 2 | 0 | 140 | | 129 | 72 | 61 | 78 | 10 | 48 | 14 | 26 | 0 | 0 | 0 | 3.92 | 5.54 | .241 | .256 | .238 | 1.550 | 58.7 | 1.15 | 4.23 | 7 | 2 | 26 | 92 | $0.50M |
| 2038 | GAS | 5 | | 36 | 11 | 10 | 0 | 0 | 0 | 177 | ⅓ | 166 | 98 | 83 | 71 | 3 | 80 | 12 | 36 | 1 | 0 | 17 | 4.21 | 4.30 | .243 | .305 | .237 | 1.353 | 60.8 | 1.05 | 4.67 | 5 | 6 | 27 | 101 | $0.50M |
| 2039 | GAS | 5 | | 33 | 8 | 7 | 0 | 0 | 0 | 174 | ⅔ | 143 | 97 | 89 | 87 | 6 | 74 | 18 | 33 | 1 | 1 | 13 | 4.59 | 5.19 | .220 | .140 | .234 | 1.351 | 59.2 | 1.03 | 5.73 | 7 | 7 | 28 | 101 | $1.25M |
| 2040 | GAS | 4 | | 36 | 13 | 6 | 0 | 0 | 0 | 159 | ⅓ | 173 | 89 | 85 | 88 | 9 | 65 | 19 | 36 | 0 | 0 | 12 | 4.80 | 5.66 | .275 | .279 | .275 | 1.695 | 59.3 | 0.87 | 5.83 | 7 | 7 | 29 | 101 | $1.25M |
| 2041 | GAS | 4 | | 42 | 11 | 6 | 3 | 5 | 2 | 114 | ⅓ | 88 | 57 | 54 | 78 | 4 | 59 | 9 | 13 | 0 | 0 | 3 | 4.25 | 5.22 | .215 | .123 | .233 | 1.487 | 57.6 | 0.85 | 4.08 | 6 | 3 | 30 | 101 | $1.70M |
| 2042 | GAS | 4 | | 21 | 2 | 3 | 0 | 0 | 0 | 65 | ⅔ | 49 | 20 | 20 | 40 | 3 | 37 | 4 | 6 | 0 | 0 | 0 | 2.74 | 4.64 | .206 | .034 | .230 | 1.401 | 57.3 | 1.17 | 2.67 | 2 | 1 | 31 | 101 | $1.65M |
| 2043 | GAS | 4 | | 40 | 2 | 7 | 1 | 0 | 0 | 104 | | 106 | 76 | 68 | 61 | 5 | 56 | 15 | 6 | 0 | 0 | 0 | 5.88 | 5.74 | .260 | .231 | .265 | 1.654 | 58.8 | 1.07 | 5.50 | 4 | 0 | 32 | 101 | $1.40M |
| 2044 | GAS | 4 | | 52 | 11 | 4 | 4 | 2 | 3 | 95 | ⅓ | 82 | 51 | 47 | 58 | 3 | 31 | 8 | 0 | 0 | 0 | 0 | 4.44 | 5.46 | .228 | .191 | .241 | 1.500 | 57.9 | 1.02 | - | 9 | 0 | 33 | 101 | $0.70M |
| 2045 | GAS | 4 | | 3 | 0 | 0 | 0 | 0 | 0 | 3 | ⅓ | 4 | 4 | 3 | 4 | 2 | 4 | 0 | 0 | 0 | 0 | 0 | 8.10 | 6.10 | .286 | .500 | .250 | 3.000 | 60.0 | 0.75 | - | 0 | 0 | 34 | 100 | $0.65M |
| 2045 | CIN | 6 | | 25 | 3 | 10 | 0 | 0 | 0 | 97 | ⅓ | 89 | 44 | 39 | 50 | 8 | 42 | 7 | 25 | 0 | 0 | 0 | 3.61 | 4.96 | .238 | .121 | .263 | 1.510 | 58.7 | 1.16 | 3.96 | 7 | 1 | 34 | 100 | $0.95M |
| 2046 | CIN | 6 | | 22 | 8 | 10 | 0 | 0 | 0 | 133 | ⅓ | 129 | 73 | 65 | 73 | 4 | 54 | 17 | 22 | 1 | 0 | 9 | 4.39 | 5.61 | .253 | .235 | .255 | 1.545 | 58.4 | 0.87 | 4.73 | 7 | 4 | 35 | 97 | $1.00M |
| Total | | | | 392 | 79 | 75 | 10 | 10 | 5 | 1322 | ⅔ | 1206 | 706 | 637 | 723 | 58 | 573 | 128 | 203 | 3 | 1 | 54 | 4.33 | 5.22 | .240 | .196 | .247 | 1.502 | 58.8 | 1.01 | 4.84 | 65 | 31 | - | - | - |
| Year | Team | | P | % | C | % | 1B | % | 2B | % | 3B | % | SS | % | OF | % | LF | % | CF | % | RF | % | DH | CS% | PB | DP | OA | E | FP |
| --- | --- | --- | --- | --- | --- | --- | --- | --- | --- | --- | --- | --- | --- | --- | --- | --- | --- | --- | --- | --- | --- | --- | --- | --- | --- | --- | --- | --- | --- |
| 2036 | GAS | | 34 | 1.000 | 0 | .000 | 0 | .000 | 0 | .000 | 0 | .000 | 0 | .000 | 0 | .000 | 0 | .000 | 0 | .000 | 0 | .000 | 0 | 0% | 0 | 0 | 0 | 0 | 1.000 |
| 2037 | GAS | | 48 | .964 | 0 | .000 | 0 | .000 | 0 | .000 | 0 | .000 | 0 | .000 | 0 | .000 | 0 | .000 | 0 | .000 | 0 | .000 | 0 | 0% | 0 | 1 | 0 | 1 | .964 |
| 2038 | GAS | | 36 | 1.000 | 0 | .000 | 0 | .000 | 0 | .000 | 0 | .000 | 0 | .000 | 0 | .000 | 0 | .000 | 0 | .000 | 0 | .000 | 0 | 0% | 0 | 1 | 0 | 0 | 1.000 |
| 2039 | GAS | | 33 | 1.000 | 0 | .000 | 0 | .000 | 0 | .000 | 0 | .000 | 0 | .000 | 0 | .000 | 0 | .000 | 0 | .000 | 0 | .000 | 0 | 0% | 0 | 6 | 0 | 0 | 1.000 |
| 2040 | GAS | | 36 | 1.000 | 0 | .000 | 0 | .000 | 0 | .000 | 0 | .000 | 0 | .000 | 0 | .000 | 0 | .000 | 0 | .000 | 0 | .000 | 0 | 0% | 0 | 2 | 0 | 0 | 1.000 |
| 2041 | GAS | | 42 | 1.000 | 0 | .000 | 0 | .000 | 0 | .000 | 0 | .000 | 0 | .000 | 0 | .000 | 0 | .000 | 0 | .000 | 0 | .000 | 0 | 0% | 0 | 1 | 0 | 0 | 1.000 |
| 2042 | GAS | | 21 | 1.000 | 0 | .000 | 0 | .000 | 0 | .000 | 0 | .000 | 0 | .000 | 0 | .000 | 0 | .000 | 0 | .000 | 0 | .000 | 0 | 0% | 0 | 0 | 0 | 0 | 1.000 |
| 2043 | GAS | | 40 | .950 | 0 | .000 | 0 | .000 | 0 | .000 | 0 | .000 | 0 | .000 | 0 | .000 | 0 | .000 | 0 | .000 | 0 | .000 | 0 | 0% | 0 | 3 | 0 | 1 | .950 |
| 2044 | GAS | | 52 | 1.000 | 0 | .000 | 0 | .000 | 0 | .000 | 0 | .000 | 0 | .000 | 0 | .000 | 0 | .000 | 0 | .000 | 0 | .000 | 0 | 0% | 0 | 1 | 0 | 0 | 1.000 |
| 2045 | GAS | | 3 | .000 | 0 | .000 | 0 | .000 | 0 | .000 | 0 | .000 | 0 | .000 | 0 | .000 | 0 | .000 | 0 | .000 | 0 | .000 | 0 | 0% | 0 | 0 | 0 | 0 | .000 |
| 2045 | CIN | | 25 | 1.000 | 0 | .000 | 0 | .000 | 0 | .000 | 0 | .000 | 0 | .000 | 0 | .000 | 0 | .000 | 0 | .000 | 0 | .000 | 0 | 0% | 0 | 1 | 0 | 0 | 1.000 |
| 2046 | CIN | | 22 | .957 | 0 | .000 | 0 | .000 | 0 | .000 | 0 | .000 | 0 | .000 | 0 | .000 | 0 | .000 | 0 | .000 | 0 | .000 | 0 | 0% | 0 | 1 | 0 | 1 | .957 |
| Total | | | 392 | .987 | 0 | .000 | 0 | .000 | 0 | .000 | 0 | .000 | 0 | .000 | 0 | .000 | 0 | .000 | 0 | .000 | 0 | .000 | 0 | 0% | 0 | 17 | 0 | 3 | .987 |
| Date | Game Date | Team From | Team To | Age | Transaction Type |
| --- | --- | --- | --- | --- | --- |
| 12/23/16 | April 7th 2030 | Draft Prospect Pool | Gastonia Cowboys | 19 | Latin American Academy Signee |
| 04/16/20 | April 3rd 2045 | Gastonia Cowboys | Free Agent Pool | 34 | Released |
| 04/29/20 | May 21st 2045 | Free Agent Pool | Cincinnati Stormtroopers | 34 | Free Agent Signee |

Statistics/Graph Selection: