"The Count" Blake Johnston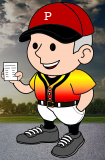 Blake Johnston [ID #259051] Free Agent OF
Home Town: Asheville, North Carolina High School: Kennedy High School Drafted: 2045, Round #3 by Athens Gold
Professional
Bats (L) Throws (L) Positions: OF 1b
Attributes
Offense [Form: Average]
Defense
Age: 27
Hitting:
10
Fielding:
7
Height: 6' 1"
Bat Control:
11
Range:
16
Weight: 206
Plate Discipline:
7
Arm:
15
Experience: 3 years
Power:
13
Skill Index:
96
Salary: $0.50M
Speed:
17
Potential:
12
Scouting Report: He can develop into an above average slugger. He has decent speed. He will always be an atrocious fielder. He has above average overall potential.
| Year | Team | LL | | G | AB | R | H | 2B | 3B | HR | RBI | BB | HBP | K | SB | CS | SH | FS | SF | AVE | OBP | SLG | OPS | VLHP | VRHP | Home | Away | RISP | GB/FB | GIDP | POTG | Age | SI | Salary |
| --- | --- | --- | --- | --- | --- | --- | --- | --- | --- | --- | --- | --- | --- | --- | --- | --- | --- | --- | --- | --- | --- | --- | --- | --- | --- | --- | --- | --- | --- | --- | --- | --- | --- | --- |
| 2051 | PIT | 5 | | 11 | 26 | 0 | 3 | 2 | 0 | 0 | 2 | 1 | 0 | 9 | 0 | 1 | 0 | 0 | 0 | .115 | .148 | .192 | .340 | 1.000 | .080 | .143 | .083 | .250 | 0.86 | 0 | 0 | 23 | 92 | $0.50M |
| 2052 | PIT | 6 | | 30 | 74 | 12 | 21 | 10 | 0 | 2 | 9 | 1 | 0 | 13 | 2 | 6 | 0 | 1 | 1 | .284 | .289 | .500 | .789 | .500 | .278 | .333 | .071 | .190 | 2.08 | 1 | 1 | 24 | 93 | $0.50M |
| 2053 | PIT | 6 | | 44 | 103 | 6 | 19 | 3 | 1 | 0 | 9 | 3 | 2 | 25 | 7 | 1 | 2 | 2 | 0 | .184 | .222 | .233 | .455 | .000 | .188 | .200 | .175 | .227 | 1.88 | 5 | 0 | 25 | 94 | $0.50M |
| 2054 | PIT | 6 | | 16 | 52 | 5 | 7 | 3 | 0 | 0 | 5 | 2 | 0 | 11 | 1 | 2 | 0 | 0 | 0 | .135 | .167 | .192 | .359 | .000 | .135 | .211 | .091 | .154 | 1.50 | 1 | 0 | 26 | 95 | $0.50M |
| Total | | | | 101 | 255 | 23 | 50 | 18 | 1 | 2 | 25 | 7 | 2 | 58 | 10 | 10 | 2 | 3 | 1 | .196 | .223 | .298 | .521 | .400 | .192 | .256 | .131 | .203 | 1.71 | 7 | 1 | - | - | - |
| Year | Team | | P | % | C | % | 1B | % | 2B | % | 3B | % | SS | % | OF | % | LF | % | CF | % | RF | % | DH | CS% | PB | DP | OA | E | FP |
| --- | --- | --- | --- | --- | --- | --- | --- | --- | --- | --- | --- | --- | --- | --- | --- | --- | --- | --- | --- | --- | --- | --- | --- | --- | --- | --- | --- | --- | --- |
| 2051 | PIT | | 0 | .000 | 0 | .000 | 3 | 1.000 | 0 | .000 | 0 | .000 | 0 | .000 | 3 | .875 | 1 | 1.000 | 2 | .800 | 0 | .000 | 5 | 0% | 0 | 0 | 1 | 1 | .889 |
| 2052 | PIT | | 0 | .000 | 0 | .000 | 7 | 1.000 | 0 | .000 | 0 | .000 | 2 | 1.000 | 7 | .950 | 7 | .950 | 0 | .000 | 0 | .000 | 14 | 0% | 0 | 6 | 0 | 1 | .983 |
| 2053 | PIT | | 0 | .000 | 1 | .000 | 11 | 1.000 | 0 | .000 | 0 | .000 | 0 | .000 | 25 | .958 | 7 | .000 | 5 | .962 | 13 | .955 | 7 | 0% | 0 | 1 | 1 | 2 | .967 |
| 2054 | PIT | | 0 | .000 | 0 | .000 | 0 | .000 | 0 | .000 | 0 | .000 | 0 | .000 | 1 | .000 | 1 | .000 | 0 | .000 | 0 | .000 | 15 | 0% | 0 | 0 | 0 | 0 | .000 |
| Total | | | 0 | .000 | 1 | .000 | 21 | 1.000 | 0 | .000 | 0 | .000 | 2 | 1.000 | 36 | .947 | 16 | .957 | 7 | .935 | 13 | .955 | 41 | 0% | 0 | 7 | 2 | 4 | .969 |
| Date | Game Date | Team From | Team To | Age | Transaction Type |
| --- | --- | --- | --- | --- | --- |
| 01/10/20 | January 15th 2044 | - | Draft Prospect Pool | 16 | Created as Draft Prospect |
| 04/24/20 | May 3rd 2045 | Draft Prospect Pool | Athens Gold | 17 | High School Draftee |
| 04/16/21 | January 13th 2050 | Athens Gold | Free Agent Pool | 22 | Released |
| 04/19/21 | January 13th 2050 | Waivers | East Lansing Raccoons | 22 | Waiver Claim |
| 06/03/21 | July 16th 2050 | East Lansing Raccoons | Free Agent Pool | 22 | Released |
| 06/07/21 | August 2nd 2050 | Waivers | Pittsburgh McAfee Mafia | 22 | Waiver Claim |
| 03/16/22 | April 25th 2054 | Pittsburgh Pirates | Free Agent Pool | 26 | Released |

Statistics/Graph Selection: