Oscar "Ginger Grouch" Flynn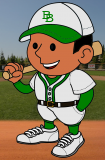 Oscar Flynn [ID #234493] Free Agent 1B
Home Town: Woodland, California College: San Jose State University Drafted: 2044, Round #1 by Erie Aces
Veteran
Bats (L) Throws (R) Positions: 1B of
Attributes
Offense [Form: Average]
Defense
Age: 33
Hitting:
14
Fielding:
13
Height: 6' 3"
Bat Control:
14
Range:
10
Weight: 232
Plate Discipline:
17
Arm:
15
Experience: 8 years
Power:
12
Skill Index:
107
Salary: $1.00M
Speed:
12
Potential:
13
Scouting Report: He can be a good hitter. He can develop into a decent slugger. He can be solid in the field. He is getting to the age where his skills may decline quickly.
| Year | Team | LL | | G | AB | R | H | 2B | 3B | HR | RBI | BB | HBP | K | SB | CS | SH | FS | SF | AVE | OBP | SLG | OPS | VLHP | VRHP | Home | Away | RISP | GB/FB | GIDP | POTG | Age | SI | Salary |
| --- | --- | --- | --- | --- | --- | --- | --- | --- | --- | --- | --- | --- | --- | --- | --- | --- | --- | --- | --- | --- | --- | --- | --- | --- | --- | --- | --- | --- | --- | --- | --- | --- | --- | --- |
| 2048 | ERI | 6 | | 120 | 308 | 46 | 82 | 20 | 1 | 10 | 44 | 34 | 1 | 55 | 17 | 8 | 1 | 2 | 8 | .266 | .333 | .435 | .768 | .313 | .264 | .279 | .255 | .310 | 0.90 | 3 | 1 | 24 | 99 | $0.20M |
| 2049 | ERI | 6 | | 39 | 101 | 16 | 22 | 4 | 0 | 5 | 19 | 11 | 0 | 20 | 1 | 0 | 3 | 1 | 1 | .218 | .292 | .406 | .698 | .150 | .235 | .200 | .230 | .222 | 1.31 | 2 | 2 | 25 | 103 | $0.50M |
| 2050 | ERI | 5 | | 140 | 417 | 80 | 105 | 31 | 2 | 20 | 70 | 60 | 3 | 74 | 19 | 3 | 2 | 0 | 2 | .252 | .349 | .480 | .828 | .205 | .262 | .251 | .252 | .309 | 0.80 | 9 | 5 | 26 | 104 | $0.50M |
| 2051 | ERI | 5 | | 140 | 277 | 45 | 66 | 14 | 3 | 10 | 41 | 48 | 4 | 57 | 18 | 7 | 1 | 0 | 5 | .238 | .353 | .419 | .772 | .292 | .227 | .289 | .185 | .257 | 0.80 | 3 | 1 | 27 | 108 | $0.65M |
| 2052 | ERI | 5 | | 147 | 375 | 45 | 90 | 19 | 3 | 14 | 61 | 55 | 3 | 55 | 8 | 8 | 1 | 1 | 1 | .240 | .341 | .419 | .760 | .202 | .252 | .261 | .219 | .248 | 0.77 | 2 | 3 | 28 | 108 | $0.60M |
| 2053 | ERI | 6 | | 156 | 368 | 66 | 114 | 23 | 3 | 20 | 59 | 58 | 1 | 53 | 15 | 5 | 2 | 2 | 5 | .310 | .400 | .552 | .952 | .261 | .325 | .310 | .309 | .253 | 0.94 | 3 | 4 | 29 | 108 | $0.80M |
| 2054 | ERI | 5 | | 152 | 491 | 65 | 121 | 30 | 5 | 9 | 49 | 73 | 4 | 94 | 22 | 13 | 2 | 0 | 5 | .246 | .346 | .383 | .728 | .105 | .258 | .228 | .265 | .300 | 1.11 | 1 | 6 | 30 | 108 | $1.00M |
| 2055 | ERI | 5 | | 141 | 417 | 47 | 111 | 25 | 2 | 8 | 46 | 51 | 3 | 71 | 11 | 5 | 4 | 1 | 7 | .266 | .345 | .393 | .738 | .143 | .277 | .271 | .262 | .214 | 0.88 | 4 | 3 | 31 | 108 | $1.05M |
| 2056 | ERI | 6 | | 17 | 37 | 3 | 5 | 4 | 0 | 0 | 6 | 7 | 0 | 7 | 2 | 1 | 1 | 0 | 2 | .135 | .261 | .243 | .504 | .000 | .135 | .167 | .077 | .333 | 0.86 | 0 | 0 | 32 | 108 | $1.00M |
| 2056 | JOL | 4 | | 8 | 35 | 5 | 9 | 2 | 0 | 2 | 3 | 4 | 0 | 7 | 1 | 0 | 0 | 0 | 0 | .257 | .333 | .486 | .819 | .500 | .226 | .471 | .056 | .182 | 0.31 | 0 | 0 | 32 | 108 | $1.45M |
| 2056 | DOT | 6 | | 53 | 132 | 24 | 31 | 13 | 0 | 6 | 26 | 14 | 1 | 25 | 1 | 0 | 0 | 0 | 5 | .235 | .303 | .470 | .772 | .136 | .255 | .250 | .219 | .262 | 0.61 | 1 | 2 | 32 | 108 | $1.45M |
| 2057 | DOT | 6 | | 0 | 0 | 0 | 0 | 0 | 0 | 0 | 0 | 0 | 0 | 0 | 0 | 0 | 0 | 0 | 0 | .000 | .000 | .000 | .000 | .000 | .000 | .000 | .000 | .000 | - | 0 | 0 | 33 | 107 | $1.00M |
| Total | | | | 1113 | 2958 | 442 | 756 | 185 | 19 | 104 | 424 | 415 | 20 | 518 | 115 | 50 | 17 | 7 | 41 | .256 | .347 | .436 | .783 | .212 | .263 | .264 | .247 | .267 | 0.88 | 28 | 27 | - | - | - |
| Year | Team | | P | % | C | % | 1B | % | 2B | % | 3B | % | SS | % | OF | % | LF | % | CF | % | RF | % | DH | CS% | PB | DP | OA | E | FP |
| --- | --- | --- | --- | --- | --- | --- | --- | --- | --- | --- | --- | --- | --- | --- | --- | --- | --- | --- | --- | --- | --- | --- | --- | --- | --- | --- | --- | --- | --- |
| 2048 | ERI | | 0 | .000 | 4 | .963 | 3 | 1.000 | 0 | .000 | 2 | 1.000 | 0 | .000 | 98 | 1.000 | 3 | 1.000 | 91 | 1.000 | 4 | 1.000 | 13 | 33.3% | 0 | 1 | 6 | 1 | .996 |
| 2049 | ERI | | 0 | .000 | 4 | .958 | 3 | .800 | 0 | .000 | 0 | .000 | 0 | .000 | 1 | .000 | 1 | .000 | 0 | .000 | 0 | .000 | 31 | 25% | 0 | 0 | 0 | 2 | .931 |
| 2050 | ERI | | 0 | .000 | 0 | .000 | 131 | .995 | 0 | .000 | 0 | .000 | 0 | .000 | 2 | 1.000 | 0 | .000 | 0 | .000 | 2 | 1.000 | 7 | 0% | 0 | 57 | 1 | 5 | .995 |
| 2051 | ERI | | 0 | .000 | 0 | .000 | 74 | .998 | 0 | .000 | 0 | .000 | 0 | .000 | 56 | 1.000 | 24 | 1.000 | 0 | .000 | 32 | 1.000 | 10 | 0% | 0 | 25 | 2 | 1 | .998 |
| 2052 | ERI | | 0 | .000 | 0 | .000 | 69 | .994 | 1 | 1.000 | 42 | .908 | 0 | .000 | 7 | 1.000 | 2 | 1.000 | 0 | .000 | 5 | 1.000 | 28 | 0% | 0 | 16 | 0 | 9 | .980 |
| 2053 | ERI | | 0 | .000 | 0 | .000 | 100 | .992 | 7 | .833 | 0 | .000 | 7 | .969 | 41 | 1.000 | 4 | 1.000 | 0 | .000 | 37 | 1.000 | 1 | 0% | 0 | 30 | 1 | 9 | .984 |
| 2054 | ERI | | 0 | .000 | 0 | .000 | 107 | .996 | 1 | .800 | 0 | .000 | 0 | .000 | 44 | 1.000 | 7 | 1.000 | 28 | 1.000 | 9 | 1.000 | 0 | 0% | 0 | 53 | 3 | 4 | .995 |
| 2055 | ERI | | 0 | .000 | 1 | 1.000 | 128 | .996 | 1 | .800 | 0 | .000 | 0 | .000 | 11 | 1.000 | 0 | .000 | 5 | 1.000 | 6 | 1.000 | 0 | 0% | 0 | 59 | 0 | 5 | .995 |
| 2056 | ERI | | 0 | .000 | 0 | .000 | 11 | .977 | 0 | .000 | 0 | .000 | 0 | .000 | 6 | 1.000 | 3 | 1.000 | 0 | .000 | 3 | 1.000 | 0 | 0% | 0 | 7 | 0 | 2 | .978 |
| 2056 | JOL | | 0 | .000 | 0 | .000 | 0 | .000 | 0 | .000 | 8 | .800 | 0 | .000 | 0 | .000 | 0 | .000 | 0 | .000 | 0 | .000 | 0 | 0% | 0 | 1 | 0 | 3 | .800 |
| 2056 | DOT | | 0 | .000 | 0 | .000 | 5 | 1.000 | 0 | .000 | 1 | 1.000 | 6 | 1.000 | 33 | .987 | 32 | .986 | 1 | 1.000 | 0 | .000 | 8 | 0% | 0 | 0 | 1 | 1 | .990 |
| 2057 | DOT | | 0 | .000 | 0 | .000 | 0 | .000 | 0 | .000 | 0 | .000 | 0 | .000 | 0 | .000 | 0 | .000 | 0 | .000 | 0 | .000 | 0 | 0% | 0 | 0 | 0 | 0 | .000 |
| Total | | | 0 | .000 | 9 | .962 | 631 | .995 | 10 | .850 | 53 | .897 | 13 | .978 | 299 | .998 | 76 | .990 | 125 | 1.000 | 98 | 1.000 | 98 | 30.8% | 0 | 249 | 14 | 42 | .991 |
| Date | Game Date | Team From | Team To | Age | Transaction Type |
| --- | --- | --- | --- | --- | --- |
| 04/28/19 | August 2nd 2040 | - | Draft Prospect Pool | 16 | Created as Draft Prospect |
| 01/25/20 | March 16th 2044 | Draft Prospect Pool | Erie Aces | 20 | College Draftee |
| 08/16/22 | April 21st 2056 | Erie Aces | Free Agent Pool | 32 | Released |
| 08/31/22 | June 14th 2056 | Free Agent Pool | Joliet Blues | 32 | Free Agent Signee |
| 09/02/22 | June 26th 2056 | Joliet Blues | Free Agent Pool | 32 | Released |
| 09/13/22 | August 4th 2056 | Free Agent Pool | Dothan Tigers | 32 | Free Agent Signee |
| 10/13/22 | February 5th 2057 | Dothan Tigers | Free Agent Pool | 33 | Released |

Statistics/Graph Selection: