Xavier "The Professor" Pantoja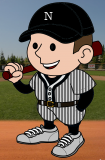 #41

- Xavier Pantoja [ID #205223] Redding Raiders P
Home Town: Villa Bisonó, Dominican Republic School: none Drafted: 2041, Round #1
Veteran (14 years with club)
Bats (R) Throws (R) Positions: P
Attributes
Pitching [Form: Hot]
Defense
Age: 35
Velocity:
14
Fielding:
11
Height: 6' 0"
Change of Speeds:
15
Range:
10
Weight: 198
Movement:
14
Arm:
12
Experience: 13 years
Control:
16
Skill Index:
105
Salary: $4.30M
Stamina:
12
Potential:
15
Pitch Repertoire: Fastball, Curveball, Changeup, Cutter, Slider
Scouting Report: He can be a strike out pitcher. He can have a major league curveball. He will have the stamina to be a starting pitcher. He is getting to the age where his skills may decline quickly.
| Year | Team | LL | | G | W | L | S | BS | H | IP | | H | R | ER | BB | HB | K | HR | GS | CG | SHO | QS | ERA | FIP | BAA | VLHB | VRHB | WHIP | ST% | GB/FB | RS | WP | POTG | Age | SI | Salary |
| --- | --- | --- | --- | --- | --- | --- | --- | --- | --- | --- | --- | --- | --- | --- | --- | --- | --- | --- | --- | --- | --- | --- | --- | --- | --- | --- | --- | --- | --- | --- | --- | --- | --- | --- | --- | --- |
| 2042 | RED | 5 | | 10 | 2 | 2 | 0 | 0 | 0 | 48 | | 54 | 27 | 24 | 16 | 1 | 20 | 5 | 10 | 0 | 0 | 2 | 4.50 | 4.68 | .280 | .277 | .283 | 1.479 | 64.3 | 0.84 | 6.20 | 1 | 0 | 22 | 71 | $0.20M |
| 2043 | RED | 5 | | 32 | 10 | 12 | 0 | 0 | 0 | 191 | ⅓ | 185 | 105 | 99 | 57 | 2 | 147 | 23 | 32 | 1 | 0 | 16 | 4.66 | 4.05 | .247 | .254 | .241 | 1.275 | 66.0 | 1.21 | 4.53 | 2 | 3 | 23 | 89 | $0.50M |
| 2044 | RED | 5 | | 33 | 22 | 4 | 0 | 0 | 0 | 239 | ⅓ | 180 | 65 | 52 | 42 | 2 | 222 | 15 | 33 | 1 | 0 | 29 | 1.96 | 2.61 | .203 | .214 | .194 | 0.936 | 70.1 | 1.45 | 4.79 | 2 | 17 | 24 | 122 | $0.50M |
| 2045 | RED | 4 | | 34 | 19 | 9 | 0 | 0 | 0 | 223 | ⅓ | 175 | 78 | 72 | 51 | 7 | 189 | 15 | 34 | 2 | 0 | 23 | 2.90 | 3.06 | .210 | .208 | .213 | 1.043 | 69.0 | 1.26 | 4.82 | 1 | 14 | 25 | 124 | $2.20M |
| 2046 | RED | 3 | | 32 | 14 | 10 | 0 | 0 | 0 | 202 | ⅓ | 187 | 90 | 87 | 50 | 2 | 166 | 20 | 32 | 2 | 0 | 22 | 3.87 | 3.52 | .243 | .229 | .261 | 1.181 | 68.2 | 1.13 | 4.81 | 4 | 8 | 26 | 124 | $3.55M |
| 2047 | RED | 3 | | 35 | 13 | 15 | 0 | 0 | 0 | 245 | ⅓ | 211 | 98 | 84 | 36 | 2 | 203 | 23 | 35 | 3 | 1 | 23 | 3.08 | 3.13 | .223 | .248 | .194 | 1.015 | 70.0 | 1.06 | 3.69 | 4 | 13 | 27 | 124 | $4.40M |
| 2048 | RED | 3 | | 31 | 14 | 8 | 0 | 0 | 0 | 218 | | 197 | 84 | 78 | 35 | 4 | 206 | 15 | 31 | 5 | 1 | 22 | 3.22 | 2.64 | .239 | .254 | .220 | 1.083 | 70.3 | 1.19 | 4.81 | 1 | 8 | 28 | 124 | $3.60M |
| 2049 | RED | 2 | | 34 | 15 | 13 | 0 | 0 | 0 | 232 | ⅓ | 202 | 104 | 84 | 51 | 5 | 203 | 24 | 34 | 5 | 0 | 22 | 3.25 | 3.42 | .226 | .225 | .226 | 1.110 | 69.5 | 1.16 | 4.03 | 2 | 11 | 29 | 124 | $3.25M |
| 2050 | RED | 1 | | 32 | 8 | 11 | 0 | 0 | 0 | 218 | | 195 | 97 | 91 | 55 | 4 | 176 | 24 | 32 | 3 | 1 | 19 | 3.76 | 3.73 | .234 | .238 | .230 | 1.165 | 67.5 | 1.25 | 4.19 | 4 | 5 | 30 | 124 | $3.85M |
| 2051 | RED | 2 | | 32 | 14 | 9 | 0 | 0 | 0 | 232 | ⅓ | 190 | 88 | 76 | 52 | 7 | 198 | 17 | 32 | 6 | 1 | 21 | 2.94 | 3.11 | .219 | .213 | .224 | 1.072 | 68.7 | 0.95 | 4.25 | 3 | 13 | 31 | 124 | $3.75M |
| 2052 | RED | 2 | | 31 | 14 | 14 | 0 | 0 | 0 | 231 | ⅔ | 196 | 99 | 92 | 57 | 7 | 173 | 24 | 31 | 7 | 1 | 21 | 3.57 | 3.78 | .225 | .233 | .217 | 1.122 | 69.0 | 1.16 | 5.00 | 4 | 6 | 32 | 122 | $3.80M |
| 2053 | RED | 1 | | 33 | 18 | 8 | 0 | 0 | 0 | 234 | | 192 | 83 | 75 | 53 | 4 | 188 | 15 | 33 | 2 | 1 | 22 | 2.88 | 3.06 | .219 | .231 | .204 | 1.064 | 69.2 | 1.24 | 4.12 | 4 | 14 | 33 | 118 | $3.65M |
| 2054 | RED | 1 | | 29 | 12 | 8 | 0 | 0 | 0 | 181 | ⅓ | 178 | 76 | 75 | 47 | 8 | 130 | 18 | 29 | 2 | 2 | 15 | 3.72 | 3.87 | .257 | .275 | .232 | 1.285 | 65.9 | 1.22 | 4.31 | 2 | 10 | 34 | 112 | $4.60M |
| 2055 | RED | 1 | | 0 | 0 | 0 | 0 | 0 | 0 | 0 | | 0 | 0 | 0 | 0 | 0 | 0 | 0 | 0 | 0 | 0 | 0 | - | - | .000 | .000 | .000 | - | - | - | - | 0 | 0 | 35 | 105 | $4.30M |
| Total | | | | 398 | 175 | 123 | 0 | 0 | 0 | 2697 | ⅓ | 2342 | 1094 | 989 | 602 | 55 | 2221 | 238 | 398 | 39 | 8 | 257 | 3.30 | 3.33 | .229 | .236 | .221 | 1.112 | 68.6 | 1.17 | 4.48 | 34 | 122 | - | - | - |
| Year | Team | | P | % | C | % | 1B | % | 2B | % | 3B | % | SS | % | OF | % | LF | % | CF | % | RF | % | DH | CS% | PB | DP | OA | E | FP |
| --- | --- | --- | --- | --- | --- | --- | --- | --- | --- | --- | --- | --- | --- | --- | --- | --- | --- | --- | --- | --- | --- | --- | --- | --- | --- | --- | --- | --- | --- |
| 2042 | RED | | 10 | .923 | 0 | .000 | 0 | .000 | 0 | .000 | 0 | .000 | 0 | .000 | 0 | .000 | 0 | .000 | 0 | .000 | 0 | .000 | 0 | 0% | 0 | 1 | 0 | 1 | .923 |
| 2043 | RED | | 32 | 1.000 | 0 | .000 | 0 | .000 | 0 | .000 | 0 | .000 | 0 | .000 | 0 | .000 | 0 | .000 | 0 | .000 | 0 | .000 | 0 | 0% | 0 | 2 | 0 | 0 | 1.000 |
| 2044 | RED | | 33 | .959 | 0 | .000 | 0 | .000 | 0 | .000 | 0 | .000 | 0 | .000 | 0 | .000 | 0 | .000 | 0 | .000 | 0 | .000 | 0 | 0% | 0 | 1 | 0 | 2 | .959 |
| 2045 | RED | | 34 | .951 | 0 | .000 | 0 | .000 | 0 | .000 | 0 | .000 | 0 | .000 | 0 | .000 | 0 | .000 | 0 | .000 | 0 | .000 | 0 | 0% | 0 | 1 | 0 | 2 | .951 |
| 2046 | RED | | 32 | .972 | 0 | .000 | 0 | .000 | 0 | .000 | 0 | .000 | 0 | .000 | 0 | .000 | 0 | .000 | 0 | .000 | 0 | .000 | 0 | 0% | 0 | 4 | 0 | 1 | .972 |
| 2047 | RED | | 35 | .949 | 0 | .000 | 0 | .000 | 0 | .000 | 0 | .000 | 0 | .000 | 0 | .000 | 0 | .000 | 0 | .000 | 0 | .000 | 0 | 0% | 0 | 1 | 0 | 2 | .949 |
| 2048 | RED | | 31 | 1.000 | 0 | .000 | 0 | .000 | 0 | .000 | 0 | .000 | 0 | .000 | 0 | .000 | 0 | .000 | 0 | .000 | 0 | .000 | 0 | 0% | 0 | 3 | 0 | 0 | 1.000 |
| 2049 | RED | | 34 | .956 | 0 | .000 | 0 | .000 | 0 | .000 | 0 | .000 | 0 | .000 | 0 | .000 | 0 | .000 | 0 | .000 | 0 | .000 | 0 | 0% | 0 | 3 | 0 | 2 | .956 |
| 2050 | RED | | 32 | 1.000 | 0 | .000 | 0 | .000 | 0 | .000 | 0 | .000 | 0 | .000 | 0 | .000 | 0 | .000 | 0 | .000 | 0 | .000 | 0 | 0% | 0 | 5 | 0 | 0 | 1.000 |
| 2051 | RED | | 32 | .929 | 0 | .000 | 0 | .000 | 0 | .000 | 0 | .000 | 0 | .000 | 0 | .000 | 0 | .000 | 0 | .000 | 0 | .000 | 0 | 0% | 0 | 3 | 0 | 3 | .929 |
| 2052 | RED | | 31 | .974 | 0 | .000 | 0 | .000 | 0 | .000 | 0 | .000 | 0 | .000 | 0 | .000 | 0 | .000 | 0 | .000 | 0 | .000 | 0 | 0% | 0 | 0 | 0 | 1 | .974 |
| 2053 | RED | | 33 | .932 | 0 | .000 | 0 | .000 | 0 | .000 | 0 | .000 | 0 | .000 | 0 | .000 | 0 | .000 | 0 | .000 | 0 | .000 | 0 | 0% | 0 | 1 | 0 | 3 | .932 |
| 2054 | RED | | 29 | .974 | 0 | .000 | 0 | .000 | 0 | .000 | 0 | .000 | 0 | .000 | 0 | .000 | 0 | .000 | 0 | .000 | 0 | .000 | 0 | 0% | 0 | 5 | 0 | 1 | .974 |
| 2055 | RED | | 0 | .000 | 0 | .000 | 0 | .000 | 0 | .000 | 0 | .000 | 0 | .000 | 0 | .000 | 0 | .000 | 0 | .000 | 0 | .000 | 0 | 0% | 0 | 0 | 0 | 0 | .000 |
| Total | | | 398 | .965 | 0 | .000 | 0 | .000 | 0 | .000 | 0 | .000 | 0 | .000 | 0 | .000 | 0 | .000 | 0 | .000 | 0 | .000 | 0 | 0% | 0 | 30 | 0 | 18 | .965 |
| Date | Game Date | Team From | Team To | Age | Transaction Type |
| --- | --- | --- | --- | --- | --- |
| 04/27/19 | July 28th 2040 | - | Draft Prospect Pool | 20 | Created as Draft Prospect |
| 06/07/19 | March 14th 2041 | Draft Prospect Pool | Redding Raiders | 21 | Latin American Academy Signee |

Statistics/Graph Selection: