Parker Pirates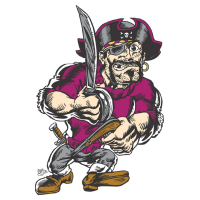 Team: Parker Pirates
[ID #458]
Location: Parker, CO (Mountain)
Owner: sc0rpion

[since April 12th 2018 | last seen June 16th 2018]
Rank: #692 - Rating: 37.78
Fan Mood: 81.76
Prestige: 35
Color: Black & Yellow
Team Notes:
• Jan 15 2036:
Óscar Espinoza
was selected to the national team of
Spain
.
• Jan 15 2036:
Vasco Jesus
was selected to the national team of
Portugal
.
• Jan 15 2036:
Peter Copeland
was selected to the national team of
New Zealand
.
• Aug 14 2035: Team acquired by
sc0rpion
.
• Jun 25 2035:
Logan Fallows
was released.
• May 29 2035:
Octavio Jaramillo
was signed as a free agent.
• May 03 2035:
Casey McLaughlin
was signed as a free agent.
• Apr 07 2035:
Grant Di Carlo
was released.
• Apr 07 2035:
Raymond Riese
was signed as a free agent.
• Mar 14 2035:
Christian Chapa
was released.
League Record:
Wins: 30 Losses: 43 Pct: .411 Last10: 5-5 Streak: W1
Ave: 5.5 - 6.3 RS: 399 RA: 463 DIFF: -64
Cup:
Group 109
[0 | Eliminated]
Press Releases:
Nov 04 2025:
Pirates won Play-off 4:3 !!!
-
by shunqino on January 22nd, 2016
After loosing 0-2 in first two games on the road, Pirates won next two at home. But then Raleigh won next and had huge advantage before last one/two games at home. Hopefully my players found some strength to devastate Raleigh 7:2 in game six. Last game begun with real horror for my team in first inning. Raleigh had 5:1 lead, but again, my players found some concentration and strength to set things on beginning in 7th inning. Finally we took the lead for the first time in 9th inning and won Play-off!!!
Congratulate to Raleigh on very exciting play-off series! See ya again in div.2
Aug 09 2021:
Palmdale shakes up roster
-
by Crunchtime on February 24th, 2015
The Palmdale Pirates head office released a statement this afternoon following the signing of Gabriel Armstrong and former Palmdale Pirate Rafael Vazquez.
"Palmdale is commited to excellence. This organization is hungry for another title. As such, we are pleased to announce Gabriel Armstrong and Rafael Vazquez are joining the club. Gabriel will take over catching duties and Rafael will take the DH spot in the lineup. Kevin Jacobson will return to the minors."
Palmdale moves are expected to boost a sagging lineup in an attempt to match Seattle's powerful 1 through 5. Vazquez, a fan favorite, brings a much needed bat and power from the left side of the plate.
Rumors are still circulating that Palmdale is still looking to bolster their staff and lineup before the impending trade deadline.
Palmdale is currently 6 games behind Seattle in the standings.