Farmington Hills Cardinals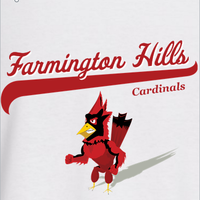 Team: Farmington Hills Cardinals
[ID #208]
Location: Farmington Hills, MI (Midwest)
Owner: 5L1NK

[since June 10th 2015 | last seen August 23rd 2019]
Rank: #15 - Rating: 236.58
Fan Mood: 119.45
Prestige: 28
Color: Red
Team Notes:
• Feb 19 2042:
Nathan Howells
was claimed off of waivers.
• Jan 15 2042:
Otto Bauer
was selected to the national team of
Switzerland
.
• Oct 10 2041:
Corey Quinn
was released.
• Oct 10 2041:
Ernie Robbins
was released.
• Sep 12 2041:
Mauro Casillas
was released.
• Aug 19 2041:
Mateo Aragon
was released.
• Jul 23 2041:
Mateo Aragon
was claimed off of waivers.
• Jun 25 2041:
Jesus Zavala
was released.
• May 25 2041:
Christian Centeno
was claimed off of waivers.
• May 17 2041:
Jesus Zavala
was claimed off of waivers.
League Record:
Wins: 0 Losses: 0 Pct: .000 Last10: 0-0 Streak: -
Ave: 0.0 - 0.0 RS: 0 RA: 0 DIFF: 0
Cup:
Group 61
[0 | Still Alive]
Press Releases:
Jul 02 2041:
4th of July Hosts Clash of the Titans and Unlikely Reunion
-
by 5L1NK on July 7th, 2019
Independence Day 2041, A time where you can witness the top 3 teams from III.3 West take on the top 3 Teams from the East. 1st place Farmington Hills square off against their first place counterpart Saratoga Highlanders, while 2nd Place Conroe, hot on FHL's trail, will face off with 2nd Place Harrisonburg, also hot on Saratoga's trail. Last but not least, 3rd place Boulder Free Zoners bring their high powered offense out to 3rd place Mehlville for another likely shootout.
While Independence day showcases the top 6 teams in the league duking it out, it also provides an interesting reunion between a former first round pick and his original team. Morgan Lynch had a very short tenure with the Poughkeepsie (now Saratoga) Highlanders after he was drafted in the first round of 2028 by them, Rumor is that while it only took a day for them to cut him for roster space, the front office felt like it took 5 days to make the decision. Half a month and 21 contract offers later, Morgan decided to take his services to Farmington Hills, Michigan. Since then, the 31 year old Lynch has filled his wall with accolades such as 6 all star selections, 3 all leagues, a 30-30 club membership, a ROY, league MVP and 3 Championship Rings.
GM 5L1NK smirked when asked for comment on the Lynch signing. "If I knew at the time when he signed the contract that he would become the best DH in Cardinals History, I would have bought SplatterMonkey a steak dinner at Ruth's Chris"
"Obviously at 18 years, I was pretty bitter about being cut, but now i'm thankful for it considering what opportunity I got in Farmington Hills" Lynch explained when asked about his return to face the Highlanders. "I'm not really focused on trying to impress my ex if you catch my drift, I just want our boys to snag some wins and keep 1st place, if i go 5 for 5 or 0 for 5, it doesn't matter, as long as we win"
Saratoga's Front office could not be reached for comment in time for publication
Mar 20 2027:
2027 Season Preview
-
by 5L1NK on April 25th, 2016
With Spring Training coming to a close, we take a look the the 2027 Farmington Hills Cardinals and what we can expect to see from them this season.
Ending their 2026 campaign with an 81-79 record, the Cardinals were happy to stave off relegation. "One of our main goals last season was staying at this level"
York
told press earlier today."The goal this year is to build upon that and finish closer to the top of the standings"
2026 witnessed the departure of many big names in Scalise, MacDougal, Bianchi & long time vets Roberto Villa & Norm Kennedy. 2027 started out with more releases with workhorse Brent Moore & Eduardo Luque. "We had a lot of good guys coming up through our system which left some tough choices, we're obviously hoping we made the correct ones" York commented.
The only major signing over the offseason was rookie Canadian hurler Nathan Harris(No relation to closer Nicholas Harris) who will assume the role of long reliever. The Cardinals will witness the rookie campaigns of multiple players on top of Harris this season, including highly touted prospect Tyler Stein, Nelson Carney, Ernie Thompson, Fernando Segura & Joaquín Valera.
On top of all the roster changes, The cardinals now have a new ballpark, The Bird Cage. Designed to be a pitchers ball park with astro turf & a dome, The pitching is expected to improve while the offensive production is expected to decline. York was asked how the team will handle the new change of scenery,"Our Forte is Hitting, our greatest weakness was giving up the long ball, with a larger field & higher walls, I think our offense will have to bail out our pitching less frequently than last year. I think our guys will adjust and our pitchers will capitalize on the benefits of this park."
With a very streaky schedule containing many long road trips & home stands, The cardinals will look to reacquire the consistency that allowed them to win 100+ games back in the L6 leagues.
Mar 25 2026:
2026 Season Preview
-
by 5L1NK on February 9th, 2016
With the 2026 season set to kick off today, Farmington Hills is looking to have to momentum carry over from their 2025 campaign which earned them their second VI Championship in 3 years.
"BlackJack" York
returns for his 4th year at the helm after earning a salary increase of 250K after compiling a 271-199 Record over 3 seasons with two championship rings.
The offseason was headlined by the release of veterans Kendell McConnell, Nathan Taylor & Ed Roberts. When asked to comment on the release of the vets, Blackjack had this to say, " After speaking with the GM, we agreed that we wanted to keep the team young and provide opportunities for guys in our system. While it is disappointing to see veteran experience leave, it allows other guys to step up in the clubhouse."
Rookie LF
Rod William
s has been given the task of filling the shoes of McConnell while Japanese import LHP
Riku Kawano
is expected to fill the gap left by Taylor's departure.
All eyes will be on the sophomore rotation headlined by 2025 VI. 5 Rookie Pitcher of the Year
Cruz Roque
as they try to prove they have what it takes to survive in the V leagues.
York added, "I think this team has what it takes to stay at this level. We have the hitting, we have the pitching, we just need to make sure both are on the same page so we can win ball games."
Jan 20 2024:
FH Parts with 4 Pitchers From L6 Championship Team
-
by 5L1NK on August 22nd, 2015
To Date, the Cardinals have been busy preparing their pitching for the upcoming signings. They opened up 4 roster spots by releasing SP "Big" Sean Wynn, SP "Cheif" Ramiro Enriquez, RP Chad Reid and CP Omar Lugo.
5L1NK had this to comment: "With our promotion to Level 5, we needed to take a serious look at our pitching. Cheif, Sean and Omar are getting up there in years and they could falter at any time. After looking at their salaries and statics, I felt that we needed some younger guys to step up at the higher level."
The release of Chad Reid was a shocker to some. "releasing a 27 year old reliever who's put in a lot of the time with the club wasn't the most popular decision, but when a guy is making over 1 Mil a year, he's expected to stand out over the rest of the bullpen, if he failed to do that in level 6, i doubt he'd do it in level 5. I feel the money and roster spot can be placed towards a stronger free agent or a guy in our system."
With the free agent period commencing, the Cardinals pitching staff will appear an unfamiliar face to the fans this coming season.
Nov 04 2023:
2023: The Year of The Cardinal
-
by 5L1NK on August 20th, 2015
With a decisive 8-3 win to claim game 7 of the playoff series, Farmington Hills Claims the championship and puts the cherry on top of their best season in franchise history.
Initially planned to be the start of a rebuilding phase under new owner 5L1INK, Farmington Hills found early success with New Manager Alan "Blackjack" York.
"We wanted a young guy to lead the ball club. The guy just turned 39 with 5 years of coaching under his belt" 5L1NK commented "and coming off his first winning season as a manager last year, he seemed the ideal candidate to manage the rebuild."
The first major step of Farmington Hills rebuild was cleaning house of hefty contracts. "When i looked over the ball clubs roster, there was a lot of money being spent for mediocre performance. there were guys making 500K who were outhitting guys making 2 Mil. Something had to be done about that." The offseason was a complete cleanse of pitchers and hitters, with only 14 players on the major league roster returning.
The acquisition of cheap talent sluggers Carl Gambino and Brett Rose helped boost the already offensively capable lineup while Pitchers Myung Dae Seo, Omar Madrigal and Javier Valle had breakout years. "The hitting was hard to single out true heroes because a different guy stepped up each game, I eleive that is what made us so dangerous, any guy in our lineup could hurt you at some point in the game." York explained. "The pitching was a delight this year, any guy I called in would do what i asked of him and sometimes more." York, known for his frequent pitching substitutions, found great success with his relievers posting a 40-26 record from the bullpen.
Farmington Hills set multiple franchise records, including best record, highest run differential, as well as highest average runs scored per game.
The highlight for the stakeholders of the team was the record setting profits from this season. FH was losing over 8 million over the last 3 years and was able to achieve 10 million dollar profit off this season alone. 5L1NK's rebuild brought the club back from bankruptcy.
To conclude, 2023 was the best year in club history and will be a tough year to follow up, with league promotion likely in the future, FH will have a tough time achieving the success of this year.
BlackJack York had this to say "This Club is hungry to grow, we didn't expect this success going into this year, we're likely going to feel the same way we did at the beginning of the season this year, and look where that got us! Hopefully we can continue to build on the success we had this year and maybe move up a few leagues over the next few years."