"Reeces Pieces" Middleton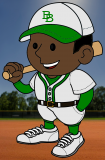 Reece Middleton [ID #93097] Free Agent 2B
Birthplace: Sydney, Australia College: none
Veteran
Bats (R) Throws (R) Positions: 2B c
Attributes
Offense [Form: Average]
Defense
Age: 34
Hitting:
11
Fielding:
11
Height: 5' 9"
Bat Control:
8
Range:
11
Weight: 181
Plate Discipline:
12
Arm:
11
Experience: 8 years
Power:
14
Skill Index:
90
Salary: $0.50M
Speed:
12
Potential:
14
Scouting Report: He can be a good hitter. He can develop into a prolific slugger. He is really quick. He can be solid in the field. He is getting to the age where his skills may decline quickly.
| Year | Team | LL | | G | AB | R | H | 2B | 3B | HR | RBI | BB | HBP | K | SB | CS | SH | FS | SF | AVE | OBP | SLG | OPS | VLHP | VRHP | Home | Away | RISP | GB/FB | GIDP | POTG | Age | SI | Salary |
| --- | --- | --- | --- | --- | --- | --- | --- | --- | --- | --- | --- | --- | --- | --- | --- | --- | --- | --- | --- | --- | --- | --- | --- | --- | --- | --- | --- | --- | --- | --- | --- | --- | --- | --- |
| 2021 | DAV | 5 | | 6 | 15 | 4 | 5 | 3 | 0 | 0 | 0 | 0 | 0 | 2 | 0 | 1 | 0 | 0 | 0 | .333 | .333 | .533 | .867 | .273 | .500 | .000 | .333 | .000 | - | 0 | 0 | 20 | 75 | $0.20M |
| 2024 | DAV | 4 | | 80 | 213 | 32 | 50 | 14 | 1 | 3 | 33 | 16 | 2 | 52 | 6 | 2 | 0 | 0 | 1 | .235 | .293 | .352 | .645 | .240 | .230 | .000 | .235 | .000 | 1.66 | 0 | 2 | 23 | 94 | $0.50M |
| 2025 | DAV | 4 | | 130 | 374 | 59 | 82 | 24 | 2 | 13 | 48 | 32 | 5 | 64 | 23 | 5 | 0 | 0 | 2 | .219 | .288 | .398 | .687 | .238 | .212 | .000 | .219 | .000 | 1.02 | 0 | 4 | 24 | 100 | $0.50M |
| 2026 | DAV | 5 | | 151 | 550 | 81 | 129 | 40 | 2 | 21 | 93 | 58 | 7 | 95 | 10 | 11 | 1 | 1 | 11 | .235 | .310 | .429 | .739 | .261 | .223 | .254 | .216 | .000 | 0.88 | 0 | 8 | 25 | 106 | $0.55M |
| 2027 | DAV | 5 | | 158 | 619 | 102 | 174 | 47 | 8 | 22 | 105 | 60 | 4 | 116 | 23 | 14 | 1 | 3 | 7 | .281 | .345 | .489 | .834 | .260 | .288 | .301 | .263 | .000 | 1.06 | 0 | 9 | 26 | 112 | $1.40M |
| 2028 | DAV | 4 | | 154 | 540 | 69 | 113 | 35 | 4 | 17 | 87 | 50 | 5 | 100 | 13 | 3 | 1 | 1 | 6 | .209 | .280 | .383 | .663 | .218 | .205 | .200 | .218 | .000 | 0.90 | 7 | 4 | 27 | 112 | $2.20M |
| 2029 | DAV | 4 | | 159 | 595 | 87 | 163 | 46 | 5 | 23 | 109 | 59 | 2 | 102 | 10 | 2 | 0 | 0 | 11 | .274 | .336 | .484 | .820 | .274 | .274 | .276 | .272 | .000 | 0.83 | 9 | 6 | 28 | 112 | $2.10M |
| 2030 | DAV | 4 | | 157 | 566 | 60 | 125 | 38 | 3 | 15 | 89 | 49 | 3 | 93 | 8 | 4 | 1 | 0 | 5 | .221 | .284 | .378 | .662 | .260 | .206 | .208 | .232 | .000 | 1.04 | 10 | 8 | 29 | 111 | $2.25M |
| 2031 | DAV | 4 | | 150 | 365 | 57 | 79 | 17 | 2 | 18 | 51 | 39 | 1 | 83 | 6 | 2 | 1 | 2 | 5 | .216 | .290 | .422 | .712 | .264 | .205 | .255 | .190 | .168 | 0.90 | 5 | 3 | 30 | 109 | $1.90M |
| 2032 | DAV | 4 | | 45 | 87 | 18 | 12 | 2 | 1 | 2 | 6 | 8 | 0 | 23 | 0 | 0 | 1 | 0 | 1 | .138 | .208 | .253 | .461 | .147 | .132 | .135 | .143 | .118 | 0.49 | 0 | 0 | 31 | 106 | $2.00M |
| Total | | | | 1190 | 3924 | 569 | 932 | 266 | 28 | 134 | 621 | 371 | 29 | 730 | 99 | 44 | 6 | 7 | 49 | .238 | .305 | .422 | .727 | .250 | .233 | .246 | .232 | .161 | 0.95 | 31 | 44 | - | - | - |
| Year | Team | | P | % | C | % | 1B | % | 2B | % | 3B | % | SS | % | OF | % | LF | % | CF | % | RF | % | DH | CS% | PB | DP | OA | E | FP |
| --- | --- | --- | --- | --- | --- | --- | --- | --- | --- | --- | --- | --- | --- | --- | --- | --- | --- | --- | --- | --- | --- | --- | --- | --- | --- | --- | --- | --- | --- |
| 2021 | DAV | | 0 | .000 | 4 | 1.000 | 1 | .000 | 0 | .000 | 0 | .000 | 0 | .000 | 0 | .000 | 0 | .000 | 0 | .000 | 0 | .000 | 1 | 50% | 0 | 0 | 0 | 0 | 1.000 |
| 2024 | DAV | | 0 | .000 | 20 | 1.000 | 1 | .000 | 43 | .945 | 0 | .000 | 0 | .000 | 7 | 1.000 | 2 | 1.000 | 0 | .000 | 5 | 1.000 | 9 | 27.3% | 1 | 18 | 0 | 10 | .962 |
| 2025 | DAV | | 0 | .000 | 95 | .995 | 2 | 1.000 | 28 | .951 | 0 | .000 | 0 | .000 | 3 | 1.000 | 1 | .000 | 1 | 1.000 | 1 | .000 | 2 | 32.3% | 5 | 11 | 0 | 9 | .987 |
| 2026 | DAV | | 0 | .000 | 0 | .000 | 0 | .000 | 151 | .960 | 0 | .000 | 0 | .000 | 0 | .000 | 0 | .000 | 0 | .000 | 0 | .000 | 0 | 0% | 0 | 41 | 0 | 27 | .960 |
| 2027 | DAV | | 0 | .000 | 9 | .986 | 0 | .000 | 149 | .967 | 0 | .000 | 0 | .000 | 0 | .000 | 0 | .000 | 0 | .000 | 0 | .000 | 0 | 33.3% | 1 | 63 | 0 | 22 | .968 |
| 2028 | DAV | | 0 | .000 | 2 | 1.000 | 0 | .000 | 150 | .985 | 1 | 1.000 | 0 | .000 | 1 | .000 | 1 | .000 | 0 | .000 | 0 | .000 | 0 | 50% | 0 | 65 | 0 | 10 | .985 |
| 2029 | DAV | | 0 | .000 | 0 | .000 | 0 | .000 | 159 | .966 | 0 | .000 | 0 | .000 | 0 | .000 | 0 | .000 | 0 | .000 | 0 | .000 | 0 | 0% | 0 | 70 | 0 | 23 | .966 |
| 2030 | DAV | | 0 | .000 | 0 | .000 | 2 | 1.000 | 153 | .974 | 0 | .000 | 0 | .000 | 2 | 1.000 | 2 | 1.000 | 0 | .000 | 0 | .000 | 0 | 0% | 0 | 58 | 0 | 15 | .974 |
| 2031 | DAV | | 0 | .000 | 4 | 1.000 | 2 | .889 | 138 | .965 | 0 | .000 | 0 | .000 | 5 | 1.000 | 4 | 1.000 | 0 | .000 | 1 | 1.000 | 1 | 18.2% | 1 | 26 | 0 | 12 | .967 |
| 2032 | DAV | | 0 | .000 | 12 | 1.000 | 2 | 1.000 | 15 | .981 | 6 | 1.000 | 0 | .000 | 3 | 1.000 | 1 | .000 | 1 | 1.000 | 1 | .000 | 7 | 22.2% | 0 | 4 | 0 | 1 | .992 |
| Total | | | 0 | .000 | 146 | .995 | 10 | .947 | 986 | .968 | 7 | 1.000 | 0 | .000 | 21 | 1.000 | 11 | 1.000 | 2 | 1.000 | 8 | 1.000 | 20 | 30.8% | 8 | 356 | 0 | 129 | .973 |
| Date | Game Date | Team From | Team To | Age | Transaction Type |
| --- | --- | --- | --- | --- | --- |
| 08/17/14 | April 14th 2019 | - | Yuma Kings | 18 | International Signee |
| 06/30/17 | August 19th 2032 | Davis Blue Devils | Free Agent Pool | 31 | Released |

Statistics/Graph Selection: