Konstantin "The Exterminator" Gurkin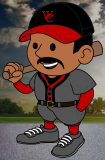 Konstantin Gurkin [ID #78330] Free Agent P
Birthplace: Samara, Russia College: none
Veteran
Bats (R) Throws (R) Positions: P
Attributes
Pitching [Form: Very Cold]
Defense
Age: 35
Velocity:
14
Fielding:
14
Height: 6' 3"
Change of Speeds:
13
Range:
7
Weight: 210
Movement:
15
Arm:
16
Experience: 11 years
Control:
7
Skill Index:
89
Salary: $0.80M
Stamina:
8
Potential:
12
Pitch Repertoire: Fastball, Slider, Forkball, Knuckle Curve
Scouting Report: He can be a strike out pitcher. He can have a major league slider. His control will always be lacking. He is getting to the age where his skills may decline quickly.
| Year | Team | LL | | G | W | L | S | BS | H | IP | | H | R | ER | BB | HB | K | HR | GS | CG | SHO | QS | ERA | FIP | BAA | VLHB | VRHB | WHIP | ST% | GB/FB | RS | WP | POTG | Age | SI | Salary |
| --- | --- | --- | --- | --- | --- | --- | --- | --- | --- | --- | --- | --- | --- | --- | --- | --- | --- | --- | --- | --- | --- | --- | --- | --- | --- | --- | --- | --- | --- | --- | --- | --- | --- | --- | --- | --- |
| 2020 | MNT | 6 | | 20 | 0 | 3 | 0 | 1 | 3 | 15 | | 24 | 15 | 15 | 8 | 0 | 16 | 2 | 0 | 0 | 0 | 0 | 9.00 | 4.10 | .353 | .344 | .361 | 2.133 | - | - | - | 2 | 0 | 23 | 62 | $0.20M |
| 2021 | FIS | 6 | | 53 | 0 | 0 | 25 | 5 | 12 | 51 | | 46 | 19 | 18 | 17 | 0 | 23 | 6 | 0 | 0 | 0 | 0 | 3.18 | 4.67 | .232 | .253 | .215 | 1.235 | - | - | - | 2 | 0 | 24 | 64 | $0.50M |
| 2022 | FIS | 6 | | 49 | 0 | 9 | 21 | 6 | 9 | 65 | ⅓ | 68 | 48 | 40 | 39 | 4 | 56 | 5 | 2 | 0 | 0 | 0 | 5.51 | 4.13 | .263 | .297 | .241 | 1.699 | - | - | 0.00 | 5 | 0 | 25 | 72 | $0.50M |
| 2023 | FIS | 6 | | 37 | 6 | 3 | 3 | 1 | 2 | 45 | ⅓ | 51 | 29 | 28 | 23 | 1 | 34 | 7 | 1 | 0 | 0 | 1 | 5.56 | 4.93 | .280 | .343 | .243 | 1.654 | 60.7 | 1.00 | 0.00 | 5 | 0 | 26 | 80 | $0.70M |
| 2024 | FIS | 6 | | 49 | 5 | 6 | 3 | 1 | 2 | 78 | | 79 | 53 | 44 | 49 | 2 | 71 | 12 | 3 | 0 | 0 | 0 | 5.08 | 5.09 | .259 | .271 | .253 | 1.667 | 58.4 | 1.49 | 0.00 | 10 | 0 | 27 | 87 | $1.10M |
| 2025 | MIL | 6 | | 75 | 8 | 5 | 5 | 5 | 8 | 177 | ⅔ | 170 | 115 | 105 | 123 | 3 | 149 | 27 | 1 | 0 | 0 | 0 | 5.32 | 5.37 | .246 | .250 | .242 | 1.666 | 58.0 | 1.21 | 0.00 | 8 | 0 | 28 | 94 | $0.65M |
| 2026 | MIL | 6 | | 37 | 6 | 3 | 2 | 3 | 4 | 111 | ⅓ | 133 | 76 | 73 | 70 | 3 | 94 | 10 | 0 | 0 | 0 | 0 | 5.90 | 4.44 | .296 | .354 | .251 | 1.850 | 58.2 | 1.12 | - | 6 | 1 | 29 | 94 | $0.65M |
| 2027 | MIL | 6 | | 35 | 3 | 1 | 2 | 0 | 4 | 37 | ⅓ | 25 | 15 | 11 | 22 | 1 | 30 | 4 | 0 | 0 | 0 | 0 | 2.65 | 4.41 | .191 | .145 | .232 | 1.286 | 57.6 | 1.31 | - | 3 | 1 | 30 | 94 | $0.60M |
| 2028 | MIL | 5 | | 57 | 12 | 2 | 7 | 4 | 1 | 67 | ⅔ | 56 | 26 | 24 | 44 | 3 | 67 | 6 | 0 | 0 | 0 | 0 | 3.19 | 4.18 | .231 | .241 | .224 | 1.522 | 57.0 | 1.09 | - | 4 | 2 | 31 | 94 | $0.55M |
| 2029 | MIL | 5 | | 3 | 0 | 0 | 0 | 0 | 0 | 7 | | 4 | 2 | 2 | 3 | 2 | 8 | 1 | 0 | 0 | 0 | 0 | 2.57 | 4.81 | .154 | .091 | .200 | 1.286 | 60.8 | 0.56 | - | 0 | 0 | 32 | 94 | $1.05M |
| 2029 | OXF | 5 | | 48 | 5 | 4 | 1 | 3 | 4 | 81 | ⅔ | 100 | 52 | 47 | 49 | 1 | 81 | 11 | 0 | 0 | 0 | 0 | 5.18 | 4.56 | .295 | .341 | .250 | 1.837 | 59.1 | 1.03 | - | 12 | 0 | 32 | 94 | $1.35M |
| 2030 | OXF | 4 | | 0 | 0 | 0 | 0 | 0 | 0 | 0 | | 0 | 0 | 0 | 0 | 0 | 0 | 0 | 0 | 0 | 0 | 0 | - | - | .000 | .000 | .000 | - | - | - | - | 0 | 0 | 33 | 94 | $1.35M |
| 2030 | CIN | 5 | | 36 | 2 | 0 | 2 | 0 | 3 | 36 | ⅓ | 26 | 10 | 7 | 20 | 2 | 25 | 3 | 0 | 0 | 0 | 0 | 1.73 | 4.53 | .191 | .250 | .155 | 1.321 | 57.1 | 0.95 | - | 4 | 0 | 33 | 94 | $1.35M |
| 2031 | CIN | 4 | | 39 | 6 | 3 | 1 | 2 | 1 | 32 | ⅓ | 32 | 12 | 11 | 21 | 1 | 21 | 0 | 0 | 0 | 0 | 0 | 3.06 | 3.47 | .256 | .208 | .286 | 1.670 | 59.3 | 1.31 | - | 2 | 0 | 34 | 92 | $1.55M |
| 2032 | CIN | 4 | | 5 | 0 | 0 | 0 | 0 | 0 | 3 | ⅔ | 3 | 3 | 3 | 2 | 0 | 4 | 0 | 0 | 0 | 0 | 0 | 7.36 | 2.55 | .231 | .000 | .375 | 1.364 | 60.3 | 1.33 | - | 1 | 0 | 35 | 89 | $0.80M |
| Total | | | | 543 | 53 | 39 | 72 | 31 | 53 | 809 | ⅔ | 817 | 475 | 428 | 490 | 23 | 679 | 94 | 7 | 0 | 0 | 1 | 4.76 | 4.67 | .258 | .279 | .242 | 1.643 | 58.3 | 1.16 | 0.00 | 64 | 4 | - | - | - |
| Year | Team | | P | % | C | % | 1B | % | 2B | % | 3B | % | SS | % | OF | % | LF | % | CF | % | RF | % | DH | CS% | PB | DP | OA | E | FP |
| --- | --- | --- | --- | --- | --- | --- | --- | --- | --- | --- | --- | --- | --- | --- | --- | --- | --- | --- | --- | --- | --- | --- | --- | --- | --- | --- | --- | --- | --- |
| 2020 | MNT | | 20 | .000 | 0 | .000 | 0 | .000 | 0 | .000 | 0 | .000 | 0 | .000 | 0 | .000 | 0 | .000 | 0 | .000 | 0 | .000 | 0 | 0% | 0 | 0 | 0 | 1 | .000 |
| 2021 | FIS | | 53 | 1.000 | 0 | .000 | 0 | .000 | 0 | .000 | 0 | .000 | 0 | .000 | 0 | .000 | 0 | .000 | 0 | .000 | 0 | .000 | 0 | 0% | 0 | 1 | 0 | 0 | 1.000 |
| 2022 | FIS | | 49 | 1.000 | 0 | .000 | 0 | .000 | 0 | .000 | 0 | .000 | 0 | .000 | 0 | .000 | 0 | .000 | 0 | .000 | 0 | .000 | 0 | 0% | 0 | 0 | 0 | 0 | 1.000 |
| 2023 | FIS | | 37 | 1.000 | 0 | .000 | 0 | .000 | 0 | .000 | 0 | .000 | 0 | .000 | 0 | .000 | 0 | .000 | 0 | .000 | 0 | .000 | 0 | 0% | 0 | 0 | 0 | 0 | 1.000 |
| 2024 | FIS | | 49 | 1.000 | 0 | .000 | 0 | .000 | 0 | .000 | 0 | .000 | 0 | .000 | 0 | .000 | 0 | .000 | 0 | .000 | 0 | .000 | 0 | 0% | 0 | 1 | 0 | 0 | 1.000 |
| 2025 | MIL | | 75 | 1.000 | 0 | .000 | 0 | .000 | 0 | .000 | 0 | .000 | 0 | .000 | 0 | .000 | 0 | .000 | 0 | .000 | 0 | .000 | 0 | 0% | 0 | 2 | 0 | 0 | 1.000 |
| 2026 | MIL | | 37 | 1.000 | 0 | .000 | 0 | .000 | 0 | .000 | 0 | .000 | 0 | .000 | 0 | .000 | 0 | .000 | 0 | .000 | 0 | .000 | 0 | 0% | 0 | 1 | 0 | 0 | 1.000 |
| 2027 | MIL | | 35 | 1.000 | 0 | .000 | 0 | .000 | 0 | .000 | 0 | .000 | 0 | .000 | 0 | .000 | 0 | .000 | 0 | .000 | 0 | .000 | 0 | 0% | 0 | 0 | 0 | 0 | 1.000 |
| 2028 | MIL | | 57 | 1.000 | 0 | .000 | 0 | .000 | 0 | .000 | 0 | .000 | 0 | .000 | 0 | .000 | 0 | .000 | 0 | .000 | 0 | .000 | 0 | 0% | 0 | 3 | 0 | 0 | 1.000 |
| 2029 | MIL | | 3 | .000 | 0 | .000 | 0 | .000 | 0 | .000 | 0 | .000 | 0 | .000 | 0 | .000 | 0 | .000 | 0 | .000 | 0 | .000 | 0 | 0% | 0 | 0 | 0 | 0 | .000 |
| 2029 | OXF | | 48 | 1.000 | 0 | .000 | 0 | .000 | 0 | .000 | 0 | .000 | 0 | .000 | 0 | .000 | 0 | .000 | 0 | .000 | 0 | .000 | 0 | 0% | 0 | 1 | 0 | 0 | 1.000 |
| 2030 | OXF | | 0 | .000 | 0 | .000 | 0 | .000 | 0 | .000 | 0 | .000 | 0 | .000 | 0 | .000 | 0 | .000 | 0 | .000 | 0 | .000 | 0 | 0% | 0 | 0 | 0 | 0 | .000 |
| 2030 | CIN | | 36 | 1.000 | 0 | .000 | 0 | .000 | 0 | .000 | 0 | .000 | 0 | .000 | 0 | .000 | 0 | .000 | 0 | .000 | 0 | .000 | 0 | 0% | 0 | 0 | 0 | 0 | 1.000 |
| 2031 | CIN | | 39 | 1.000 | 0 | .000 | 0 | .000 | 0 | .000 | 0 | .000 | 0 | .000 | 0 | .000 | 0 | .000 | 0 | .000 | 0 | .000 | 0 | 0% | 0 | 3 | 0 | 0 | 1.000 |
| 2032 | CIN | | 5 | 1.000 | 0 | .000 | 0 | .000 | 0 | .000 | 0 | .000 | 0 | .000 | 0 | .000 | 0 | .000 | 0 | .000 | 0 | .000 | 0 | 0% | 0 | 0 | 0 | 0 | 1.000 |
| Total | | | 543 | .993 | 0 | .000 | 0 | .000 | 0 | .000 | 0 | .000 | 0 | .000 | 0 | .000 | 0 | .000 | 0 | .000 | 0 | .000 | 0 | 0% | 0 | 12 | 0 | 1 | .993 |

Statistics/Graph Selection: