Ben "The Elephant" Stamper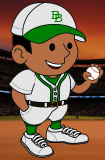 Ben Stamper [ID #197016] Free Agent OF
Home Town: Clifton, New Jersey High School: Clifton Catholic High School Drafted: 2040, Round #1 by Baytown Bombers
Minor Leaguer
Bats (R) Throws (R) Positions: OF 3b
Attributes
Offense [Form: Average]
Defense
Age: 27
Hitting:
8
Fielding:
7
Height: 6' 0"
Bat Control:
6
Range:
17
Weight: 198
Plate Discipline:
4
Arm:
11
Experience: 0 years
Power:
7
Skill Index:
79
Salary: $0.50M
Speed:
19
Potential:
13
Scouting Report: He can be a very good hitter. He can develop into an above average slugger. He is really quick. He can be solid in the field. He has good overall potential.
| Year | Team | LL | | G | AB | R | H | 2B | 3B | HR | RBI | BB | HBP | K | SB | CS | SH | FS | SF | AVE | OBP | SLG | OPS | VLHP | VRHP | Home | Away | RISP | GB/FB | GIDP | POTG | Age | SI | Salary |
| --- | --- | --- | --- | --- | --- | --- | --- | --- | --- | --- | --- | --- | --- | --- | --- | --- | --- | --- | --- | --- | --- | --- | --- | --- | --- | --- | --- | --- | --- | --- | --- | --- | --- | --- |
| 2045 | DEN | 1 | | 1 | 0 | 0 | 0 | 0 | 0 | 0 | 0 | 0 | 0 | 0 | 0 | 0 | 0 | 0 | 0 | .000 | .000 | .000 | .000 | .000 | .000 | .000 | .000 | .000 | - | 0 | 0 | 25 | 77 | $0.20M |
| Total | | | | 1 | 0 | 0 | 0 | 0 | 0 | 0 | 0 | 0 | 0 | 0 | 0 | 0 | 0 | 0 | 0 | .000 | .000 | .000 | .000 | .000 | .000 | .000 | .000 | .000 | - | 0 | 0 | - | - | - |
| Year | Team | | P | % | C | % | 1B | % | 2B | % | 3B | % | SS | % | OF | % | LF | % | CF | % | RF | % | DH | CS% | PB | DP | OA | E | FP |
| --- | --- | --- | --- | --- | --- | --- | --- | --- | --- | --- | --- | --- | --- | --- | --- | --- | --- | --- | --- | --- | --- | --- | --- | --- | --- | --- | --- | --- | --- |
| 2045 | DEN | | 0 | .000 | 0 | .000 | 0 | .000 | 0 | .000 | 1 | .000 | 0 | .000 | 0 | .000 | 0 | .000 | 0 | .000 | 0 | .000 | 0 | 0% | 0 | 0 | 0 | 1 | .000 |
| Total | | | 0 | .000 | 0 | .000 | 0 | .000 | 0 | .000 | 1 | .000 | 0 | .000 | 0 | .000 | 0 | .000 | 0 | .000 | 0 | .000 | 0 | 0% | 0 | 0 | 0 | 1 | .000 |
| Date | Game Date | Team From | Team To | Age | Transaction Type |
| --- | --- | --- | --- | --- | --- |
| 03/22/19 | March 14th 2040 | Draft Prospect Pool | Baytown Bombers | 16 | College Draftee |
| 11/17/19 | April 14th 2043 | Baytown Bombers | Free Agent Pool | 23 | Released |
| 01/24/20 | March 14th 2044 | Free Agent Pool | Denver Broncos | 24 | Free Agent Signee |
| 05/23/20 | August 21st 2045 | Denver Broncos | Free Agent Pool | 25 | Released |

Statistics/Graph Selection: