"Lights Out" Jung Hoon Yeun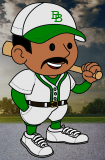 #35

- Jung Hoon Yeun [ID #186488] Santa Clemente Foxes P
Home Town: Pocheon, South Korea College: Wonkwang University Drafted: 2038, Round #1
Professional (4 years with club)
Bats (R) Throws (R) Positions: P
Attributes
Pitching [Form: Hot]
Defense
Age: 29
Velocity:
18
Fielding:
16
Height: 6' 1"
Change of Speeds:
11
Range:
10
Weight: 217
Movement:
14
Arm:
17
Experience: 4 years
Control:
15
Skill Index:
115
Salary: $1.95M
Stamina:
17
Potential:
15
Pitch Repertoire: Fastball, Slider
Scouting Report: He can be a strike out pitcher. He can have a major league slider. He will be able to throw all day. He has very good overall potential. He is probably too old to improve much more.
| Year | Team | LL | | G | W | L | S | BS | H | IP | | H | R | ER | BB | HB | K | HR | GS | CG | SHO | QS | ERA | FIP | BAA | VLHB | VRHB | WHIP | ST% | GB/FB | RS | WP | POTG | Age | SI | Salary |
| --- | --- | --- | --- | --- | --- | --- | --- | --- | --- | --- | --- | --- | --- | --- | --- | --- | --- | --- | --- | --- | --- | --- | --- | --- | --- | --- | --- | --- | --- | --- | --- | --- | --- | --- | --- | --- |
| 2038 | SC | 4 | | 48 | 9 | 5 | 2 | 3 | 1 | 138 | | 165 | 88 | 78 | 54 | 3 | 107 | 22 | 9 | 0 | 0 | 2 | 5.09 | 4.75 | .292 | .332 | .260 | 1.609 | 63.2 | 1.12 | 5.11 | 3 | 2 | 25 | 106 | $0.20M |
| 2039 | SC | 4 | | 55 | 8 | 1 | 8 | 2 | 8 | 78 | ⅓ | 48 | 18 | 16 | 26 | 1 | 61 | 6 | 0 | 0 | 0 | 0 | 1.84 | 3.34 | .176 | .171 | .180 | 0.957 | 62.7 | 1.14 | - | 4 | 1 | 26 | 115 | $0.50M |
| 2040 | SC | 3 | | 52 | 7 | 2 | 3 | 4 | 9 | 68 | | 55 | 22 | 19 | 32 | 1 | 55 | 6 | 0 | 0 | 0 | 0 | 2.51 | 3.86 | .219 | .240 | .197 | 1.294 | 63.5 | 1.04 | - | 2 | 0 | 27 | 115 | $1.20M |
| 2041 | SC | 3 | | 54 | 7 | 3 | 2 | 6 | 6 | 68 | ⅓ | 69 | 33 | 33 | 31 | 1 | 57 | 9 | 0 | 0 | 0 | 0 | 4.35 | 4.29 | .266 | .278 | .257 | 1.478 | 64.8 | 1.30 | - | 2 | 1 | 28 | 115 | $2.15M |
| 2042 | SC | 3 | | 16 | 1 | 1 | 14 | 2 | 0 | 15 | | 11 | 5 | 5 | 8 | 0 | 14 | 2 | 0 | 0 | 0 | 0 | 3.00 | 4.57 | .204 | .094 | .364 | 1.267 | 65.0 | 0.78 | - | 1 | 0 | 29 | 115 | $1.95M |
| Total | | | | 225 | 32 | 12 | 29 | 17 | 24 | 367 | ⅔ | 348 | 166 | 151 | 151 | 6 | 294 | 45 | 9 | 0 | 0 | 2 | 3.70 | 4.19 | .248 | .262 | .236 | 1.374 | 63.5 | 1.12 | 5.11 | 12 | 4 | - | - | - |
| Year | Team | | P | % | C | % | 1B | % | 2B | % | 3B | % | SS | % | OF | % | LF | % | CF | % | RF | % | DH | CS% | PB | DP | OA | E | FP |
| --- | --- | --- | --- | --- | --- | --- | --- | --- | --- | --- | --- | --- | --- | --- | --- | --- | --- | --- | --- | --- | --- | --- | --- | --- | --- | --- | --- | --- | --- |
| 2038 | SC | | 48 | .962 | 0 | .000 | 0 | .000 | 0 | .000 | 0 | .000 | 0 | .000 | 0 | .000 | 0 | .000 | 0 | .000 | 0 | .000 | 0 | 0% | 0 | 0 | 0 | 1 | .962 |
| 2039 | SC | | 55 | .947 | 0 | .000 | 0 | .000 | 0 | .000 | 0 | .000 | 0 | .000 | 0 | .000 | 0 | .000 | 0 | .000 | 0 | .000 | 0 | 0% | 0 | 1 | 0 | 1 | .947 |
| 2040 | SC | | 52 | .929 | 0 | .000 | 0 | .000 | 0 | .000 | 0 | .000 | 0 | .000 | 0 | .000 | 0 | .000 | 0 | .000 | 0 | .000 | 0 | 0% | 0 | 0 | 0 | 1 | .929 |
| 2041 | SC | | 54 | 1.000 | 0 | .000 | 0 | .000 | 0 | .000 | 0 | .000 | 0 | .000 | 0 | .000 | 0 | .000 | 0 | .000 | 0 | .000 | 0 | 0% | 0 | 1 | 0 | 0 | 1.000 |
| 2042 | SC | | 16 | 1.000 | 0 | .000 | 0 | .000 | 0 | .000 | 0 | .000 | 0 | .000 | 0 | .000 | 0 | .000 | 0 | .000 | 0 | .000 | 0 | 0% | 0 | 0 | 0 | 0 | 1.000 |
| Total | | | 225 | .960 | 0 | .000 | 0 | .000 | 0 | .000 | 0 | .000 | 0 | .000 | 0 | .000 | 0 | .000 | 0 | .000 | 0 | .000 | 0 | 0% | 0 | 2 | 0 | 3 | .960 |
| Date | Game Date | Team From | Team To | Age | Transaction Type |
| --- | --- | --- | --- | --- | --- |
| 10/06/18 | January 15th 2038 | Draft Prospect Pool | Santa Clemente Foxes | 25 | Asian Leagues Signee |

Statistics/Graph Selection: