Jonathon "Gladiator" Nielsen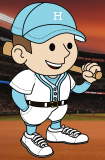 #44

- Jonathon Nielsen [ID #180188] York Frogs OF
Home Town: San Diego, California School: none Drafted: 2036, Round #9 by Denver Broncos
Professional (3 years with club)
Bats (L) Throws (L) Positions: OF 1b
Attributes
Offense [Form: Average]
Defense
Age: 27
Hitting:
5
Fielding:
11
Height: 5' 11"
Bat Control:
16
Range:
17
Weight: 195
Plate Discipline:
13
Arm:
16
Experience: 4 years
Power:
17
Skill Index:
114
Salary: $0.50M
Speed:
19
Potential:
14
Scouting Report: He will never be a decent hitter. He can develop into a decent slugger. He is really quick. He can be solid in the field. He has good overall potential. He doesn't have too much room for improvement.
| Year | Team | LL | | G | AB | R | H | 2B | 3B | HR | RBI | BB | HBP | K | SB | CS | SH | FS | SF | AVE | OBP | SLG | OPS | VLHP | VRHP | Home | Away | RISP | GB/FB | GIDP | POTG | Age | SI | Salary |
| --- | --- | --- | --- | --- | --- | --- | --- | --- | --- | --- | --- | --- | --- | --- | --- | --- | --- | --- | --- | --- | --- | --- | --- | --- | --- | --- | --- | --- | --- | --- | --- | --- | --- | --- |
| 2043 | YRK | 5 | | 79 | 235 | 37 | 44 | 19 | 1 | 3 | 23 | 14 | 1 | 48 | 24 | 7 | 0 | 1 | 0 | .187 | .236 | .315 | .551 | .182 | .188 | .179 | .195 | .162 | 1.34 | 6 | 3 | 24 | 99 | $0.20M |
| 2044 | YRK | 5 | | 154 | 549 | 49 | 80 | 23 | 8 | 6 | 47 | 31 | 3 | 117 | 33 | 9 | 4 | 0 | 3 | .146 | .195 | .250 | .444 | .111 | .152 | .178 | .111 | .149 | 1.20 | 11 | 0 | 25 | 103 | $0.50M |
| 2045 | YRK | 6 | | 142 | 521 | 67 | 90 | 27 | 2 | 16 | 71 | 47 | 3 | 77 | 43 | 8 | 1 | 1 | 3 | .173 | .244 | .324 | .568 | .154 | .179 | .159 | .185 | .182 | 0.97 | 5 | 3 | 26 | 111 | $0.50M |
| 2046 | YRK | 6 | | 14 | 45 | 11 | 12 | 7 | 0 | 1 | 11 | 4 | 1 | 5 | 4 | 2 | 0 | 0 | 3 | .267 | .321 | .489 | .810 | .000 | .267 | .360 | .150 | .267 | 1.29 | 0 | 0 | 27 | 114 | $0.50M |
| Total | | | | 389 | 1350 | 164 | 226 | 76 | 11 | 26 | 152 | 96 | 8 | 247 | 104 | 26 | 5 | 2 | 9 | .167 | .226 | .298 | .523 | .142 | .173 | .178 | .157 | .169 | 1.13 | 22 | 6 | - | - | - |
| Year | Team | | P | % | C | % | 1B | % | 2B | % | 3B | % | SS | % | OF | % | LF | % | CF | % | RF | % | DH | CS% | PB | DP | OA | E | FP |
| --- | --- | --- | --- | --- | --- | --- | --- | --- | --- | --- | --- | --- | --- | --- | --- | --- | --- | --- | --- | --- | --- | --- | --- | --- | --- | --- | --- | --- | --- |
| 2043 | YRK | | 0 | .000 | 2 | 1.000 | 4 | 1.000 | 3 | 1.000 | 3 | .000 | 1 | .000 | 64 | .988 | 56 | .988 | 2 | .000 | 6 | 1.000 | 2 | 50% | 0 | 3 | 3 | 2 | .989 |
| 2044 | YRK | | 0 | .000 | 0 | .000 | 16 | .984 | 0 | .000 | 0 | .000 | 1 | 1.000 | 137 | .984 | 22 | .981 | 2 | 1.000 | 113 | .984 | 0 | 0% | 0 | 4 | 11 | 8 | .984 |
| 2045 | YRK | | 0 | .000 | 0 | .000 | 35 | .996 | 0 | .000 | 0 | .000 | 0 | .000 | 107 | .985 | 0 | .000 | 0 | .000 | 107 | .985 | 0 | 0% | 0 | 11 | 12 | 6 | .990 |
| 2046 | YRK | | 0 | .000 | 0 | .000 | 1 | .909 | 0 | .000 | 0 | .000 | 0 | .000 | 13 | .976 | 0 | .000 | 13 | .976 | 0 | .000 | 0 | 0% | 0 | 1 | 1 | 2 | .962 |
| Total | | | 0 | .000 | 2 | 1.000 | 56 | .990 | 3 | 1.000 | 3 | .000 | 2 | 1.000 | 321 | .985 | 78 | .986 | 17 | .979 | 226 | .985 | 2 | 50% | 0 | 19 | 27 | 18 | .987 |

Statistics/Graph Selection: