Russel "The Milkman" Bigelow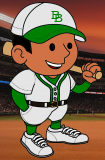 #36

- Russel Bigelow [ID #173905] Miami Dolphins P
Home Town: Portland, Oregon College: University of Oregon Drafted: 2035, Round #7 by Bronx Bombers
Veteran (2 years with club)
Bats (L) Throws (L) Positions: P
Attributes
Pitching [Form: Average]
Defense
Age: 35
Velocity:
13
Fielding:
5
Height: 6' 0"
Change of Speeds:
12
Range:
8
Weight: 187
Movement:
11
Arm:
17
Experience: 9 years
Control:
7
Skill Index:
90
Salary: $1.95M
Stamina:
17
Potential:
12
Pitch Repertoire: Fastball, Splitter, Curveball, Knuckle Curve, Slider
Scouting Report: He can be a strike out pitcher. His control will always be below average. He will be able to throw all day. He is getting to the age where his skills may decline quickly.
| Year | Team | LL | | G | W | L | S | BS | H | IP | | H | R | ER | BB | HB | K | HR | GS | CG | SHO | QS | ERA | FIP | BAA | VLHB | VRHB | WHIP | ST% | GB/FB | RS | WP | POTG | Age | SI | Salary |
| --- | --- | --- | --- | --- | --- | --- | --- | --- | --- | --- | --- | --- | --- | --- | --- | --- | --- | --- | --- | --- | --- | --- | --- | --- | --- | --- | --- | --- | --- | --- | --- | --- | --- | --- | --- | --- |
| 2038 | NCH | 6 | | 45 | 8 | 5 | 2 | 0 | 1 | 154 | ⅔ | 159 | 108 | 97 | 88 | 5 | 91 | 27 | 4 | 0 | 0 | 0 | 5.64 | 5.80 | .262 | .200 | .270 | 1.629 | 59.3 | 0.99 | 4.75 | 7 | 2 | 25 | 86 | $0.50M |
| 2039 | NCH | 6 | | 39 | 7 | 7 | 1 | 0 | 2 | 150 | ⅔ | 142 | 103 | 86 | 90 | 5 | 84 | 22 | 21 | 0 | 0 | 3 | 5.14 | 5.75 | .241 | .161 | .251 | 1.573 | 59.2 | 0.94 | 5.67 | 8 | 2 | 26 | 98 | $0.50M |
| 2040 | NCH | 6 | | 31 | 10 | 10 | 0 | 0 | 0 | 144 | ⅔ | 128 | 84 | 75 | 72 | 5 | 96 | 16 | 31 | 0 | 0 | 8 | 4.67 | 4.81 | .229 | .203 | .233 | 1.417 | 59.7 | 0.84 | 5.10 | 6 | 7 | 27 | 100 | $0.50M |
| 2041 | NCH | 6 | | 31 | 10 | 6 | 0 | 0 | 0 | 152 | ⅔ | 143 | 72 | 64 | 59 | 6 | 96 | 20 | 31 | 0 | 0 | 7 | 3.77 | 4.82 | .244 | .197 | .250 | 1.362 | 60.0 | 1.06 | 5.42 | 2 | 5 | 28 | 100 | $1.00M |
| 2042 | NCH | 6 | | 31 | 6 | 9 | 0 | 0 | 0 | 152 | ⅓ | 154 | 89 | 84 | 65 | 2 | 87 | 24 | 31 | 0 | 0 | 6 | 4.96 | 5.33 | .256 | .274 | .254 | 1.451 | 60.0 | 1.06 | 4.90 | 4 | 2 | 29 | 102 | $1.25M |
| 2043 | HOL | 6 | | 31 | 8 | 9 | 0 | 0 | 0 | 158 | ⅔ | 92 | 46 | 37 | 66 | 1 | 99 | 17 | 31 | 0 | 0 | 10 | 2.10 | 4.51 | .164 | .170 | .164 | 1.002 | 60.9 | 0.84 | 3.52 | 7 | 4 | 30 | 102 | $1.35M |
| 2044 | HOL | 6 | | 31 | 10 | 6 | 0 | 0 | 0 | 157 | ⅓ | 108 | 55 | 43 | 76 | 3 | 102 | 12 | 31 | 0 | 0 | 9 | 2.46 | 4.28 | .188 | .196 | .187 | 1.189 | 58.8 | 1.27 | 4.77 | 11 | 6 | 31 | 102 | $1.75M |
| 2045 | HOL | 6 | | 6 | 1 | 3 | 0 | 0 | 0 | 25 | ⅔ | 21 | 17 | 16 | 13 | 0 | 17 | 4 | 6 | 0 | 0 | 1 | 5.61 | 5.32 | .212 | .000 | .231 | 1.325 | 58.5 | 0.97 | 3.83 | 4 | 0 | 32 | 102 | $1.90M |
| 2045 | KAL | 2 | | 23 | 7 | 5 | 0 | 0 | 0 | 118 | ⅔ | 88 | 52 | 45 | 65 | 4 | 71 | 13 | 23 | 0 | 0 | 8 | 3.41 | 5.07 | .202 | .100 | .216 | 1.323 | 58.6 | 0.78 | 4.78 | 4 | 4 | 32 | 102 | $2.00M |
| 2046 | MIA | 5 | | 48 | 0 | 7 | 35 | 9 | 1 | 63 | | 70 | 50 | 44 | 42 | 6 | 38 | 7 | 2 | 0 | 0 | 0 | 6.29 | 5.62 | .278 | .244 | .284 | 1.873 | 58.6 | 1.11 | 6.50 | 2 | 0 | 33 | 100 | $4.10M |
| 2047 | MIA | 5 | | 32 | 3 | 2 | 0 | 2 | 1 | 73 | ⅓ | 78 | 59 | 55 | 55 | 2 | 29 | 9 | 0 | 0 | 0 | 0 | 6.75 | 6.03 | .276 | .348 | .269 | 1.841 | 56.5 | 1.13 | - | 2 | 0 | 34 | 97 | $3.80M |
| 2048 | MIA | 6 | | 0 | 0 | 0 | 0 | 0 | 0 | 0 | | 0 | 0 | 0 | 0 | 0 | 0 | 0 | 0 | 0 | 0 | 0 | - | - | .000 | .000 | .000 | - | - | - | - | 0 | 0 | 35 | 90 | $1.95M |
| Total | | | | 348 | 70 | 69 | 38 | 11 | 5 | 1351 | ⅔ | 1183 | 735 | 646 | 691 | 39 | 810 | 171 | 211 | 0 | 0 | 52 | 4.30 | 5.13 | .230 | .199 | .234 | 1.415 | 59.3 | 0.98 | 4.83 | 57 | 32 | - | - | - |
| Year | Team | | P | % | C | % | 1B | % | 2B | % | 3B | % | SS | % | OF | % | LF | % | CF | % | RF | % | DH | CS% | PB | DP | OA | E | FP |
| --- | --- | --- | --- | --- | --- | --- | --- | --- | --- | --- | --- | --- | --- | --- | --- | --- | --- | --- | --- | --- | --- | --- | --- | --- | --- | --- | --- | --- | --- |
| 2038 | NCH | | 45 | .920 | 0 | .000 | 0 | .000 | 0 | .000 | 0 | .000 | 0 | .000 | 0 | .000 | 0 | .000 | 0 | .000 | 0 | .000 | 0 | 0% | 0 | 0 | 0 | 2 | .920 |
| 2039 | NCH | | 39 | .900 | 0 | .000 | 0 | .000 | 0 | .000 | 0 | .000 | 0 | .000 | 0 | .000 | 0 | .000 | 0 | .000 | 0 | .000 | 0 | 0% | 0 | 0 | 0 | 3 | .900 |
| 2040 | NCH | | 31 | .955 | 0 | .000 | 0 | .000 | 0 | .000 | 0 | .000 | 0 | .000 | 0 | .000 | 0 | .000 | 0 | .000 | 0 | .000 | 0 | 0% | 0 | 0 | 0 | 1 | .955 |
| 2041 | NCH | | 31 | .963 | 0 | .000 | 0 | .000 | 0 | .000 | 0 | .000 | 0 | .000 | 0 | .000 | 0 | .000 | 0 | .000 | 0 | .000 | 0 | 0% | 0 | 1 | 0 | 1 | .963 |
| 2042 | NCH | | 31 | 1.000 | 0 | .000 | 0 | .000 | 0 | .000 | 0 | .000 | 0 | .000 | 0 | .000 | 0 | .000 | 0 | .000 | 0 | .000 | 0 | 0% | 0 | 0 | 0 | 0 | 1.000 |
| 2043 | HOL | | 31 | 1.000 | 0 | .000 | 0 | .000 | 0 | .000 | 0 | .000 | 0 | .000 | 0 | .000 | 0 | .000 | 0 | .000 | 0 | .000 | 0 | 0% | 0 | 1 | 0 | 0 | 1.000 |
| 2044 | HOL | | 31 | 1.000 | 0 | .000 | 0 | .000 | 0 | .000 | 0 | .000 | 0 | .000 | 0 | .000 | 0 | .000 | 0 | .000 | 0 | .000 | 0 | 0% | 0 | 3 | 0 | 0 | 1.000 |
| 2045 | HOL | | 6 | .875 | 0 | .000 | 0 | .000 | 0 | .000 | 0 | .000 | 0 | .000 | 0 | .000 | 0 | .000 | 0 | .000 | 0 | .000 | 0 | 0% | 0 | 0 | 0 | 1 | .875 |
| 2045 | KAL | | 23 | .913 | 0 | .000 | 0 | .000 | 0 | .000 | 0 | .000 | 0 | .000 | 0 | .000 | 0 | .000 | 0 | .000 | 0 | .000 | 0 | 0% | 0 | 0 | 0 | 2 | .913 |
| 2046 | MIA | | 48 | .923 | 0 | .000 | 0 | .000 | 0 | .000 | 0 | .000 | 0 | .000 | 0 | .000 | 0 | .000 | 0 | .000 | 0 | .000 | 0 | 0% | 0 | 2 | 0 | 1 | .923 |
| 2047 | MIA | | 32 | .938 | 0 | .000 | 0 | .000 | 0 | .000 | 0 | .000 | 0 | .000 | 0 | .000 | 0 | .000 | 0 | .000 | 0 | .000 | 0 | 0% | 0 | 0 | 0 | 1 | .938 |
| 2048 | MIA | | 0 | .000 | 0 | .000 | 0 | .000 | 0 | .000 | 0 | .000 | 0 | .000 | 0 | .000 | 0 | .000 | 0 | .000 | 0 | .000 | 0 | 0% | 0 | 0 | 0 | 0 | .000 |
| Total | | | 348 | .953 | 0 | .000 | 0 | .000 | 0 | .000 | 0 | .000 | 0 | .000 | 0 | .000 | 0 | .000 | 0 | .000 | 0 | .000 | 0 | 0% | 0 | 7 | 0 | 12 | .953 |

Statistics/Graph Selection: