Quentin "The Chosen One" Lofton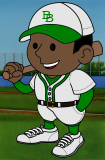 #85

- Quentin Lofton [ID #154220] Tulare Eagles P
Birthplace: Charlotte Amalie, Virgin Islands College: none Drafted: 2032, Round #1
Rookie (5 years with club)
Bats (R) Throws (R) Positions: P
Attributes
Pitching [Form: Cold]
Defense
Age: 22
Velocity:
11 ↑
Fielding:
4
Height: 5' 11"
Change of Speeds:
8
Range:
15
Weight: 180
Movement:
9
Arm:
15
Experience: 0 years
Control:
6
Skill Index:
69 ↑
Salary: $0.50M
Stamina:
8
Potential:
13
Pitch Repertoire: Fastball, Slider, Changeup, Knuckle Curve, Splitter
Scouting Report: He can be a strike out pitcher. He can have a major league slider. His control will always be below average. He will have the stamina to be a starting pitcher. He has good overall potential. He seems really overmatched at this level of competition.
| Year | Team | LL | | G | W | L | S | BS | H | IP | | H | R | ER | BB | HB | K | HR | GS | CG | SHO | QS | ERA | FIP | BAA | VLHB | VRHB | WHIP | ST% | GB/FB | RS | WP | POTG | Age | SI | Salary |
| --- | --- | --- | --- | --- | --- | --- | --- | --- | --- | --- | --- | --- | --- | --- | --- | --- | --- | --- | --- | --- | --- | --- | --- | --- | --- | --- | --- | --- | --- | --- | --- | --- | --- | --- | --- | --- |
| 2033 | TUL | 6 | | 0 | 0 | 0 | 0 | 0 | 0 | 0 | | 0 | 0 | 0 | 0 | 0 | 0 | 0 | 0 | 0 | 0 | 0 | - | - | .000 | .000 | .000 | - | - | - | - | 0 | 0 | 17 | 45 | $0.20M |
| 2034 | TUL | 6 | | 0 | 0 | 0 | 0 | 0 | 0 | 0 | | 0 | 0 | 0 | 0 | 0 | 0 | 0 | 0 | 0 | 0 | 0 | - | - | .000 | .000 | .000 | - | - | - | - | 0 | 0 | 18 | 49 | $0.20M |
| 2035 | TUL | 6 | | 0 | 0 | 0 | 0 | 0 | 0 | 0 | | 0 | 0 | 0 | 0 | 0 | 0 | 0 | 0 | 0 | 0 | 0 | - | - | .000 | .000 | .000 | - | - | - | - | 0 | 0 | 19 | 57 | $0.20M |
| 2036 | TUL | 6 | | 0 | 0 | 0 | 0 | 0 | 0 | 0 | | 0 | 0 | 0 | 0 | 0 | 0 | 0 | 0 | 0 | 0 | 0 | - | - | .000 | .000 | .000 | - | - | - | - | 0 | 0 | 20 | 62 | $0.20M |
| 2037 | TUL | 6 | | 0 | 0 | 0 | 0 | 0 | 0 | 0 | | 0 | 0 | 0 | 0 | 0 | 0 | 0 | 0 | 0 | 0 | 0 | - | - | .000 | .000 | .000 | - | - | - | - | 0 | 0 | 21 | 63 | $0.20M |
| 2038 | TUL | 6 | | 1 | 0 | 0 | 0 | 0 | 0 | 2 | | 2 | 1 | 1 | 1 | 1 | 2 | 0 | 0 | 0 | 0 | 0 | 4.50 | 4.10 | .250 | .200 | .333 | 2.000 | 55.3 | 0.67 | - | 0 | 0 | 22 | 65 | $0.20M |
| Total | | | | 1 | 0 | 0 | 0 | 0 | 0 | 2 | | 2 | 1 | 1 | 1 | 1 | 2 | 0 | 0 | 0 | 0 | 0 | 4.50 | 4.10 | .250 | .200 | .333 | 2.000 | 55.3 | 0.67 | - | 0 | 0 | - | - | - |
| Year | Team | | P | % | C | % | 1B | % | 2B | % | 3B | % | SS | % | OF | % | LF | % | CF | % | RF | % | DH | CS% | PB | DP | OA | E | FP |
| --- | --- | --- | --- | --- | --- | --- | --- | --- | --- | --- | --- | --- | --- | --- | --- | --- | --- | --- | --- | --- | --- | --- | --- | --- | --- | --- | --- | --- | --- |
| 2033 | TUL | | 0 | .000 | 0 | .000 | 0 | .000 | 0 | .000 | 0 | .000 | 0 | .000 | 0 | .000 | 0 | .000 | 0 | .000 | 0 | .000 | 0 | 0% | 0 | 0 | 0 | 0 | .000 |
| 2034 | TUL | | 0 | .000 | 0 | .000 | 0 | .000 | 0 | .000 | 0 | .000 | 0 | .000 | 0 | .000 | 0 | .000 | 0 | .000 | 0 | .000 | 0 | 0% | 0 | 0 | 0 | 0 | .000 |
| 2035 | TUL | | 0 | .000 | 0 | .000 | 0 | .000 | 0 | .000 | 0 | .000 | 0 | .000 | 0 | .000 | 0 | .000 | 0 | .000 | 0 | .000 | 0 | 0% | 0 | 0 | 0 | 0 | .000 |
| 2036 | TUL | | 0 | .000 | 0 | .000 | 0 | .000 | 0 | .000 | 0 | .000 | 0 | .000 | 0 | .000 | 0 | .000 | 0 | .000 | 0 | .000 | 0 | 0% | 0 | 0 | 0 | 0 | .000 |
| 2037 | TUL | | 0 | .000 | 0 | .000 | 0 | .000 | 0 | .000 | 0 | .000 | 0 | .000 | 0 | .000 | 0 | .000 | 0 | .000 | 0 | .000 | 0 | 0% | 0 | 0 | 0 | 0 | .000 |
| 2038 | TUL | | 1 | .000 | 0 | .000 | 0 | .000 | 0 | .000 | 0 | .000 | 0 | .000 | 0 | .000 | 0 | .000 | 0 | .000 | 0 | .000 | 0 | 0% | 0 | 0 | 0 | 0 | .000 |
| Total | | | 1 | .000 | 0 | .000 | 0 | .000 | 0 | .000 | 0 | .000 | 0 | .000 | 0 | .000 | 0 | .000 | 0 | .000 | 0 | .000 | 0 | 0% | 0 | 0 | 0 | 0 | .000 |
| Date | Game Date | Team From | Team To | Age | Transaction Type |
| --- | --- | --- | --- | --- | --- |
| 05/06/17 | January 15th 2032 | - | Tulare Eagles | 16 | Latin American Academy Signee |

Statistics/Graph Selection: