"Handsome" Hilário Tamayo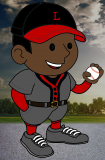 Hilário Tamayo [ID #153343] Free Agent 2B
Home Town: Bajos de Haina, Dominican Republic School: none Drafted: 2031, Round #9 by Laredo Mules
Veteran
Bats (R) Throws (R) Positions: 2b 3b ss
Attributes
Offense [Form: Average]
Defense
Age: 32
Hitting:
6
Fielding:
14
Height: 5' 10"
Bat Control:
11
Range:
16
Weight: 177
Plate Discipline:
17
Arm:
18
Experience: 7 years
Power:
12
Skill Index:
109
Salary: $0.50M
Speed:
15
Potential:
13
Scouting Report: He will never be a decent hitter. He can develop into an above average slugger. He has decent speed. He is getting to the age where his skills may decline quickly.
| Year | Team | LL | | G | AB | R | H | 2B | 3B | HR | RBI | BB | HBP | K | SB | CS | SH | FS | SF | AVE | OBP | SLG | OPS | VLHP | VRHP | Home | Away | RISP | GB/FB | GIDP | POTG | Age | SI | Salary |
| --- | --- | --- | --- | --- | --- | --- | --- | --- | --- | --- | --- | --- | --- | --- | --- | --- | --- | --- | --- | --- | --- | --- | --- | --- | --- | --- | --- | --- | --- | --- | --- | --- | --- | --- |
| 2036 | GLD | 6 | | 57 | 63 | 11 | 12 | 2 | 0 | 0 | 4 | 2 | 1 | 15 | 3 | 1 | 0 | 0 | 1 | .190 | .224 | .222 | .446 | .154 | .216 | .257 | .107 | .167 | 0.77 | 2 | 0 | 22 | 91 | $0.20M |
| 2037 | GLD | 6 | | 43 | 43 | 6 | 6 | 3 | 0 | 0 | 7 | 5 | 0 | 9 | 2 | 1 | 0 | 0 | 4 | .140 | .212 | .209 | .421 | .192 | .059 | .056 | .200 | .154 | 0.68 | 1 | 0 | 23 | 94 | $0.50M |
| 2038 | GLD | 6 | | 22 | 31 | 6 | 9 | 1 | 0 | 1 | 7 | 3 | 0 | 7 | 1 | 3 | 0 | 0 | 0 | .290 | .353 | .419 | .772 | .294 | .286 | .389 | .154 | .357 | 1.22 | 0 | 0 | 24 | 98 | $0.50M |
| 2039 | GLD | 6 | | 63 | 95 | 20 | 22 | 5 | 1 | 5 | 17 | 11 | 2 | 13 | 0 | 0 | 1 | 1 | 1 | .232 | .321 | .463 | .784 | .220 | .308 | .275 | .182 | .267 | 1.09 | 2 | 1 | 25 | 100 | $0.50M |
| 2040 | COM | 6 | | 69 | 144 | 16 | 26 | 10 | 0 | 1 | 11 | 14 | 2 | 28 | 6 | 5 | 0 | 2 | 2 | .181 | .259 | .271 | .530 | .129 | .220 | .215 | .152 | .150 | 1.36 | 3 | 0 | 26 | 101 | $0.50M |
| 2041 | COM | 6 | | 10 | 34 | 6 | 5 | 2 | 0 | 0 | 0 | 5 | 0 | 9 | 1 | 1 | 0 | 0 | 0 | .147 | .256 | .206 | .462 | .091 | .174 | .148 | .143 | .000 | 0.91 | 0 | 0 | 27 | 104 | $0.50M |
| 2043 | CIN | 5 | | 49 | 96 | 9 | 15 | 3 | 1 | 2 | 13 | 13 | 1 | 11 | 2 | 0 | 0 | 0 | 3 | .156 | .257 | .271 | .527 | .167 | .000 | .184 | .128 | .238 | 0.92 | 2 | 1 | 29 | 104 | $0.50M |
| 2044 | CIN | 6 | | 64 | 126 | 20 | 18 | 8 | 0 | 3 | 10 | 19 | 1 | 16 | 1 | 1 | 1 | 1 | 2 | .143 | .257 | .278 | .535 | .153 | .000 | .149 | .136 | .103 | 0.88 | 3 | 0 | 30 | 106 | $0.50M |
| 2045 | CIN | 6 | | 56 | 90 | 11 | 18 | 3 | 0 | 2 | 10 | 16 | 0 | 12 | 2 | 2 | 0 | 2 | 0 | .200 | .321 | .300 | .621 | .209 | .000 | .222 | .178 | .263 | 1.71 | 0 | 0 | 31 | 107 | $0.50M |
| Total | | | | 433 | 722 | 105 | 131 | 37 | 2 | 14 | 79 | 88 | 7 | 120 | 18 | 14 | 2 | 6 | 13 | .181 | .272 | .296 | .569 | .178 | .191 | .208 | .153 | .188 | 1.06 | 13 | 2 | - | - | - |
| Year | Team | | P | % | C | % | 1B | % | 2B | % | 3B | % | SS | % | OF | % | LF | % | CF | % | RF | % | DH | CS% | PB | DP | OA | E | FP |
| --- | --- | --- | --- | --- | --- | --- | --- | --- | --- | --- | --- | --- | --- | --- | --- | --- | --- | --- | --- | --- | --- | --- | --- | --- | --- | --- | --- | --- | --- |
| 2036 | GLD | | 0 | .000 | 8 | 1.000 | 0 | .000 | 7 | 1.000 | 13 | .941 | 25 | .880 | 2 | 1.000 | 0 | .000 | 0 | .000 | 2 | 1.000 | 2 | 0% | 0 | 6 | 0 | 7 | .929 |
| 2037 | GLD | | 0 | .000 | 5 | 1.000 | 2 | .000 | 7 | .875 | 8 | 1.000 | 5 | 1.000 | 8 | 1.000 | 6 | 1.000 | 1 | 1.000 | 1 | .000 | 8 | 0% | 0 | 1 | 0 | 2 | .950 |
| 2038 | GLD | | 0 | .000 | 10 | 1.000 | 1 | 1.000 | 1 | 1.000 | 3 | .000 | 3 | 1.000 | 2 | 1.000 | 0 | .000 | 0 | .000 | 2 | 1.000 | 2 | 50% | 0 | 2 | 1 | 0 | 1.000 |
| 2039 | GLD | | 0 | .000 | 2 | 1.000 | 7 | 1.000 | 0 | .000 | 46 | .910 | 2 | 1.000 | 2 | 1.000 | 1 | .000 | 0 | .000 | 1 | 1.000 | 4 | 0% | 1 | 2 | 0 | 8 | .922 |
| 2040 | COM | | 0 | .000 | 4 | 1.000 | 12 | 1.000 | 11 | .982 | 25 | .931 | 12 | .949 | 4 | 1.000 | 1 | .000 | 2 | 1.000 | 1 | .000 | 1 | 25% | 1 | 10 | 0 | 5 | .973 |
| 2041 | COM | | 0 | .000 | 0 | .000 | 0 | .000 | 4 | 1.000 | 0 | .000 | 3 | .929 | 1 | 1.000 | 0 | .000 | 1 | 1.000 | 0 | .000 | 2 | 0% | 0 | 7 | 0 | 1 | .976 |
| 2043 | CIN | | 0 | .000 | 1 | 1.000 | 1 | .000 | 0 | .000 | 0 | .000 | 0 | .000 | 6 | 1.000 | 2 | 1.000 | 0 | .000 | 4 | 1.000 | 41 | 0% | 0 | 0 | 0 | 0 | 1.000 |
| 2044 | CIN | | 0 | .000 | 4 | 1.000 | 5 | 1.000 | 2 | 1.000 | 0 | .000 | 0 | .000 | 2 | .000 | 1 | .000 | 0 | .000 | 1 | .000 | 51 | 0% | 0 | 1 | 0 | 0 | 1.000 |
| 2045 | CIN | | 0 | .000 | 3 | .957 | 19 | .953 | 0 | .000 | 0 | .000 | 0 | .000 | 7 | .800 | 3 | .750 | 0 | .000 | 4 | .833 | 27 | 20% | 0 | 4 | 1 | 5 | .934 |
| Total | | | 0 | .000 | 37 | .991 | 47 | .975 | 32 | .976 | 95 | .923 | 50 | .920 | 34 | .947 | 14 | .889 | 4 | 1.000 | 16 | .900 | 138 | 20% | 2 | 33 | 2 | 28 | .954 |
| Date | Game Date | Team From | Team To | Age | Transaction Type |
| --- | --- | --- | --- | --- | --- |
| 04/21/17 | September 12th 2031 | Draft Prospect Pool | Laredo Mustangs | 17 | Latin American Academy Signee |
| 10/09/17 | January 15th 2034 | Laredo Mules | Free Agent Pool | 20 | Released |
| 10/12/17 | February 5th 2034 | Free Agent Pool | Goldsboro Buffaloes | 20 | Free Agent Signee |
| 03/05/19 | October 24th 2039 | Goldsboro Yellow Jackets | Free Agent Pool | 25 | Released |
| 03/13/19 | February 2nd 2040 | Free Agent Pool | Compton Reds | 26 | Free Agent Signee |
| 06/17/19 | April 18th 2041 | Compton Reds | Free Agent Pool | 27 | Released |
| 11/03/19 | March 4th 2043 | Free Agent Pool | Cincinnati Reds | 29 | Free Agent Signee |
| 05/31/20 | September 22nd 2045 | Cincinnati Stormtroopers | Free Agent Pool | 31 | Released |

Statistics/Graph Selection: