Guasparre "The Man" D'Angelo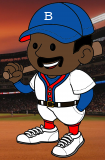 #16

- Guasparre D'Angelo [ID #148959] Hackensack Mighty Hawks 1B
Home Town: Rome, Italy School: none Drafted: 2031, Round #1
Professional (9 years with club)
Bats (L) Throws (L) Positions: 1B
Attributes
Offense [Form: Hot]
Defense
Age: 29
Hitting:
15
Fielding:
13
Height: 6' 2"
Bat Control:
10
Range:
13
Weight: 205
Plate Discipline:
16
Arm:
6
Experience: 4 years
Power:
15
Skill Index:
95
Salary: $0.50M
Speed:
7
Potential:
13
Scouting Report: He can be a great hitter. He can develop into a prolific slugger. He can be solid in the field. He has very good overall potential. He is probably too old to improve much more.
| Year | Team | LL | | G | AB | R | H | 2B | 3B | HR | RBI | BB | HBP | K | SB | CS | SH | FS | SF | AVE | OBP | SLG | OPS | VLHP | VRHP | Home | Away | RISP | GB/FB | GIDP | POTG | Age | SI | Salary |
| --- | --- | --- | --- | --- | --- | --- | --- | --- | --- | --- | --- | --- | --- | --- | --- | --- | --- | --- | --- | --- | --- | --- | --- | --- | --- | --- | --- | --- | --- | --- | --- | --- | --- | --- |
| 2036 | WLT | 5 | | 7 | 15 | 1 | 2 | 0 | 0 | 0 | 1 | 1 | 0 | 3 | 0 | 0 | 0 | 0 | 0 | .133 | .188 | .133 | .321 | .000 | .133 | .000 | .143 | .167 | 0.50 | 0 | 0 | 24 | 76 | $0.20M |
| 2037 | HAC | 4 | | 39 | 48 | 3 | 11 | 3 | 0 | 0 | 9 | 4 | 0 | 17 | 0 | 0 | 0 | 0 | 1 | .229 | .283 | .292 | .575 | .000 | .234 | .250 | .188 | .294 | 0.67 | 0 | 1 | 25 | 79 | $0.50M |
| 2038 | HAC | 4 | | 51 | 92 | 11 | 18 | 2 | 0 | 3 | 13 | 11 | 0 | 29 | 1 | 0 | 0 | 0 | 2 | .196 | .276 | .315 | .591 | .000 | .205 | .118 | .241 | .296 | 1.19 | 3 | 0 | 26 | 81 | $0.50M |
| 2039 | HAC | 4 | | 67 | 106 | 13 | 26 | 2 | 2 | 4 | 12 | 9 | 2 | 30 | 0 | 0 | 0 | 0 | 0 | .245 | .316 | .415 | .731 | .200 | .248 | .200 | .317 | .250 | 1.07 | 3 | 0 | 27 | 85 | $0.50M |
| 2040 | HAC | 5 | | 110 | 305 | 46 | 89 | 21 | 1 | 12 | 55 | 35 | 4 | 77 | 3 | 0 | 0 | 0 | 3 | .292 | .369 | .485 | .854 | .182 | .296 | .299 | .285 | .322 | 0.69 | 6 | 1 | 28 | 89 | $0.50M |
| 2041 | HAC | 5 | | 10 | 35 | 6 | 11 | 3 | 0 | 0 | 4 | 2 | 1 | 10 | 0 | 0 | 0 | 0 | 0 | .314 | .368 | .400 | .768 | .000 | .324 | .280 | .400 | .417 | 1.83 | 0 | 0 | 29 | 95 | $0.50M |
| Total | | | | 284 | 601 | 80 | 157 | 31 | 3 | 19 | 94 | 62 | 7 | 166 | 4 | 0 | 0 | 0 | 6 | .261 | .334 | .418 | .752 | .136 | .266 | .250 | .273 | .306 | 0.86 | 12 | 2 | - | - | - |
| Year | Team | | P | % | C | % | 1B | % | 2B | % | 3B | % | SS | % | OF | % | LF | % | CF | % | RF | % | DH | CS% | PB | DP | OA | E | FP |
| --- | --- | --- | --- | --- | --- | --- | --- | --- | --- | --- | --- | --- | --- | --- | --- | --- | --- | --- | --- | --- | --- | --- | --- | --- | --- | --- | --- | --- | --- |
| 2036 | WLT | | 0 | .000 | 0 | .000 | 5 | .909 | 0 | .000 | 0 | .000 | 0 | .000 | 0 | .000 | 0 | .000 | 0 | .000 | 0 | .000 | 2 | 0% | 0 | 0 | 0 | 1 | .909 |
| 2037 | HAC | | 0 | .000 | 0 | .000 | 27 | .981 | 0 | .000 | 0 | .000 | 0 | .000 | 2 | .000 | 1 | .000 | 0 | .000 | 1 | .000 | 10 | 0% | 0 | 3 | 0 | 1 | .981 |
| 2038 | HAC | | 0 | .000 | 0 | .000 | 30 | .985 | 0 | .000 | 0 | .000 | 0 | .000 | 2 | .000 | 2 | .000 | 0 | .000 | 0 | .000 | 19 | 0% | 0 | 3 | 0 | 2 | .985 |
| 2039 | HAC | | 0 | .000 | 0 | .000 | 66 | .986 | 0 | .000 | 0 | .000 | 0 | .000 | 1 | 1.000 | 0 | .000 | 0 | .000 | 1 | 1.000 | 0 | 0% | 0 | 8 | 0 | 3 | .987 |
| 2040 | HAC | | 0 | .000 | 0 | .000 | 107 | .989 | 0 | .000 | 0 | .000 | 0 | .000 | 0 | .000 | 0 | .000 | 0 | .000 | 0 | .000 | 3 | 0% | 0 | 40 | 0 | 8 | .989 |
| 2041 | HAC | | 0 | .000 | 0 | .000 | 10 | 1.000 | 0 | .000 | 0 | .000 | 0 | .000 | 0 | .000 | 0 | .000 | 0 | .000 | 0 | .000 | 0 | 0% | 0 | 3 | 0 | 0 | 1.000 |
| Total | | | 0 | .000 | 0 | .000 | 245 | .988 | 0 | .000 | 0 | .000 | 0 | .000 | 5 | 1.000 | 3 | .000 | 0 | .000 | 2 | 1.000 | 34 | 0% | 0 | 57 | 0 | 15 | .988 |
| Date | Game Date | Team From | Team To | Age | Transaction Type |
| --- | --- | --- | --- | --- | --- |
| 02/18/17 | January 15th 2031 | Draft Prospect Pool | Wellington Hounds | 19 | International Signee |

Statistics/Graph Selection: