Patrick "Touch 'em All" Dowd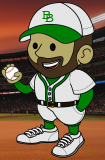 #38

- Patrick Dowd [ID #139535] Manhattan Isotopes P
Birthplace: Dallas, Texas College: Baylor University Drafted: 2029, Round #2 by Santa Monica Carp
Veteran
Bats (R) Throws (R) Positions: P
Attributes
Pitching [Form: Cold]
Defense
Age: 31
Velocity:
17
Fielding:
13
Height: 6' 4"
Change of Speeds:
16
Range:
7
Weight: 217
Movement:
6
Arm:
17
Experience: 5 years
Control:
18
Skill Index:
108
Salary: $0.50M
Stamina:
15
Potential:
13
Pitch Repertoire: Fastball, Changeup, Sinker, Curveball
Scouting Report: He can be a strike out pitcher. He will have the stamina to be a starting pitcher. He is probably too old to improve much more.
| Year | Team | LL | | G | W | L | S | BS | H | IP | | H | R | ER | BB | HB | K | HR | GS | CG | SHO | QS | ERA | FIP | BAA | VLHB | VRHB | WHIP | ST% | GB/FB | RS | WP | POTG | Age | SI | Salary |
| --- | --- | --- | --- | --- | --- | --- | --- | --- | --- | --- | --- | --- | --- | --- | --- | --- | --- | --- | --- | --- | --- | --- | --- | --- | --- | --- | --- | --- | --- | --- | --- | --- | --- | --- | --- | --- |
| 2033 | SM | 3 | | 31 | 3 | 4 | 0 | 1 | 0 | 62 | | 59 | 35 | 33 | 19 | 1 | 46 | 14 | 4 | 0 | 0 | 2 | 4.79 | 5.52 | .245 | .258 | .236 | 1.274 | 63.5 | 0.72 | 7.75 | 0 | 1 | 25 | 88 | $0.20M |
| 2034 | SM | 2 | | 30 | 15 | 11 | 0 | 0 | 0 | 222 | ⅓ | 172 | 75 | 70 | 42 | 2 | 193 | 30 | 30 | 3 | 1 | 21 | 2.83 | 3.71 | .208 | .198 | .219 | 0.972 | 68.4 | 0.79 | 4.10 | 2 | 10 | 26 | 100 | $0.50M |
| 2035 | SM | 1 | | 28 | 1 | 14 | 1 | 0 | 0 | 144 | ⅓ | 129 | 71 | 62 | 31 | 5 | 131 | 22 | 19 | 1 | 0 | 10 | 3.87 | 4.01 | .234 | .276 | .175 | 1.143 | 69.1 | 0.59 | 3.00 | 0 | 0 | 27 | 108 | $1.45M |
| 2036 | SM | 2 | | 22 | 5 | 10 | 0 | 0 | 0 | 95 | ⅓ | 100 | 50 | 47 | 19 | 2 | 78 | 12 | 13 | 1 | 0 | 6 | 4.44 | 3.76 | .262 | .330 | .195 | 1.269 | 69.1 | 0.79 | 3.23 | 4 | 2 | 28 | 108 | $2.10M |
| 2037 | SM | 1 | | 13 | 4 | 8 | 0 | 0 | 0 | 87 | | 95 | 51 | 50 | 18 | 2 | 61 | 13 | 13 | 0 | 0 | 7 | 5.17 | 4.33 | .273 | .288 | .257 | 1.322 | 69.3 | 0.87 | 3.77 | 1 | 2 | 29 | 108 | $2.35M |
| 2038 | SM | 1 | | 16 | 1 | 7 | 2 | 0 | 0 | 63 | ⅓ | 73 | 48 | 44 | 24 | 1 | 49 | 15 | 8 | 0 | 0 | 1 | 6.25 | 5.82 | .282 | .282 | .282 | 1.547 | 68.1 | 0.53 | 2.50 | 1 | 0 | 30 | 108 | $0.60M |
| 2038 | NOV | 1 | | 10 | 1 | 1 | 1 | 1 | 0 | 22 | ⅔ | 13 | 14 | 11 | 12 | 0 | 18 | 1 | 2 | 0 | 0 | 1 | 4.37 | 3.67 | .163 | .151 | .185 | 1.103 | 62.9 | 0.55 | 5.50 | 1 | 1 | 30 | 108 | $0.90M |
| 2039 | NOV | 1 | | 0 | 0 | 0 | 0 | 0 | 0 | 0 | | 0 | 0 | 0 | 0 | 0 | 0 | 0 | 0 | 0 | 0 | 0 | - | - | .000 | .000 | .000 | - | - | - | - | 0 | 0 | 31 | 108 | $0.50M |
| 2039 | MAN | 2 | | 22 | 4 | 5 | 0 | 0 | 0 | 115 | ⅓ | 117 | 55 | 53 | 15 | 2 | 93 | 18 | 20 | 1 | 0 | 10 | 4.14 | 3.96 | .257 | .273 | .238 | 1.162 | 70.0 | 1.01 | 5.15 | 0 | 1 | 31 | 108 | $0.50M |
| Total | | | | 172 | 34 | 60 | 4 | 2 | 0 | 812 | ⅓ | 758 | 399 | 370 | 180 | 15 | 669 | 125 | 109 | 6 | 1 | 58 | 4.10 | 4.17 | .241 | .258 | .221 | 1.173 | 68.3 | 0.75 | 4.00 | 9 | 17 | - | - | - |
| Year | Team | | P | % | C | % | 1B | % | 2B | % | 3B | % | SS | % | OF | % | LF | % | CF | % | RF | % | DH | CS% | PB | DP | OA | E | FP |
| --- | --- | --- | --- | --- | --- | --- | --- | --- | --- | --- | --- | --- | --- | --- | --- | --- | --- | --- | --- | --- | --- | --- | --- | --- | --- | --- | --- | --- | --- |
| 2033 | SM | | 31 | 1.000 | 0 | .000 | 0 | .000 | 0 | .000 | 0 | .000 | 0 | .000 | 0 | .000 | 0 | .000 | 0 | .000 | 0 | .000 | 0 | 0% | 0 | 0 | 0 | 0 | 1.000 |
| 2034 | SM | | 30 | 1.000 | 0 | .000 | 0 | .000 | 0 | .000 | 0 | .000 | 0 | .000 | 0 | .000 | 0 | .000 | 0 | .000 | 0 | .000 | 0 | 0% | 0 | 0 | 0 | 0 | 1.000 |
| 2035 | SM | | 28 | 1.000 | 0 | .000 | 0 | .000 | 0 | .000 | 0 | .000 | 0 | .000 | 0 | .000 | 0 | .000 | 0 | .000 | 0 | .000 | 0 | 0% | 0 | 2 | 0 | 0 | 1.000 |
| 2036 | SM | | 22 | 1.000 | 0 | .000 | 0 | .000 | 0 | .000 | 0 | .000 | 0 | .000 | 0 | .000 | 0 | .000 | 0 | .000 | 0 | .000 | 0 | 0% | 0 | 0 | 0 | 0 | 1.000 |
| 2037 | SM | | 13 | 1.000 | 0 | .000 | 0 | .000 | 0 | .000 | 0 | .000 | 0 | .000 | 0 | .000 | 0 | .000 | 0 | .000 | 0 | .000 | 0 | 0% | 0 | 0 | 0 | 0 | 1.000 |
| 2038 | SM | | 16 | .889 | 0 | .000 | 0 | .000 | 0 | .000 | 0 | .000 | 0 | .000 | 0 | .000 | 0 | .000 | 0 | .000 | 0 | .000 | 0 | 0% | 0 | 0 | 0 | 1 | .889 |
| 2038 | NOV | | 10 | 1.000 | 0 | .000 | 0 | .000 | 0 | .000 | 0 | .000 | 0 | .000 | 0 | .000 | 0 | .000 | 0 | .000 | 0 | .000 | 0 | 0% | 0 | 0 | 0 | 0 | 1.000 |
| 2039 | NOV | | 0 | .000 | 0 | .000 | 0 | .000 | 0 | .000 | 0 | .000 | 0 | .000 | 0 | .000 | 0 | .000 | 0 | .000 | 0 | .000 | 0 | 0% | 0 | 0 | 0 | 0 | .000 |
| 2039 | MAN | | 22 | .947 | 0 | .000 | 0 | .000 | 0 | .000 | 0 | .000 | 0 | .000 | 0 | .000 | 0 | .000 | 0 | .000 | 0 | .000 | 0 | 0% | 0 | 1 | 0 | 1 | .947 |
| Total | | | 172 | .983 | 0 | .000 | 0 | .000 | 0 | .000 | 0 | .000 | 0 | .000 | 0 | .000 | 0 | .000 | 0 | .000 | 0 | .000 | 0 | 0% | 0 | 3 | 0 | 2 | .983 |

Statistics/Graph Selection: