Matías "Mad Dog" Maldonado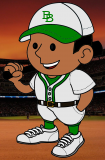 #24

- Matías Maldonado [ID #139240] Coral Gables Falcons OF
Home Town: Havana, Cuba School: none Drafted: 2029, Round #1
Veteran (12 years with club)
Bats (L) Throws (L) Positions: OF 1b
Attributes
Offense [Form: Cold]
Defense
Age: 29
Hitting:
15
Fielding:
18
Height: 6' 0"
Bat Control:
12
Range:
15
Weight: 204
Plate Discipline:
16
Arm:
16
Experience: 7 years
Power:
19
Skill Index:
121
Salary: $1.85M
Speed:
10
Potential:
15
Scouting Report: He can be a very good hitter. He can develop into a prolific slugger. He can be amazing in the field. He has good overall potential. He is probably too old to improve much more.
| Year | Team | LL | | G | AB | R | H | 2B | 3B | HR | RBI | BB | HBP | K | SB | CS | SH | FS | SF | AVE | OBP | SLG | OPS | VLHP | VRHP | Home | Away | RISP | GB/FB | GIDP | POTG | Age | SI | Salary |
| --- | --- | --- | --- | --- | --- | --- | --- | --- | --- | --- | --- | --- | --- | --- | --- | --- | --- | --- | --- | --- | --- | --- | --- | --- | --- | --- | --- | --- | --- | --- | --- | --- | --- | --- |
| 2033 | CG | 4 | | 46 | 134 | 12 | 26 | 7 | 1 | 5 | 19 | 11 | 1 | 33 | 0 | 0 | 1 | 0 | 1 | .194 | .259 | .373 | .632 | .120 | .211 | .200 | .189 | .281 | 0.98 | 5 | 2 | 20 | 93 | $0.20M |
| 2034 | CG | 5 | | 147 | 391 | 54 | 105 | 20 | 1 | 18 | 66 | 44 | 3 | 85 | 0 | 0 | 0 | 0 | 9 | .269 | .340 | .463 | .803 | .389 | .263 | .254 | .283 | .333 | 0.58 | 3 | 6 | 21 | 102 | $0.50M |
| 2035 | CG | 6 | | 147 | 564 | 82 | 153 | 49 | 4 | 33 | 116 | 80 | 2 | 90 | 0 | 0 | 0 | 0 | 6 | .271 | .360 | .548 | .908 | .231 | .280 | .286 | .257 | .287 | 0.47 | 5 | 13 | 22 | 109 | $0.50M |
| 2036 | CG | 5 | | 155 | 574 | 78 | 149 | 35 | 1 | 39 | 125 | 59 | 0 | 114 | 0 | 0 | 0 | 0 | 10 | .260 | .323 | .528 | .851 | .291 | .252 | .253 | .266 | .286 | 0.52 | 6 | 7 | 23 | 121 | $1.40M |
| 2037 | CG | 5 | | 149 | 512 | 80 | 139 | 32 | 0 | 41 | 106 | 70 | 3 | 105 | 0 | 0 | 0 | 0 | 7 | .271 | .358 | .574 | .932 | .175 | .289 | .283 | .259 | .287 | 0.48 | 3 | 7 | 24 | 121 | $1.85M |
| 2038 | CG | 5 | | 151 | 283 | 50 | 83 | 31 | 0 | 22 | 59 | 40 | 0 | 56 | 0 | 0 | 0 | 0 | 1 | .293 | .380 | .636 | 1.016 | .444 | .288 | .301 | .287 | .303 | 0.42 | 1 | 2 | 25 | 121 | $2.25M |
| 2039 | CG | 4 | | 152 | 267 | 45 | 77 | 20 | 0 | 15 | 45 | 43 | 1 | 48 | 0 | 0 | 0 | 0 | 3 | .288 | .385 | .532 | .917 | .235 | .292 | .306 | .271 | .258 | 0.50 | 1 | 2 | 26 | 121 | $2.30M |
| 2040 | CG | 5 | | 150 | 403 | 68 | 109 | 24 | 1 | 32 | 89 | 65 | 7 | 70 | 0 | 0 | 0 | 0 | 6 | .270 | .376 | .573 | .950 | .185 | .277 | .234 | .301 | .298 | 0.49 | 5 | 7 | 27 | 121 | $2.55M |
| 2041 | CG | 5 | | 158 | 449 | 75 | 103 | 25 | 2 | 30 | 105 | 57 | 2 | 74 | 0 | 0 | 0 | 0 | 7 | .229 | .315 | .494 | .809 | .223 | .231 | .229 | .230 | .247 | 0.45 | 2 | 3 | 28 | 121 | $2.40M |
| 2042 | CG | 5 | | 64 | 218 | 41 | 65 | 11 | 0 | 16 | 49 | 28 | 4 | 41 | 1 | 0 | 0 | 0 | 3 | .298 | .383 | .569 | .952 | .323 | .294 | .333 | .269 | .382 | 0.60 | 0 | 5 | 29 | 121 | $1.85M |
| Total | | | | 1319 | 3795 | 585 | 1009 | 254 | 10 | 251 | 779 | 497 | 23 | 716 | 1 | 0 | 1 | 0 | 53 | .266 | .350 | .536 | .887 | .241 | .270 | .267 | .264 | .292 | 0.51 | 31 | 54 | - | - | - |
| Year | Team | | P | % | C | % | 1B | % | 2B | % | 3B | % | SS | % | OF | % | LF | % | CF | % | RF | % | DH | CS% | PB | DP | OA | E | FP |
| --- | --- | --- | --- | --- | --- | --- | --- | --- | --- | --- | --- | --- | --- | --- | --- | --- | --- | --- | --- | --- | --- | --- | --- | --- | --- | --- | --- | --- | --- |
| 2033 | CG | | 0 | .000 | 0 | .000 | 0 | .000 | 0 | .000 | 0 | .000 | 0 | .000 | 46 | .992 | 11 | .947 | 35 | 1.000 | 0 | .000 | 0 | 0% | 0 | 0 | 1 | 1 | .992 |
| 2034 | CG | | 0 | .000 | 0 | .000 | 2 | .000 | 0 | .000 | 0 | .000 | 0 | .000 | 126 | .992 | 103 | .992 | 19 | 1.000 | 4 | 1.000 | 19 | 0% | 0 | 0 | 2 | 2 | .992 |
| 2035 | CG | | 0 | .000 | 0 | .000 | 0 | .000 | 0 | .000 | 0 | .000 | 0 | .000 | 147 | .990 | 0 | .000 | 145 | .990 | 2 | .000 | 0 | 0% | 0 | 3 | 14 | 5 | .990 |
| 2036 | CG | | 0 | .000 | 0 | .000 | 2 | 1.000 | 1 | 1.000 | 0 | .000 | 0 | .000 | 152 | .994 | 3 | 1.000 | 147 | .994 | 2 | 1.000 | 0 | 0% | 0 | 4 | 11 | 3 | .994 |
| 2037 | CG | | 0 | .000 | 0 | .000 | 2 | .833 | 0 | .000 | 0 | .000 | 0 | .000 | 139 | 1.000 | 3 | .000 | 131 | 1.000 | 5 | 1.000 | 8 | 0% | 0 | 2 | 11 | 1 | .998 |
| 2038 | CG | | 0 | .000 | 0 | .000 | 2 | 1.000 | 0 | .000 | 0 | .000 | 0 | .000 | 137 | 1.000 | 5 | 1.000 | 4 | 1.000 | 128 | 1.000 | 12 | 0% | 0 | 2 | 4 | 0 | 1.000 |
| 2039 | CG | | 0 | .000 | 0 | .000 | 5 | 1.000 | 0 | .000 | 1 | 1.000 | 0 | .000 | 136 | 1.000 | 9 | 1.000 | 7 | 1.000 | 120 | 1.000 | 10 | 0% | 0 | 1 | 7 | 0 | 1.000 |
| 2040 | CG | | 0 | .000 | 0 | .000 | 3 | 1.000 | 1 | 1.000 | 1 | .000 | 0 | .000 | 136 | .994 | 8 | 1.000 | 106 | .994 | 22 | 1.000 | 9 | 0% | 0 | 1 | 7 | 2 | .994 |
| 2041 | CG | | 0 | .000 | 0 | .000 | 1 | 1.000 | 1 | 1.000 | 0 | .000 | 0 | .000 | 152 | .998 | 2 | .000 | 20 | 1.000 | 130 | .997 | 4 | 0% | 0 | 1 | 15 | 1 | .998 |
| 2042 | CG | | 0 | .000 | 0 | .000 | 3 | 1.000 | 0 | .000 | 0 | .000 | 0 | .000 | 59 | .990 | 2 | .000 | 57 | .990 | 0 | .000 | 2 | 0% | 0 | 2 | 5 | 2 | .991 |
| Total | | | 0 | .000 | 0 | .000 | 20 | .978 | 3 | 1.000 | 2 | 1.000 | 0 | .000 | 1230 | .995 | 146 | .989 | 671 | .994 | 413 | .998 | 64 | 0% | 0 | 16 | 77 | 17 | .995 |
| Date | Game Date | Team From | Team To | Age | Transaction Type |
| --- | --- | --- | --- | --- | --- |
| 09/18/16 | January 15th 2029 | Draft Prospect Pool | Coral Gables Vultures | 16 | Latin American Academy Signee |

Statistics/Graph Selection: