"Little" Emiliano Vásquez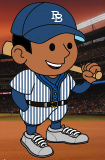 #61

- Emiliano Vásquez [ID #134569] Vista Eagles C
Birthplace: Levittown, Puerto Rico College: none Drafted: 2028, Round #2 by San Bernardino Ninjas
Professional
Bats (R) Throws (R) Positions: C 3b
Attributes
Offense [Form: Very Cold]
Defense
Age: 31
Hitting:
18
Fielding:
17
Height: 5' 9"
Bat Control:
9
Range:
9
Weight: 172
Plate Discipline:
5
Arm:
19
Experience: 4 years
Power:
13
Skill Index:
99
Salary: $1.05M
Speed:
9
Potential:
12
Scouting Report: He can be a great hitter. He can develop into a decent slugger. He can be amazing in the field. He is probably too old to improve much more.
| Year | Team | LL | | G | AB | R | H | 2B | 3B | HR | RBI | BB | HBP | K | SB | CS | SH | FS | SF | AVE | OBP | SLG | OPS | VLHP | VRHP | Home | Away | RISP | GB/FB | GIDP | POTG | Age | SI | Salary |
| --- | --- | --- | --- | --- | --- | --- | --- | --- | --- | --- | --- | --- | --- | --- | --- | --- | --- | --- | --- | --- | --- | --- | --- | --- | --- | --- | --- | --- | --- | --- | --- | --- | --- | --- |
| 2032 | SA | 5 | | 25 | 73 | 12 | 14 | 5 | 0 | 2 | 9 | 1 | 2 | 23 | 0 | 0 | 1 | 0 | 1 | .192 | .221 | .342 | .563 | .241 | .000 | .200 | .184 | .182 | 1.37 | 2 | 1 | 25 | 81 | $0.20M |
| 2033 | DW | 6 | | 21 | 87 | 5 | 15 | 2 | 0 | 2 | 5 | 2 | 0 | 17 | 3 | 0 | 0 | 2 | 0 | .172 | .191 | .264 | .455 | .043 | .219 | .137 | .222 | .087 | 1.18 | 1 | 0 | 26 | 85 | $0.50M |
| 2033 | TUL | 5 | | 107 | 391 | 36 | 99 | 19 | 3 | 8 | 38 | 6 | 3 | 82 | 3 | 0 | 1 | 0 | 2 | .253 | .269 | .379 | .647 | .282 | .242 | .251 | .255 | .293 | 1.25 | 5 | 1 | 26 | 86 | $0.50M |
| 2034 | STP | 6 | | 32 | 120 | 5 | 24 | 4 | 0 | 2 | 11 | 2 | 1 | 21 | 3 | 1 | 1 | 1 | 1 | .200 | .218 | .283 | .501 | .216 | .193 | .246 | .153 | .188 | 1.41 | 4 | 1 | 27 | 89 | $0.55M |
| 2035 | LAR | 2 | | 24 | 82 | 10 | 21 | 5 | 1 | 2 | 13 | 2 | 0 | 19 | 0 | 0 | 0 | 0 | 0 | .256 | .274 | .415 | .688 | .294 | .194 | .256 | .256 | .211 | 1.20 | 1 | 0 | 28 | 93 | $0.60M |
| 2036 | LAR | 1 | | 94 | 384 | 36 | 101 | 28 | 2 | 10 | 49 | 4 | 3 | 84 | 3 | 0 | 0 | 0 | 2 | .263 | .275 | .424 | .699 | .272 | .257 | .255 | .269 | .259 | 1.18 | 8 | 4 | 29 | 96 | $1.00M |
| 2037 | LAR | 1 | | 27 | 105 | 6 | 23 | 3 | 0 | 1 | 5 | 3 | 0 | 15 | 0 | 0 | 0 | 0 | 0 | .219 | .241 | .276 | .517 | .240 | .200 | .237 | .209 | .172 | 1.21 | 4 | 0 | 30 | 98 | $1.05M |
| 2038 | LAR | 1 | | 0 | 0 | 0 | 0 | 0 | 0 | 0 | 0 | 0 | 0 | 0 | 0 | 0 | 0 | 0 | 0 | .000 | .000 | .000 | .000 | .000 | .000 | .000 | .000 | .000 | - | 0 | 0 | 31 | 99 | $1.05M |
| 2038 | BEN | 6 | | 0 | 0 | 0 | 0 | 0 | 0 | 0 | 0 | 0 | 0 | 0 | 0 | 0 | 0 | 0 | 0 | .000 | .000 | .000 | .000 | .000 | .000 | .000 | .000 | .000 | - | 0 | 0 | 31 | 99 | $1.05M |
| 2038 | VST | 5 | | 121 | 301 | 35 | 78 | 27 | 0 | 10 | 57 | 12 | 4 | 54 | 0 | 1 | 1 | 0 | 3 | .259 | .294 | .449 | .742 | .261 | .257 | .260 | .259 | .351 | 1.04 | 3 | 2 | 31 | 99 | $1.05M |
| Total | | | | 451 | 1543 | 145 | 375 | 93 | 6 | 37 | 187 | 32 | 13 | 315 | 12 | 2 | 4 | 3 | 9 | .243 | .263 | .383 | .646 | .256 | .235 | .243 | .244 | .257 | 1.20 | 28 | 9 | - | - | - |
| Year | Team | | P | % | C | % | 1B | % | 2B | % | 3B | % | SS | % | OF | % | LF | % | CF | % | RF | % | DH | CS% | PB | DP | OA | E | FP |
| --- | --- | --- | --- | --- | --- | --- | --- | --- | --- | --- | --- | --- | --- | --- | --- | --- | --- | --- | --- | --- | --- | --- | --- | --- | --- | --- | --- | --- | --- |
| 2032 | SA | | 0 | .000 | 22 | 1.000 | 3 | 1.000 | 0 | .000 | 0 | .000 | 0 | .000 | 0 | .000 | 0 | .000 | 0 | .000 | 0 | .000 | 0 | 60% | 2 | 2 | 0 | 0 | 1.000 |
| 2033 | DW | | 0 | .000 | 21 | 1.000 | 0 | .000 | 0 | .000 | 0 | .000 | 0 | .000 | 0 | .000 | 0 | .000 | 0 | .000 | 0 | .000 | 0 | 27.8% | 3 | 0 | 0 | 0 | 1.000 |
| 2033 | TUL | | 0 | .000 | 107 | 1.000 | 0 | .000 | 0 | .000 | 0 | .000 | 0 | .000 | 0 | .000 | 0 | .000 | 0 | .000 | 0 | .000 | 0 | 45.1% | 10 | 3 | 0 | 0 | 1.000 |
| 2034 | STP | | 0 | .000 | 32 | 1.000 | 0 | .000 | 0 | .000 | 0 | .000 | 0 | .000 | 0 | .000 | 0 | .000 | 0 | .000 | 0 | .000 | 0 | 40% | 2 | 2 | 0 | 0 | 1.000 |
| 2035 | LAR | | 0 | .000 | 16 | 1.000 | 0 | .000 | 0 | .000 | 7 | .929 | 0 | .000 | 0 | .000 | 0 | .000 | 0 | .000 | 0 | .000 | 1 | 50% | 0 | 3 | 0 | 1 | .990 |
| 2036 | LAR | | 0 | .000 | 94 | 1.000 | 0 | .000 | 0 | .000 | 0 | .000 | 0 | .000 | 0 | .000 | 0 | .000 | 0 | .000 | 0 | .000 | 0 | 32.5% | 5 | 7 | 0 | 0 | 1.000 |
| 2037 | LAR | | 0 | .000 | 24 | 1.000 | 0 | .000 | 0 | .000 | 3 | 1.000 | 0 | .000 | 0 | .000 | 0 | .000 | 0 | .000 | 0 | .000 | 0 | 14.3% | 2 | 0 | 0 | 0 | 1.000 |
| 2038 | LAR | | 0 | .000 | 0 | .000 | 0 | .000 | 0 | .000 | 0 | .000 | 0 | .000 | 0 | .000 | 0 | .000 | 0 | .000 | 0 | .000 | 0 | 0% | 0 | 0 | 0 | 0 | .000 |
| 2038 | BEN | | 0 | .000 | 0 | .000 | 0 | .000 | 0 | .000 | 0 | .000 | 0 | .000 | 0 | .000 | 0 | .000 | 0 | .000 | 0 | .000 | 0 | 0% | 0 | 0 | 0 | 0 | .000 |
| 2038 | VST | | 0 | .000 | 117 | 1.000 | 0 | .000 | 0 | .000 | 3 | 1.000 | 0 | .000 | 1 | .000 | 0 | .000 | 0 | .000 | 1 | .000 | 0 | 42.9% | 1 | 5 | 0 | 0 | 1.000 |
| Total | | | 0 | .000 | 433 | 1.000 | 3 | 1.000 | 0 | .000 | 13 | .971 | 0 | .000 | 1 | .000 | 0 | .000 | 0 | .000 | 1 | .000 | 1 | 37.9% | 25 | 22 | 0 | 1 | 1.000 |

Statistics/Graph Selection: