Scott "Man In The Mask" Venturi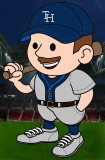 #69

- Scott Venturi [ID #125847] Oakland Park Ravens 3B
Birthplace: Irvine, California College: none Drafted: 2026, Round #4 by Raleigh Braves
Veteran
Bats (S) Throws (R) Positions: 3B c 2b
Attributes
Offense [Form: Average]
Defense
Age: 30
Hitting:
14
Fielding:
12
Height: 5' 10"
Bat Control:
6
Range:
14
Weight: 182
Plate Discipline:
16
Arm:
16
Experience: 5 years
Power:
11
Skill Index:
103
Salary: $1.25M
Speed:
14
Potential:
13
Scouting Report: He can be a good hitter. He has decent speed. He can be solid in the field. He is probably too old to improve much more.
| Year | Team | LL | | G | AB | R | H | 2B | 3B | HR | RBI | BB | HBP | K | SB | CS | SH | FS | SF | AVE | OBP | SLG | OPS | VLHP | VRHP | Home | Away | RISP | GB/FB | GIDP | POTG | Age | SI | Salary |
| --- | --- | --- | --- | --- | --- | --- | --- | --- | --- | --- | --- | --- | --- | --- | --- | --- | --- | --- | --- | --- | --- | --- | --- | --- | --- | --- | --- | --- | --- | --- | --- | --- | --- | --- |
| 2032 | RAL | 2 | | 20 | 31 | 7 | 3 | 0 | 1 | 1 | 3 | 3 | 0 | 14 | 0 | 1 | 0 | 0 | 0 | .097 | .176 | .258 | .435 | .000 | .130 | .167 | .080 | .100 | 1.00 | 1 | 0 | 23 | 91 | $0.50M |
| 2033 | RAL | 1 | | 87 | 309 | 39 | 69 | 14 | 5 | 4 | 31 | 26 | 4 | 80 | 11 | 3 | 3 | 0 | 1 | .223 | .291 | .340 | .631 | .244 | .220 | .243 | .204 | .181 | 1.67 | 4 | 2 | 24 | 94 | $0.50M |
| 2034 | RAL | 1 | | 112 | 385 | 53 | 89 | 25 | 2 | 3 | 39 | 42 | 1 | 94 | 20 | 11 | 0 | 1 | 2 | .231 | .307 | .330 | .637 | .231 | .231 | .240 | .223 | .220 | 1.49 | 5 | 3 | 25 | 98 | $0.50M |
| 2035 | RAL | 1 | | 141 | 524 | 69 | 129 | 36 | 4 | 6 | 50 | 49 | 1 | 122 | 16 | 7 | 4 | 0 | 3 | .246 | .310 | .365 | .675 | .264 | .238 | .249 | .243 | .228 | 1.76 | 14 | 4 | 26 | 105 | $0.75M |
| 2036 | RAL | 2 | | 151 | 495 | 71 | 109 | 27 | 3 | 8 | 59 | 45 | 4 | 139 | 18 | 5 | 0 | 0 | 3 | .220 | .289 | .335 | .624 | .190 | .228 | .211 | .230 | .271 | 1.77 | 7 | 7 | 27 | 105 | $1.35M |
| 2037 | RAL | 3 | | 25 | 89 | 7 | 16 | 4 | 0 | 0 | 8 | 10 | 0 | 28 | 0 | 1 | 0 | 0 | 2 | .180 | .257 | .225 | .482 | .235 | .145 | .125 | .244 | .200 | 1.95 | 1 | 1 | 28 | 105 | $1.55M |
| 2037 | KEN | 5 | | 88 | 186 | 29 | 36 | 10 | 1 | 4 | 14 | 26 | 1 | 46 | 13 | 3 | 0 | 0 | 0 | .194 | .296 | .323 | .618 | .200 | .192 | .177 | .211 | .114 | 1.05 | 2 | 1 | 28 | 105 | $2.20M |
| 2038 | BRX | 1 | | 10 | 31 | 1 | 2 | 0 | 0 | 0 | 0 | 3 | 1 | 14 | 0 | 1 | 0 | 0 | 0 | .065 | .171 | .065 | .236 | .200 | .038 | .100 | .048 | .000 | 1.50 | 0 | 0 | 29 | 104 | $2.00M |
| 2038 | OP | 6 | | 22 | 56 | 7 | 18 | 3 | 0 | 2 | 11 | 4 | 2 | 10 | 1 | 1 | 0 | 0 | 0 | .321 | .387 | .482 | .869 | .267 | .385 | .226 | .440 | .353 | 1.25 | 0 | 1 | 29 | 104 | $2.00M |
| 2039 | OP | 5 | | 9 | 27 | 5 | 7 | 0 | 1 | 3 | 5 | 6 | 0 | 8 | 1 | 1 | 0 | 0 | 0 | .259 | .394 | .667 | 1.061 | .000 | .350 | .176 | .400 | .286 | 1.57 | 0 | 0 | 30 | 103 | $1.25M |
| Total | | | | 665 | 2133 | 288 | 478 | 119 | 17 | 31 | 220 | 214 | 14 | 555 | 80 | 34 | 7 | 1 | 11 | .224 | .298 | .339 | .637 | .227 | .223 | .222 | .226 | .220 | 1.59 | 34 | 19 | - | - | - |
| Year | Team | | P | % | C | % | 1B | % | 2B | % | 3B | % | SS | % | OF | % | LF | % | CF | % | RF | % | DH | CS% | PB | DP | OA | E | FP |
| --- | --- | --- | --- | --- | --- | --- | --- | --- | --- | --- | --- | --- | --- | --- | --- | --- | --- | --- | --- | --- | --- | --- | --- | --- | --- | --- | --- | --- | --- |
| 2032 | RAL | | 0 | .000 | 3 | 1.000 | 0 | .000 | 9 | .880 | 3 | .929 | 0 | .000 | 4 | 1.000 | 0 | .000 | 0 | .000 | 4 | 1.000 | 1 | 0% | 0 | 2 | 0 | 4 | .913 |
| 2033 | RAL | | 0 | .000 | 1 | 1.000 | 0 | .000 | 10 | .909 | 73 | .960 | 0 | .000 | 2 | .000 | 1 | .000 | 0 | .000 | 1 | .000 | 1 | 0% | 0 | 9 | 0 | 10 | .955 |
| 2034 | RAL | | 0 | .000 | 3 | 1.000 | 0 | .000 | 0 | .000 | 100 | .965 | 0 | .000 | 1 | .000 | 1 | .000 | 0 | .000 | 0 | .000 | 8 | 0% | 0 | 5 | 0 | 9 | .966 |
| 2035 | RAL | | 0 | .000 | 0 | .000 | 0 | .000 | 0 | .000 | 130 | .964 | 0 | .000 | 11 | .962 | 0 | .000 | 0 | .000 | 11 | .962 | 0 | 0% | 0 | 8 | 0 | 13 | .964 |
| 2036 | RAL | | 0 | .000 | 5 | 1.000 | 8 | .946 | 1 | .000 | 133 | .949 | 0 | .000 | 3 | 1.000 | 0 | .000 | 1 | .000 | 2 | 1.000 | 1 | 40% | 0 | 20 | 0 | 18 | .952 |
| 2037 | RAL | | 0 | .000 | 0 | .000 | 0 | .000 | 0 | .000 | 16 | 1.000 | 1 | 1.000 | 8 | 1.000 | 0 | .000 | 0 | .000 | 8 | 1.000 | 0 | 0% | 0 | 3 | 1 | 0 | 1.000 |
| 2037 | KEN | | 0 | .000 | 0 | .000 | 1 | .000 | 54 | .969 | 17 | .933 | 2 | 1.000 | 12 | 1.000 | 9 | 1.000 | 1 | 1.000 | 2 | 1.000 | 2 | 0% | 0 | 13 | 2 | 6 | .970 |
| 2038 | BRX | | 0 | .000 | 7 | .981 | 0 | .000 | 1 | 1.000 | 2 | 1.000 | 0 | .000 | 0 | .000 | 0 | .000 | 0 | .000 | 0 | .000 | 0 | 33.3% | 0 | 0 | 0 | 1 | .984 |
| 2038 | OP | | 0 | .000 | 5 | 1.000 | 1 | .000 | 1 | .857 | 13 | .929 | 0 | .000 | 2 | 1.000 | 0 | .000 | 0 | .000 | 2 | 1.000 | 0 | 75% | 0 | 2 | 0 | 2 | .964 |
| 2039 | OP | | 0 | .000 | 4 | 1.000 | 0 | .000 | 0 | .000 | 1 | 1.000 | 0 | .000 | 3 | 1.000 | 0 | .000 | 0 | .000 | 3 | 1.000 | 1 | 14.3% | 1 | 1 | 0 | 0 | 1.000 |
| Total | | | 0 | .000 | 28 | .993 | 10 | .946 | 76 | .950 | 488 | .959 | 3 | 1.000 | 46 | .989 | 11 | 1.000 | 2 | 1.000 | 33 | .985 | 14 | 36.4% | 1 | 63 | 3 | 63 | .963 |
| Date | Game Date | Team From | Team To | Age | Transaction Type |
| --- | --- | --- | --- | --- | --- |
| 02/19/16 | May 3rd 2026 | - | Raleigh Braves | 17 | High School Draftee |
| 08/17/18 | May 6th 2037 | Raleigh Braves | Free Agent Pool | 28 | Released |
| 08/22/18 | May 21st 2037 | Waivers | Kenosha Storm | 28 | Waiver Claim |
| 10/01/18 | October 24th 2037 | Kenosha Storm | Free Agent Pool | 28 | Released |
| 10/12/18 | February 19th 2038 | Free Agent Pool | Bronx Athletics | 29 | Free Agent Signee |
| 11/02/18 | May 3rd 2038 | Bronx Athletics | Free Agent Pool | 29 | Released |
| 11/26/18 | August 1st 2038 | Free Agent Pool | Oakland Park Ravens | 29 | Free Agent Signee |

Statistics/Graph Selection: