"Fabulous" Pierre François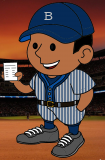 #21

- Pierre François [ID #113682] Laredo Mules OF
Birthplace: Vitry-sur-Seine, France College: none Drafted: 2024, Round #1
Professional (11 years with club)
Bats (L) Throws (L) Positions: OF 1b
Attributes
Offense [Form: Hot]
Defense
Age: 31
Hitting:
16
Fielding:
16
Height: 6' 2"
Bat Control:
13
Range:
17
Weight: 200
Plate Discipline:
14
Arm:
16
Experience: 4 years
Power:
16
Skill Index:
124
Salary: $2.85M
Speed:
16
Potential:
15
Scouting Report: He can be a very good hitter. He can develop into a prolific slugger. He has decent speed. He can be outstanding in the field. He is probably too old to improve much more.
| Year | Team | LL | | G | AB | R | H | 2B | 3B | HR | RBI | BB | HBP | K | SB | CS | SH | FS | SF | AVE | OBP | SLG | OPS | VLHP | VRHP | Home | Away | RISP | GB/FB | GIDP | POTG | Age | SI | Salary |
| --- | --- | --- | --- | --- | --- | --- | --- | --- | --- | --- | --- | --- | --- | --- | --- | --- | --- | --- | --- | --- | --- | --- | --- | --- | --- | --- | --- | --- | --- | --- | --- | --- | --- | --- |
| 2028 | LAR | 3 | | 93 | 364 | 36 | 80 | 18 | 1 | 7 | 31 | 16 | 1 | 98 | 1 | 2 | 0 | 0 | 4 | .220 | .252 | .332 | .584 | .298 | .208 | .228 | .210 | .000 | 0.75 | 7 | 1 | 25 | 92 | $0.20M |
| 2029 | LAR | 3 | | 101 | 402 | 55 | 106 | 25 | 4 | 18 | 62 | 27 | 3 | 83 | 2 | 0 | 0 | 0 | 7 | .264 | .310 | .480 | .790 | .203 | .275 | .253 | .276 | .000 | 0.77 | 4 | 3 | 26 | 103 | $0.50M |
| 2030 | LAR | 2 | | 112 | 419 | 59 | 104 | 30 | 1 | 17 | 66 | 41 | 3 | 67 | 2 | 1 | 0 | 0 | 6 | .248 | .316 | .446 | .762 | .152 | .275 | .274 | .223 | .000 | 0.83 | 4 | 2 | 27 | 113 | $0.55M |
| 2031 | LAR | 2 | | 107 | 395 | 67 | 99 | 26 | 1 | 18 | 65 | 45 | 6 | 78 | 2 | 3 | 0 | 0 | 8 | .251 | .330 | .458 | .789 | .205 | .263 | .279 | .222 | .280 | 0.74 | 5 | 4 | 28 | 120 | $1.05M |
| 2032 | LAR | 2 | | 140 | 551 | 118 | 171 | 52 | 8 | 34 | 120 | 65 | 7 | 74 | 3 | 0 | 0 | 0 | 6 | .310 | .386 | .619 | 1.005 | .223 | .340 | .304 | .316 | .375 | 0.68 | 10 | 11 | 29 | 122 | $1.45M |
| 2033 | LAR | 2 | | 121 | 483 | 60 | 133 | 33 | 5 | 15 | 74 | 40 | 3 | 95 | 1 | 4 | 0 | 0 | 9 | .275 | .329 | .458 | .787 | .231 | .282 | .232 | .313 | .258 | 0.84 | 8 | 1 | 30 | 124 | $2.65M |
| 2034 | LAR | 2 | | 67 | 281 | 52 | 84 | 21 | 3 | 13 | 50 | 23 | 4 | 34 | 0 | 0 | 0 | 0 | 2 | .299 | .358 | .534 | .892 | .259 | .315 | .317 | .285 | .356 | 0.66 | 4 | 3 | 31 | 124 | $2.85M |
| Total | | | | 741 | 2895 | 447 | 777 | 205 | 23 | 122 | 468 | 257 | 27 | 529 | 11 | 10 | 0 | 0 | 42 | .268 | .329 | .482 | .811 | .219 | .281 | .268 | .269 | .315 | 0.75 | 42 | 25 | - | - | - |
| Year | Team | | P | % | C | % | 1B | % | 2B | % | 3B | % | SS | % | OF | % | LF | % | CF | % | RF | % | DH | CS% | PB | DP | OA | E | FP |
| --- | --- | --- | --- | --- | --- | --- | --- | --- | --- | --- | --- | --- | --- | --- | --- | --- | --- | --- | --- | --- | --- | --- | --- | --- | --- | --- | --- | --- | --- |
| 2028 | LAR | | 0 | .000 | 0 | .000 | 0 | .000 | 0 | .000 | 0 | .000 | 0 | .000 | 93 | .989 | 0 | .000 | 65 | .991 | 28 | .984 | 0 | 0% | 0 | 3 | 8 | 3 | .989 |
| 2029 | LAR | | 0 | .000 | 0 | .000 | 0 | .000 | 0 | .000 | 0 | .000 | 0 | .000 | 101 | .991 | 4 | 1.000 | 89 | .990 | 8 | 1.000 | 0 | 0% | 0 | 1 | 7 | 3 | .991 |
| 2030 | LAR | | 0 | .000 | 0 | .000 | 1 | 1.000 | 0 | .000 | 0 | .000 | 0 | .000 | 111 | .994 | 0 | .000 | 87 | .996 | 24 | .981 | 0 | 0% | 0 | 3 | 9 | 2 | .994 |
| 2031 | LAR | | 0 | .000 | 0 | .000 | 5 | .970 | 0 | .000 | 0 | .000 | 0 | .000 | 99 | .988 | 8 | 1.000 | 15 | 1.000 | 76 | .984 | 3 | 0% | 0 | 1 | 8 | 4 | .986 |
| 2032 | LAR | | 0 | .000 | 0 | .000 | 1 | 1.000 | 0 | .000 | 0 | .000 | 0 | .000 | 139 | .998 | 14 | 1.000 | 107 | .997 | 18 | 1.000 | 0 | 0% | 0 | 5 | 15 | 1 | .998 |
| 2033 | LAR | | 0 | .000 | 0 | .000 | 9 | 1.000 | 0 | .000 | 0 | .000 | 1 | 1.000 | 111 | .989 | 0 | .000 | 103 | .989 | 8 | 1.000 | 0 | 0% | 0 | 4 | 10 | 4 | .991 |
| 2034 | LAR | | 0 | .000 | 0 | .000 | 0 | .000 | 0 | .000 | 0 | .000 | 0 | .000 | 67 | .996 | 0 | .000 | 67 | .996 | 0 | .000 | 0 | 0% | 0 | 0 | 5 | 1 | .996 |
| Total | | | 0 | .000 | 0 | .000 | 16 | .992 | 0 | .000 | 0 | .000 | 1 | 1.000 | 721 | .992 | 26 | 1.000 | 533 | .993 | 162 | .987 | 3 | 0% | 0 | 17 | 62 | 18 | .992 |
| Date | Game Date | Team From | Team To | Age | Transaction Type |
| --- | --- | --- | --- | --- | --- |
| 08/23/15 | January 20th 2024 | - | Laredo Armadillos | 21 | International Signee |

Statistics/Graph Selection: