Chao "The Secret Weapon" Luo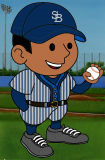 Chao Luo [ID #110747] Free Agent 2B
Birthplace: Xian, China College: none Drafted: 2023, Round #4 by San Diego Carp
Veteran
Bats (L) Throws (R) Positions: 2B OF
Attributes
Offense [Form: Hot]
Defense
Age: 33
Hitting:
9
Fielding:
15
Height: 6' 0"
Bat Control:
19
Range:
10
Weight: 207
Plate Discipline:
16
Arm:
14
Experience: 8 years
Power:
15
Skill Index:
105
Salary: $2.75M
Speed:
7
Potential:
13
Scouting Report: He can develop into a prolific slugger. He can be outstanding in the field. He is getting to the age where his skills may decline quickly.
| Year | Team | LL | | G | AB | R | H | 2B | 3B | HR | RBI | BB | HBP | K | SB | CS | SH | FS | SF | AVE | OBP | SLG | OPS | VLHP | VRHP | Home | Away | RISP | GB/FB | GIDP | POTG | Age | SI | Salary |
| --- | --- | --- | --- | --- | --- | --- | --- | --- | --- | --- | --- | --- | --- | --- | --- | --- | --- | --- | --- | --- | --- | --- | --- | --- | --- | --- | --- | --- | --- | --- | --- | --- | --- | --- |
| 2028 | CUP | 4 | | 1 | 1 | 0 | 0 | 0 | 0 | 0 | 0 | 0 | 0 | 0 | 0 | 0 | 0 | 0 | 0 | .000 | .000 | .000 | .000 | .000 | .000 | .000 | .000 | .000 | 0.00 | 0 | 0 | 23 | 82 | $0.20M |
| 2029 | MID | 4 | | 31 | 82 | 11 | 18 | 2 | 0 | 4 | 8 | 5 | 1 | 16 | 0 | 0 | 1 | 0 | 1 | .220 | .270 | .390 | .660 | .385 | .188 | .139 | .283 | .000 | 0.97 | 1 | 0 | 24 | 90 | $0.50M |
| 2029 | HIC | 6 | | 98 | 281 | 37 | 71 | 10 | 1 | 8 | 24 | 29 | 0 | 22 | 0 | 0 | 3 | 1 | 3 | .253 | .319 | .381 | .700 | .145 | .288 | .235 | .277 | .000 | 0.74 | 5 | 1 | 24 | 91 | $0.50M |
| 2030 | HIC | 6 | | 155 | 486 | 62 | 122 | 41 | 1 | 22 | 82 | 52 | 2 | 46 | 0 | 0 | 4 | 0 | 6 | .251 | .322 | .475 | .798 | .178 | .264 | .236 | .267 | .000 | 0.64 | 3 | 5 | 25 | 95 | $0.50M |
| 2031 | HIC | 6 | | 149 | 500 | 79 | 120 | 23 | 1 | 27 | 69 | 55 | 2 | 55 | 0 | 0 | 0 | 0 | 8 | .240 | .313 | .452 | .765 | .222 | .241 | .220 | .259 | .213 | 0.55 | 7 | 4 | 26 | 103 | $1.00M |
| 2032 | HIC | 6 | | 150 | 482 | 65 | 122 | 27 | 2 | 33 | 87 | 63 | 6 | 49 | 0 | 0 | 0 | 0 | 10 | .253 | .340 | .523 | .863 | .133 | .257 | .247 | .260 | .274 | 0.59 | 4 | 7 | 27 | 108 | $1.55M |
| 2033 | HIC | 6 | | 152 | 529 | 93 | 136 | 34 | 1 | 29 | 80 | 71 | 3 | 43 | 0 | 0 | 0 | 0 | 7 | .257 | .344 | .490 | .834 | .250 | .258 | .272 | .242 | .248 | 0.58 | 7 | 5 | 28 | 108 | $1.45M |
| 2034 | HIC | 6 | | 145 | 491 | 71 | 116 | 23 | 1 | 28 | 81 | 86 | 3 | 47 | 0 | 0 | 0 | 0 | 4 | .236 | .351 | .458 | .809 | .222 | .237 | .222 | .249 | .296 | 0.60 | 9 | 5 | 29 | 108 | $1.50M |
| 2035 | HIC | 6 | | 150 | 484 | 66 | 137 | 33 | 1 | 24 | 86 | 64 | 1 | 37 | 0 | 0 | 0 | 0 | 11 | .283 | .361 | .504 | .865 | .429 | .272 | .292 | .275 | .333 | 0.47 | 2 | 5 | 30 | 108 | $1.55M |
| 2036 | HIC | 6 | | 140 | 440 | 62 | 99 | 24 | 0 | 24 | 64 | 69 | 8 | 55 | 0 | 0 | 0 | 0 | 8 | .225 | .335 | .443 | .778 | .258 | .222 | .243 | .209 | .176 | 0.48 | 4 | 4 | 31 | 107 | $1.55M |
| 2037 | HIC | 6 | | 155 | 489 | 84 | 131 | 34 | 1 | 30 | 81 | 63 | 3 | 44 | 0 | 0 | 0 | 0 | 10 | .268 | .349 | .526 | .874 | .265 | .268 | .292 | .245 | .240 | 0.44 | 9 | 9 | 32 | 107 | $1.35M |
| 2038 | HIC | 6 | | 10 | 26 | 5 | 7 | 4 | 0 | 1 | 5 | 4 | 0 | 3 | 0 | 0 | 0 | 0 | 1 | .269 | .355 | .538 | .893 | .000 | .304 | .000 | .269 | .333 | 0.70 | 1 | 0 | 33 | 105 | $2.20M |
| Total | | | | 1336 | 4291 | 635 | 1079 | 255 | 9 | 230 | 667 | 561 | 29 | 417 | 0 | 0 | 8 | 1 | 69 | .251 | .337 | .476 | .813 | .228 | .254 | .250 | .253 | .254 | 0.56 | 52 | 45 | - | - | - |
| Year | Team | | P | % | C | % | 1B | % | 2B | % | 3B | % | SS | % | OF | % | LF | % | CF | % | RF | % | DH | CS% | PB | DP | OA | E | FP |
| --- | --- | --- | --- | --- | --- | --- | --- | --- | --- | --- | --- | --- | --- | --- | --- | --- | --- | --- | --- | --- | --- | --- | --- | --- | --- | --- | --- | --- | --- |
| 2028 | CUP | | 0 | .000 | 0 | .000 | 1 | .000 | 0 | .000 | 0 | .000 | 0 | .000 | 0 | .000 | 0 | .000 | 0 | .000 | 0 | .000 | 0 | 0% | 0 | 0 | 0 | 0 | .000 |
| 2029 | MID | | 0 | .000 | 0 | .000 | 0 | .000 | 28 | .940 | 0 | .000 | 3 | 1.000 | 0 | .000 | 0 | .000 | 0 | .000 | 0 | .000 | 0 | 0% | 0 | 2 | 0 | 5 | .945 |
| 2029 | HIC | | 0 | .000 | 0 | .000 | 0 | .000 | 0 | .000 | 0 | .000 | 0 | .000 | 98 | .982 | 98 | .982 | 0 | .000 | 0 | .000 | 0 | 0% | 0 | 0 | 2 | 4 | .982 |
| 2030 | HIC | | 0 | .000 | 0 | .000 | 0 | .000 | 0 | .000 | 0 | .000 | 0 | .000 | 155 | .989 | 155 | .989 | 0 | .000 | 0 | .000 | 0 | 0% | 0 | 1 | 6 | 4 | .989 |
| 2031 | HIC | | 0 | .000 | 3 | 1.000 | 6 | 1.000 | 1 | 1.000 | 7 | .800 | 0 | .000 | 128 | .988 | 3 | 1.000 | 115 | .987 | 10 | 1.000 | 4 | 50% | 0 | 4 | 9 | 6 | .986 |
| 2032 | HIC | | 0 | .000 | 0 | .000 | 6 | 1.000 | 0 | .000 | 6 | .000 | 0 | .000 | 133 | .995 | 9 | 1.000 | 118 | .995 | 6 | 1.000 | 5 | 0% | 0 | 3 | 8 | 2 | .995 |
| 2033 | HIC | | 0 | .000 | 3 | 1.000 | 2 | 1.000 | 0 | .000 | 6 | 1.000 | 0 | .000 | 139 | .988 | 11 | 1.000 | 126 | .987 | 2 | 1.000 | 2 | 0% | 0 | 7 | 20 | 6 | .988 |
| 2034 | HIC | | 0 | .000 | 0 | .000 | 4 | 1.000 | 0 | .000 | 2 | 1.000 | 0 | .000 | 135 | .982 | 10 | 1.000 | 123 | .981 | 2 | 1.000 | 4 | 0% | 0 | 5 | 14 | 8 | .982 |
| 2035 | HIC | | 0 | .000 | 1 | 1.000 | 1 | 1.000 | 111 | .958 | 0 | .000 | 0 | .000 | 22 | .925 | 6 | 1.000 | 10 | .917 | 6 | 1.000 | 15 | 0% | 0 | 40 | 0 | 20 | .956 |
| 2036 | HIC | | 0 | .000 | 0 | .000 | 3 | 1.000 | 121 | .952 | 0 | .000 | 0 | .000 | 9 | 1.000 | 8 | 1.000 | 0 | .000 | 1 | .000 | 7 | 0% | 0 | 33 | 0 | 21 | .953 |
| 2037 | HIC | | 0 | .000 | 0 | .000 | 7 | 1.000 | 120 | .964 | 0 | .000 | 0 | .000 | 19 | 1.000 | 18 | 1.000 | 0 | .000 | 1 | 1.000 | 9 | 0% | 0 | 45 | 0 | 17 | .966 |
| 2038 | HIC | | 0 | .000 | 0 | .000 | 0 | .000 | 5 | .938 | 0 | .000 | 0 | .000 | 3 | 1.000 | 3 | 1.000 | 0 | .000 | 0 | .000 | 2 | 0% | 0 | 2 | 0 | 1 | .950 |
| Total | | | 0 | .000 | 7 | 1.000 | 30 | 1.000 | 386 | .957 | 21 | .875 | 3 | 1.000 | 841 | .987 | 321 | .988 | 492 | .986 | 28 | 1.000 | 48 | 50% | 0 | 142 | 59 | 94 | .976 |
| Date | Game Date | Team From | Team To | Age | Transaction Type |
| --- | --- | --- | --- | --- | --- |
| 07/03/15 | May 3rd 2023 | - | Santa Ramon Carp | 18 | Asian Leagues Signee |
| 10/18/16 | May 17th 2029 | Midland Pacifics | Free Agent Pool | 24 | Released |
| 10/21/16 | May 29th 2029 | Waivers | Hickory Frogs | 24 | Waiver Claim |
| 10/26/18 | April 7th 2038 | Hickory Dragons | Free Agent Pool | 33 | Released |

Statistics/Graph Selection: