"Hollywood" Dylan McLoughlin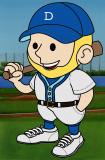 Dylan McLoughlin [ID #109828] Free Agent OF
Birthplace: Cork, Ireland College: none
Veteran
Bats (R) Throws (R) Positions: of c 3b
Attributes
Offense [Form: Average]
Defense
Age: 34
Hitting:
11
Fielding:
16
Height: 5' 11"
Bat Control:
5
Range:
8
Weight: 187
Plate Discipline:
15
Arm:
7
Experience: 6 years
Power:
16
Skill Index:
90
Salary: $0.50M
Speed:
12
Potential:
14
Scouting Report: He can be a good hitter. He can develop into a prolific slugger. He has decent speed. He can be amazing in the field. He is getting to the age where his skills may decline quickly.
| Year | Team | LL | | G | AB | R | H | 2B | 3B | HR | RBI | BB | HBP | K | SB | CS | SH | FS | SF | AVE | OBP | SLG | OPS | VLHP | VRHP | Home | Away | RISP | GB/FB | GIDP | POTG | Age | SI | Salary |
| --- | --- | --- | --- | --- | --- | --- | --- | --- | --- | --- | --- | --- | --- | --- | --- | --- | --- | --- | --- | --- | --- | --- | --- | --- | --- | --- | --- | --- | --- | --- | --- | --- | --- | --- |
| 2028 | MLP | 4 | | 0 | 0 | 0 | 0 | 0 | 0 | 0 | 0 | 0 | 0 | 0 | 0 | 0 | 0 | 0 | 0 | .000 | .000 | .000 | .000 | .000 | .000 | .000 | .000 | .000 | - | 0 | 0 | 24 | 79 | $0.20M |
| 2029 | MLP | 4 | | 40 | 87 | 17 | 27 | 7 | 0 | 2 | 14 | 7 | 1 | 22 | 1 | 0 | 0 | 0 | 1 | .310 | .365 | .460 | .824 | .310 | .313 | .340 | .275 | .000 | 1.83 | 2 | 0 | 25 | 84 | $0.20M |
| 2030 | MLP | 3 | | 77 | 161 | 22 | 40 | 8 | 2 | 5 | 24 | 15 | 0 | 30 | 2 | 1 | 0 | 0 | 0 | .248 | .313 | .416 | .729 | .238 | .333 | .260 | .239 | .000 | 1.06 | 0 | 1 | 26 | 91 | $0.50M |
| 2031 | MLP | 2 | | 77 | 176 | 19 | 41 | 15 | 1 | 3 | 20 | 9 | 1 | 38 | 1 | 0 | 0 | 0 | 1 | .233 | .273 | .381 | .653 | .235 | .217 | .204 | .265 | .293 | 1.04 | 6 | 1 | 27 | 97 | $0.50M |
| 2032 | MLP | 3 | | 87 | 177 | 33 | 44 | 13 | 1 | 10 | 37 | 23 | 1 | 55 | 1 | 1 | 0 | 0 | 0 | .249 | .338 | .503 | .841 | .228 | .344 | .250 | .247 | .241 | 0.86 | 3 | 2 | 28 | 102 | $0.60M |
| 2033 | MLP | 2 | | 97 | 212 | 20 | 42 | 13 | 3 | 2 | 26 | 17 | 0 | 57 | 1 | 0 | 0 | 0 | 1 | .198 | .257 | .316 | .573 | .211 | .125 | .191 | .206 | .224 | 0.85 | 1 | 0 | 29 | 106 | $0.80M |
| 2034 | MLP | 2 | | 104 | 189 | 20 | 35 | 7 | 1 | 8 | 23 | 17 | 2 | 50 | 0 | 0 | 0 | 0 | 2 | .185 | .257 | .360 | .617 | .203 | .122 | .143 | .219 | .224 | 0.61 | 3 | 0 | 30 | 105 | $0.70M |
| 2035 | MLP | 3 | | 91 | 167 | 14 | 35 | 9 | 0 | 2 | 20 | 15 | 0 | 41 | 0 | 0 | 0 | 0 | 4 | .210 | .269 | .299 | .568 | .194 | .286 | .215 | .205 | .227 | 0.96 | 1 | 0 | 31 | 105 | $0.70M |
| 2036 | MLP | 3 | | 103 | 236 | 31 | 54 | 17 | 2 | 9 | 36 | 23 | 0 | 62 | 0 | 0 | 0 | 0 | 2 | .229 | .295 | .432 | .727 | .235 | .211 | .258 | .194 | .200 | 0.63 | 4 | 2 | 32 | 101 | $0.55M |
| Total | | | | 676 | 1405 | 176 | 318 | 89 | 10 | 41 | 200 | 126 | 5 | 355 | 6 | 2 | 0 | 0 | 11 | .226 | .290 | .391 | .682 | .226 | .227 | .227 | .226 | .231 | 0.87 | 20 | 6 | - | - | - |
| Year | Team | | P | % | C | % | 1B | % | 2B | % | 3B | % | SS | % | OF | % | LF | % | CF | % | RF | % | DH | CS% | PB | DP | OA | E | FP |
| --- | --- | --- | --- | --- | --- | --- | --- | --- | --- | --- | --- | --- | --- | --- | --- | --- | --- | --- | --- | --- | --- | --- | --- | --- | --- | --- | --- | --- | --- |
| 2028 | MLP | | 0 | .000 | 0 | .000 | 0 | .000 | 0 | .000 | 0 | .000 | 0 | .000 | 0 | .000 | 0 | .000 | 0 | .000 | 0 | .000 | 0 | 0% | 0 | 0 | 0 | 0 | .000 |
| 2029 | MLP | | 0 | .000 | 0 | .000 | 18 | 1.000 | 0 | .000 | 6 | .733 | 0 | .000 | 1 | .000 | 0 | .000 | 0 | .000 | 1 | .000 | 15 | 0% | 0 | 4 | 0 | 4 | .965 |
| 2030 | MLP | | 0 | .000 | 0 | .000 | 54 | .994 | 0 | .000 | 2 | 1.000 | 0 | .000 | 9 | .800 | 7 | .667 | 0 | .000 | 2 | 1.000 | 12 | 0% | 0 | 21 | 0 | 3 | .991 |
| 2031 | MLP | | 0 | .000 | 0 | .000 | 56 | .986 | 0 | .000 | 0 | .000 | 0 | .000 | 7 | 1.000 | 7 | 1.000 | 0 | .000 | 0 | .000 | 14 | 0% | 0 | 16 | 0 | 4 | .986 |
| 2032 | MLP | | 0 | .000 | 1 | 1.000 | 17 | 1.000 | 0 | .000 | 7 | 1.000 | 0 | .000 | 49 | .952 | 12 | .917 | 0 | .000 | 37 | .958 | 13 | 0% | 0 | 5 | 1 | 4 | .976 |
| 2033 | MLP | | 0 | .000 | 0 | .000 | 7 | 1.000 | 2 | 1.000 | 0 | .000 | 0 | .000 | 70 | .992 | 11 | .875 | 0 | .000 | 59 | 1.000 | 18 | 0% | 0 | 4 | 1 | 1 | .993 |
| 2034 | MLP | | 0 | .000 | 0 | .000 | 12 | .985 | 0 | .000 | 0 | .000 | 0 | .000 | 71 | 1.000 | 35 | 1.000 | 0 | .000 | 36 | 1.000 | 21 | 0% | 0 | 8 | 0 | 1 | .992 |
| 2035 | MLP | | 0 | .000 | 1 | 1.000 | 16 | .973 | 0 | .000 | 5 | 1.000 | 0 | .000 | 37 | 1.000 | 8 | 1.000 | 0 | .000 | 29 | 1.000 | 32 | 100% | 0 | 4 | 1 | 1 | .990 |
| 2036 | MLP | | 0 | .000 | 0 | .000 | 7 | 1.000 | 0 | .000 | 0 | .000 | 0 | .000 | 66 | 1.000 | 59 | 1.000 | 0 | .000 | 7 | 1.000 | 30 | 0% | 0 | 1 | 1 | 0 | 1.000 |
| Total | | | 0 | .000 | 2 | 1.000 | 187 | .991 | 2 | 1.000 | 20 | .907 | 0 | .000 | 310 | .986 | 139 | .981 | 0 | .000 | 171 | .989 | 155 | 100% | 0 | 63 | 4 | 18 | .987 |
| Date | Game Date | Team From | Team To | Age | Transaction Type |
| --- | --- | --- | --- | --- | --- |
| 06/19/15 | March 14th 2023 | - | Reno Bengals | 19 | International Signee |
| 08/25/15 | January 20th 2024 | Reno Bengals | Free Agent Pool | 20 | Released |
| 08/29/15 | March 2nd 2024 | Waivers | Milpitas Trojans | 20 | Waiver Claim |
| 07/21/18 | January 15th 2037 | Milpitas Trojans | Free Agent Pool | 33 | Released |

Statistics/Graph Selection: