Crespin "Sparkplug" Viera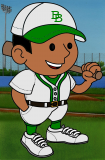 #21

- Crespin Viera [ID #105603] College Station Athletics 2B
Birthplace: Panama City, Panama College: none
Veteran (14 years with club)
Bats (R) Throws (R) Positions: 2B of
Attributes
Offense [Form: Cold]
Defense
Age: 32
Hitting:
18
Fielding:
15
Height: 6' 1"
Bat Control:
15
Range:
18
Weight: 203
Plate Discipline:
11
Arm:
6
Experience: 8 years
Power:
9
Skill Index:
108
Salary: $2.80M
Speed:
16
Potential:
13
Scouting Report: He can be a great hitter. He is really quick. He can be solid in the field. He is getting to the age where his skills may decline quickly.
| Year | Team | LL | | G | AB | R | H | 2B | 3B | HR | RBI | BB | HBP | K | SB | CS | SH | FS | SF | AVE | OBP | SLG | OPS | VLHP | VRHP | Home | Away | RISP | GB/FB | GIDP | POTG | Age | SI | Salary |
| --- | --- | --- | --- | --- | --- | --- | --- | --- | --- | --- | --- | --- | --- | --- | --- | --- | --- | --- | --- | --- | --- | --- | --- | --- | --- | --- | --- | --- | --- | --- | --- | --- | --- | --- |
| 2027 | CST | 3 | | 26 | 109 | 9 | 20 | 6 | 2 | 0 | 4 | 9 | 2 | 25 | 10 | 2 | 1 | 1 | 1 | .183 | .256 | .275 | .531 | .276 | .150 | .175 | .192 | .000 | 1.41 | 0 | 0 | 22 | 90 | $0.20M |
| 2028 | CST | 3 | | 81 | 273 | 28 | 60 | 12 | 1 | 5 | 33 | 13 | 0 | 31 | 12 | 8 | 4 | 1 | 3 | .220 | .253 | .326 | .579 | .255 | .200 | .207 | .236 | .000 | 1.56 | 3 | 2 | 23 | 97 | $0.50M |
| 2029 | CST | 3 | | 153 | 633 | 91 | 179 | 39 | 5 | 11 | 91 | 42 | 1 | 88 | 61 | 11 | 4 | 3 | 3 | .283 | .327 | .412 | .739 | .324 | .266 | .273 | .293 | .000 | 1.68 | 12 | 8 | 24 | 102 | $0.50M |
| 2030 | CST | 2 | | 155 | 671 | 100 | 179 | 41 | 11 | 16 | 75 | 50 | 3 | 101 | 57 | 20 | 6 | 2 | 1 | .267 | .320 | .432 | .752 | .313 | .250 | .271 | .263 | .000 | 1.33 | 8 | 15 | 25 | 109 | $1.30M |
| 2031 | CST | 2 | | 153 | 601 | 64 | 149 | 39 | 4 | 4 | 58 | 32 | 2 | 70 | 21 | 17 | 6 | 0 | 5 | .248 | .286 | .346 | .632 | .268 | .238 | .265 | .232 | .289 | 1.49 | 7 | 2 | 26 | 109 | $2.45M |
| 2032 | CST | 1 | | 155 | 652 | 106 | 181 | 40 | 7 | 14 | 86 | 49 | 5 | 83 | 45 | 18 | 11 | 1 | 7 | .278 | .330 | .425 | .754 | .292 | .271 | .316 | .243 | .308 | 1.41 | 13 | 8 | 27 | 109 | $2.40M |
| 2033 | CST | 1 | | 155 | 659 | 93 | 176 | 53 | 8 | 12 | 72 | 53 | 5 | 98 | 38 | 12 | 10 | 1 | 3 | .267 | .325 | .426 | .751 | .301 | .252 | .327 | .211 | .275 | 1.67 | 11 | 7 | 28 | 109 | $2.70M |
| 2034 | CST | 1 | | 152 | 624 | 94 | 166 | 38 | 4 | 15 | 51 | 46 | 2 | 83 | 34 | 14 | 7 | 1 | 4 | .266 | .317 | .412 | .728 | .269 | .265 | .282 | .251 | .203 | 1.46 | 10 | 4 | 29 | 109 | $2.70M |
| 2035 | CST | 1 | | 157 | 690 | 97 | 191 | 46 | 7 | 18 | 86 | 38 | 2 | 88 | 27 | 16 | 8 | 1 | 5 | .277 | .314 | .442 | .756 | .285 | .273 | .282 | .272 | .311 | 1.55 | 9 | 14 | 30 | 109 | $2.95M |
| 2036 | CST | 1 | | 152 | 634 | 83 | 167 | 39 | 6 | 9 | 61 | 41 | 3 | 76 | 30 | 12 | 6 | 2 | 4 | .263 | .309 | .386 | .696 | .238 | .273 | .253 | .273 | .217 | 1.67 | 12 | 8 | 31 | 109 | $2.95M |
| 2037 | CST | 1 | | 128 | 551 | 70 | 147 | 31 | 7 | 7 | 45 | 29 | 4 | 88 | 14 | 11 | 6 | 0 | 2 | .267 | .307 | .387 | .694 | .303 | .253 | .264 | .269 | .274 | 1.71 | 7 | 5 | 32 | 108 | $2.80M |
| Total | | | | 1467 | 6097 | 835 | 1615 | 384 | 62 | 111 | 662 | 402 | 29 | 831 | 349 | 141 | 69 | 13 | 38 | .265 | .312 | .403 | .714 | .286 | .256 | .276 | .254 | .268 | 1.54 | 92 | 73 | - | - | - |
| Year | Team | | P | % | C | % | 1B | % | 2B | % | 3B | % | SS | % | OF | % | LF | % | CF | % | RF | % | DH | CS% | PB | DP | OA | E | FP |
| --- | --- | --- | --- | --- | --- | --- | --- | --- | --- | --- | --- | --- | --- | --- | --- | --- | --- | --- | --- | --- | --- | --- | --- | --- | --- | --- | --- | --- | --- |
| 2027 | CST | | 0 | .000 | 0 | .000 | 0 | .000 | 26 | .945 | 0 | .000 | 0 | .000 | 0 | .000 | 0 | .000 | 0 | .000 | 0 | .000 | 0 | 0% | 0 | 10 | 0 | 7 | .945 |
| 2028 | CST | | 0 | .000 | 0 | .000 | 3 | 1.000 | 25 | .939 | 0 | .000 | 0 | .000 | 40 | 1.000 | 23 | 1.000 | 14 | 1.000 | 3 | 1.000 | 13 | 0% | 0 | 4 | 1 | 6 | .969 |
| 2029 | CST | | 0 | .000 | 0 | .000 | 0 | .000 | 150 | .989 | 0 | .000 | 0 | .000 | 0 | .000 | 0 | .000 | 0 | .000 | 0 | .000 | 3 | 0% | 0 | 71 | 0 | 7 | .989 |
| 2030 | CST | | 0 | .000 | 0 | .000 | 0 | .000 | 132 | .986 | 0 | .000 | 0 | .000 | 23 | 1.000 | 14 | 1.000 | 9 | 1.000 | 0 | .000 | 0 | 0% | 0 | 54 | 0 | 8 | .988 |
| 2031 | CST | | 0 | .000 | 0 | .000 | 3 | 1.000 | 150 | .988 | 0 | .000 | 0 | .000 | 0 | .000 | 0 | .000 | 0 | .000 | 0 | .000 | 0 | 0% | 0 | 64 | 0 | 8 | .988 |
| 2032 | CST | | 0 | .000 | 0 | .000 | 0 | .000 | 155 | .979 | 0 | .000 | 0 | .000 | 0 | .000 | 0 | .000 | 0 | .000 | 0 | .000 | 0 | 0% | 0 | 70 | 0 | 15 | .979 |
| 2033 | CST | | 0 | .000 | 0 | .000 | 0 | .000 | 155 | .979 | 0 | .000 | 0 | .000 | 0 | .000 | 0 | .000 | 0 | .000 | 0 | .000 | 0 | 0% | 0 | 55 | 0 | 14 | .979 |
| 2034 | CST | | 0 | .000 | 0 | .000 | 0 | .000 | 129 | .979 | 0 | .000 | 0 | .000 | 0 | .000 | 0 | .000 | 0 | .000 | 0 | .000 | 23 | 0% | 0 | 54 | 0 | 11 | .979 |
| 2035 | CST | | 0 | .000 | 0 | .000 | 0 | .000 | 157 | .980 | 0 | .000 | 0 | .000 | 0 | .000 | 0 | .000 | 0 | .000 | 0 | .000 | 0 | 0% | 0 | 83 | 0 | 14 | .980 |
| 2036 | CST | | 0 | .000 | 0 | .000 | 0 | .000 | 151 | .985 | 0 | .000 | 0 | .000 | 1 | 1.000 | 0 | .000 | 0 | .000 | 1 | 1.000 | 0 | 0% | 0 | 53 | 0 | 10 | .985 |
| 2037 | CST | | 0 | .000 | 0 | .000 | 0 | .000 | 128 | .972 | 0 | .000 | 0 | .000 | 0 | .000 | 0 | .000 | 0 | .000 | 0 | .000 | 0 | 0% | 0 | 57 | 0 | 16 | .972 |
| Total | | | 0 | .000 | 0 | .000 | 6 | 1.000 | 1358 | .981 | 0 | .000 | 0 | .000 | 64 | 1.000 | 37 | 1.000 | 23 | 1.000 | 4 | 1.000 | 39 | 0% | 0 | 575 | 1 | 116 | .981 |
| Date | Game Date | Team From | Team To | Age | Transaction Type |
| --- | --- | --- | --- | --- | --- |
| 04/03/15 | March 14th 2022 | - | College Station Athletics | 17 | Latin American Academy Signee |

Statistics/Graph Selection: