Tony "The Tactician" Morelli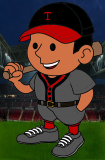 Tony Morelli [#1851] Iowa City Rhinos Manager
Birthplace: Saginaw, Michigan
Manager
Attributes
Tactical
Developmental
Age: 54
Offense:
17
Player Dev.:
1
Experience: 12 years
Defense:
15
Fielding Dev.:
10
Salary: $4.10M
Pitching:
10
Pitcher Dev.:
10
Reputation: He is good at managing hitters. He is good at coaching defense. He is a poor teacher of the game.
| Year | Team | LL | League: | W | L | Pct | Playoff: | W | L | Pct | PW | Cup: | W | L | Pct | CW | Salary |
| --- | --- | --- | --- | --- | --- | --- | --- | --- | --- | --- | --- | --- | --- | --- | --- | --- | --- |
| 2024 | NCH | 6 | | 109 | 51 | .681 | | 2 | 4 | .333 | 0 | | 8 | 9 | .471 | 0 | $0.50M |
| 2025 | HVR | 5 | | 57 | 103 | .356 | | 0 | 0 | .000 | 0 | | 9 | 11 | .450 | 0 | $0.50M |
| 2026 | HVR | 6 | | 94 | 51 | .648 | | 0 | 0 | .000 | 0 | | 11 | 9 | .550 | 0 | $0.50M |
| 2027 | CHV | 6 | | 64 | 96 | .400 | | 0 | 0 | .000 | 0 | | 8 | 12 | .400 | 0 | $0.50M |
| 2028 | IND | 6 | | 22 | 56 | .282 | | 0 | 0 | .000 | 0 | | 7 | 13 | .350 | 0 | $0.50M |
| 2028 | WOR | 5 | | 37 | 42 | .468 | | 0 | 0 | .000 | 0 | | 0 | 0 | .000 | 0 | $0.50M |
| 2029 | FRM | 6 | | 75 | 85 | .469 | | 0 | 0 | .000 | 0 | | 8 | 12 | .400 | 0 | $0.50M |
| 2030 | FRM | 6 | | 33 | 47 | .413 | | 0 | 0 | .000 | 0 | | 5 | 15 | .250 | 0 | $0.50M |
| 2030 | BR | 6 | | 26 | 39 | .400 | | 0 | 0 | .000 | 0 | | 0 | 0 | .000 | 0 | $0.50M |
| 2031 | BR | 6 | | 89 | 71 | .556 | | 0 | 0 | .000 | 0 | | 9 | 11 | .450 | 0 | $0.55M |
| 2032 | BR | 6 | | 87 | 73 | .544 | | 0 | 0 | .000 | 0 | | 5 | 15 | .250 | 0 | $0.65M |
| 2033 | WFD | 6 | | 97 | 63 | .606 | | 0 | 0 | .000 | 0 | | 8 | 12 | .400 | 0 | $0.75M |
| 2034 | WFD | 6 | | 77 | 83 | .481 | | 0 | 0 | .000 | 0 | | 9 | 11 | .450 | 0 | $0.85M |
| 2035 | MID | 6 | | 86 | 74 | .538 | | 0 | 0 | .000 | 0 | | 5 | 15 | .250 | 0 | $0.95M |
| 2036 | MID | 6 | | 54 | 56 | .491 | | 0 | 0 | .000 | 0 | | 8 | 12 | .400 | 0 | $1.00M |
| 2036 | MNT | 1 | | 19 | 21 | .475 | | 0 | 0 | .000 | 0 | | 0 | 0 | .000 | 0 | $1.00M |
| 2037 | MNT | 2 | | 10 | 23 | .303 | | 0 | 0 | .000 | 0 | | 11 | 5 | .688 | 0 | $3.65M |
| 2037 | TUL | 6 | | 2 | 2 | .500 | | 0 | 0 | .000 | 0 | | 0 | 0 | .000 | 0 | $3.65M |
| 2038 | TUL | 6 | | 55 | 61 | .474 | | 0 | 0 | .000 | 0 | | 2 | 18 | .100 | 0 | $3.75M |
| 2039 | IC | 6 | | 65 | 54 | .546 | | 0 | 0 | .000 | 0 | | 0 | 0 | .000 | 0 | $3.90M |
| 2040 | IC | 6 | | 0 | 0 | .000 | | 0 | 0 | .000 | 0 | | 0 | 0 | .000 | 0 | $4.10M |
| Total | | | | 1158 | 1151 | .502 | | 2 | 4 | .333 | 0 | | 113 | 180 | .386 | 0 | - |